'Finding A Tenant' Guide For Landlords- How To Find Tenants
Are you struggling to find a tenant or simply looking for the most efficient methods of finding a tenant? It's a common problem a lot of landlords face and it can be extremely frustrating. I've been there; it's a horrible place to be because every day a property remains vacant, the more it is costing me. However, over the years I've learnt how to minimize the amount of time a property remains vacant by using the methods and practises listed below.
Below is a few ideas on how a landlord can maximize the chances of finding tenants quickly and effectively, subsequently minimizing the amount of time a property remains unoccupied.
Market your property on the biggest property portals online, like Rightmove
This is by far the best and most cost effective way of finding tenants, in my opinion.
Private landlords can't directly put their vacant property on websites like Rightmove and PropertyFinder, but an online letting agent can, and at very little cost. Here's a list of websites that will allow you to advertise your rental on Rightmove.
These websites will charge a small premium for the service, but from my experience, it's worth it.
Make sure your property is well presented
It goes without saying that no one wants to live in a miserable bucket of turd. Before taking viewings, make sure the place looks clean and smells clean. And, don't neglect the garden :)
A well presented property will get snapped up quickly as long as the price is right. Remember, there's no point taking viewings if you don't have anything decent to sell, otherwise you'll be wasting everyones time, including your own.
Use free BTL property portals
Here's a list of websites where you can advertise your vacant BTL for free.
Property Wanted
Check out Gumtree and Craigslist in the "flats/houses wanted" section. Some tenants simply want to sit back and relax while landlords approach them.
Check that you're being realistic with your asking price
Look at other similar properties in the same area as your property, and see what the going rates are. You can use your local newspaper or websites like Rightmove to get the information you need.
Check to see if other landlords are offering a better product for a better rate. If you're being unrealistic with your rent, you won't get much interest.
Don't be scared to lower rent
Remember, losing a few months worth of rent can be more expensive than lowering your rent by £30 a month. Don't be scared to lower your asking price; be competitive.
Consider being more liberal
A lot of landlords refuse to give tenancy to tenants with either DSS Tenants or Tenants with pets. Consider being more accommodating and you'll open up your target audience. For example, according to a recent survey by the Dogs Trust, 78% of pet owners have experienced difficulty finding accommodation which accepts pets. And accoridng to 'Pet Friendly Rentals' by not accepting pets, you will be decreasing your potential market by 50%
If you are a liberal landlord, ensure you promote it in your advertising campaigns.
Willing to house DSS tenants? Go to your local council
If you don't know what a DSS tenant is, go here DSS Tenants.
Your local council will have plenty of people on benefits that need housing. If you're willing to house a DSS tenant, then contact your local council and let them know. They may be able to find you a tenant at NO COST. Each council operates differently regarding DSS Tenants, but it's always worth finding out if they can point you in the direction of tenants that need housing.
It's also worth mentioning in your adverts that you're willing to house DSS Tenants. Fewer landlords are starting to accept DSS Tenants, so they're finding it difficult to find accommodation. From my experience, the disclaimer, "DSS WELCOME" tends to drastically perk up interest, especially when advertising on Gumtree.
Provide tenants with incentives
Spend a little extra money by giving your prospective tenants incentives to choose your property over someone else's. Incentives like free broadband and/or digital TV are always desirable features.
Much like with lowering rent, it may save you money in the long run if it means occupying your property quicker by offering perks.
More details: Provide tenants with incentives
Use as many letting agents as you can
If you want to use a letting agent, then don't limit yourself to one letting agent. Your ultimate goal should be to give your property as much exposure as possible to ensure maximum publicity. Use as many letting agents as you can find in your local area. Unlike when selling property, there are no penalties for using multiple agents.
Make sure letting agents are doing their job properly
There are a lot of lazy cowboys in this industry that won't lift a finger until you apply some pressure. Make sure your letting agent is pro-actively hunting down tenants for you- keep in regular contact so you can monitor their progress.
Make sure your adverts are clear, relevant and appealing
Regardless of whether you're personally advertising your property or relying on a letting agent to do the graft, you need to make sure any advert you put out there is appealing and informative. Your adverts will be the key to getting your enquiries because they're representing your property, so it's important you make them just right.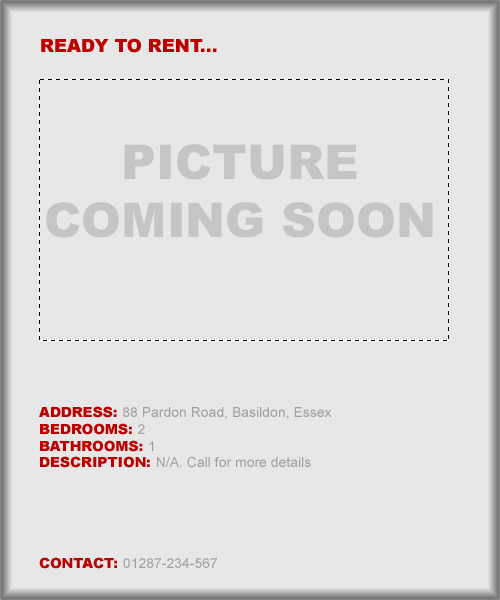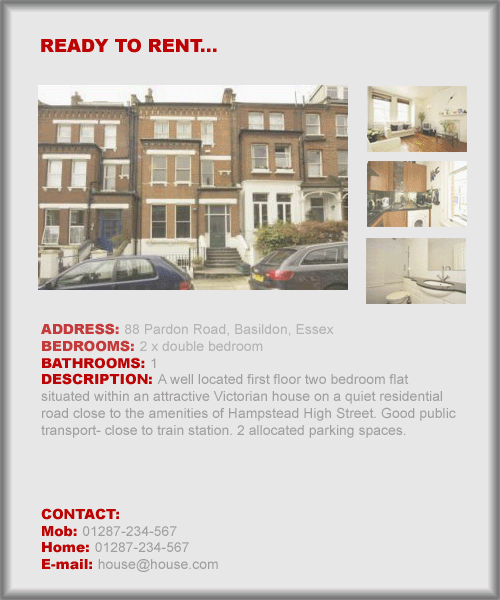 Which one would you want to view? Pictures and relevant information sell. Be informative about as much as you can. Use your own judgement to provide details on features that you think will help sell your property e.g. local transport.
Update your Facebook/MySpace status
Most people these days are involved with a social media platform, whether it be Facebook or MySpace. The great thing with these social networking sites, Facebook in particular, is that they provide a quick and easy way of connecting with all your local friends and family.
I've actually found a tenant in the past by setting my Facebook status to:
"2 bedroom property for rent in Church Langley, Harlow. £775pcm. Anyone interested, or know anyone interested?"
The thing is, you NEVER know who is looking for a property to rent, or who knows someone who is looking to rent. Spreading the word amongst your local peers via Facebook is always worthwhile.
Ultimate Guide On Finding Tenants
For a complete and detailed guide on how to find tenants without a letting agent, you may want to purchase my Ebook – Death Of The Agent, The Ultimate Guide On Finding Tenants without An Agent.
Further reading
I have a whole category dedicated to Marketing your vacant BTL and Finding Tenants. Check it out.
0 Comments, Be The First
Please leave a comment
Want FREE Landlord/Tenant advice from experienced Landlords?
Join our active Landlord community by registering to our Landlord Forum.
Learn, share and resolve your problems!