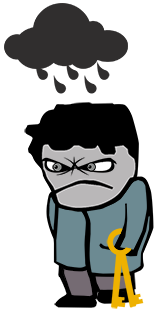 If you have any queries, please feel free to connect with me (I'm usually not as miserable as my avatar portrays). Please note that anything you submit may be displayed for public viewing unless you specifically request otherwise (it's often useful to showcase certain situations).
Social
Keep up to date
Marketing / Advertising Enquiries
If you're interested in advertising or providing content to Property Investment Project, please read the marketing overview before contacting me.
Problem Tenants / Legal Advice
If you're looking for advice on how to deal with problem tenants, including evictions and repossessions, please use our free support help line.
Enquiry Form
Important: this website is just my personal blog, so unfortunately I don't (and can't) provide one-to-one support/advice. If that's what you're after, I recommend heading over to the landlord forum for landlord/tenant related support from the community.
If you contact me and I don't reply, it could be due to one or more of several reasons, which are listed here. So you may want to read the list before reaching out.