15 Reasons Why Estate Agents Are Idiots

I remember recently reading a national survey, which listed estate agents as one of the most hated people amongst society, sitting comfortably below ticket inspectors. Of course, I can't clarify how reliable the source was, but it sounded about right.
Estate agents notoriously receive a bad wrap (rightly or wrongly so) for being snake-oil parasites that would stab their nan's for a fiver. I'm not saying I agree, but it's easy to understand why that's the general consensus amongst the public after digesting and personally witnessing some of the mindless pranks they've pulled in the past.
Below, I've compiled a list of reasons why your local estate agent is most likely an idiot. The list is not fictional, every example is based on reality. Now, pay attention…
1] No qualifications required
There's no real science or mystical theory to why the majority of Estate Agents are spineless, mentally challenged turds. In fact, it's quite simple- you don't need a license or go through a training programme to become an Estate Agent, so any old fool off the street without qualifications or experience can set up shop as an Estate Agent (which is often the case). That explains a lot already, doesn't it?
In fact, I'm convinced the only prerequisite an Estate Agent is required to have is the means to access a polyester suit and a can of Lynx.
2] Consumer protection
Estate Agents are protected from their own stupidity, because as mentioned, there is currently no mandatory regulation.
It's extremely difficult to claim anything against Estate Agents, unless they do something blatantly illegal. It's amazing how British consumers have more rights when buying a tin of baked beans than bricks and mortar.
3] The Wanker Mobile
Need I say more?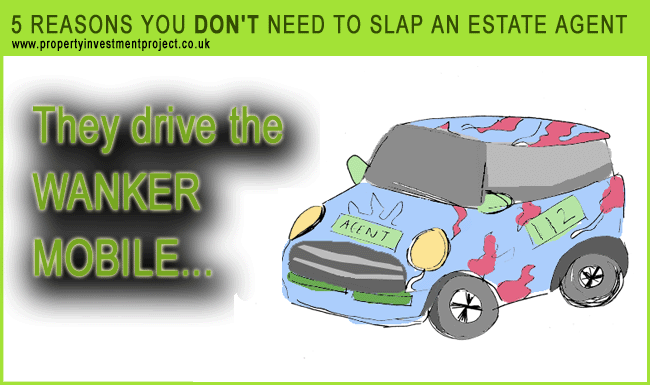 This is taken from the 5 Reasons You Don't Need To Bitch-Slap An Estate Agent blog post.
4] "This property is extremely popular"
Needless to say, Estate agents aren't short of a trick or two. One of their favourite being, arranging two viewings to "accidentally" coincide, so the property appears to be in demand. Alternatively, the agent may often get someone from the office to ring while taking a viewing and pretend that someone has just put an offer in.
Buyer beware, idiot with a semi-functioning brain in operation.
5] That house is perfect for you, sir!
Ever seen an estate agent discourage you from a buy simply because it's not suitable? Me neither. They'll lie through their teeth in order to encourage a sale, even if they're trying to flog a pile of shit.
Example:
Hey Mr Estate Agent, is that barn an appropriate living environment for my wife and my newly born child?
Well, let me see; according to my calculations, I get 1.5% of the sale price. So if I worked this out correctly- then YES, it's a perfect living environment for you and your family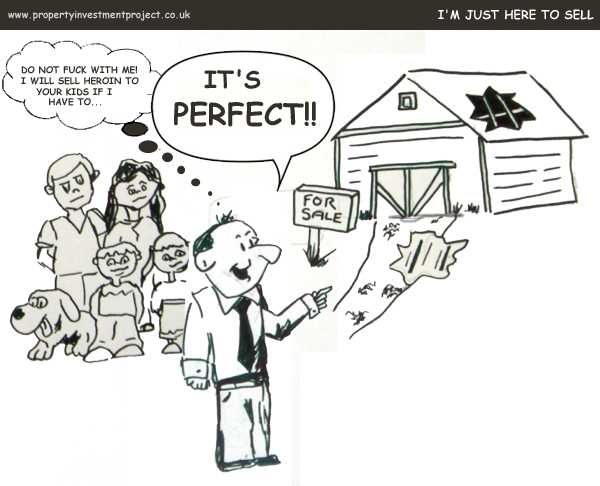 6] The Estate Agents perfect deal
Estate Agents don't try and get you the best deals; they try and get themselves the best deals. It's all about the commission. Regardless of whether you're a buyer or seller, they have tactical methods of trying to exploit anyone at either end of the chain.
If you're a buyer, the Estate Agent may try and make you pay as much as possible for a property, so their commission is maximized. If you're a seller, an Estate Agent may try to under value your property, and then quickly buy the property via a "friend" Sounds far-fetched, right? Happens all the damn time.
7] Different planet
They each live on a different planet, and naturally, they rule all.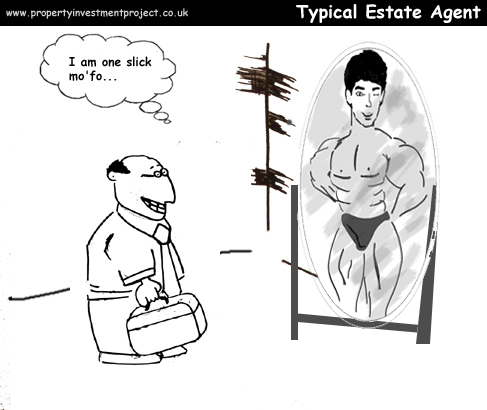 8] Time-wasters
Estate Agents love taking it upon themselves to show prospective buyers properties that are completely out of scope from their initial requirements. Why do they do that? It's usually when they don't have enough properties in their books that match the brief, so instead of fessing up and saying, "Sorry, we don't have any properties that match your criteria", they take their prospects on a bullshit wild goose chase.
Here's an all-time classic clip from Gavin and Stacy of a stereotypical Estate Agent that's a total time-waster. It's funny because it's true.
9] Estate Agents run their own shop…from their suit jackets
Estate Agents will try and sell you ANYTHING, not just property. I wouldn't be surprised if an Estate Agent pulled out stainless steel cutlery out of his/her polyester suit in the middle of a viewing, "Madam, this fine set of cutlery would go lovely with this house. I can make you a deal if you buy both today"
Beware of Estate Agents that come baring mortgage deals and home insurance offers. They can also make commission from those extras. They generally don't offer the best rates, but regularly imply that they do.
10] They hate their own kind
'Black on Black' crime was actually inspired by 'Estate Agent on Estate Agent' crime.
What chance do we as consumers have if they hate their own kind? I'm not just talking about feuds between rival companies; I'm also talking about in-house war. They backstab each other by taking each others leads. Other peoples' misery is generally their gain.
11] Flyboarding
Do you often seen those hideous "for sale" and "for let" signs everywhere and think, "How can there be so many houses for sale/for let?"? The reality is, half of them aren't available, and that's what is known as "flyboarding"
Estate agents leave those hideous, out-dated signs up as a means of cheap advertising. "Cheap" being the operative word.
False advertising.
12] Turbulent Work Ethic
If the property market is 'hot' and there is plenty of demand, Estate Agents are generally performing at their worst. Their level of communication will be at an all time low and they'll be working by their own schedule.
However, if the market is dead, you may get the best out of them. They'll probably pop round and drop off some sugar; build some common ground and try to 'relate' to you and your problems. It's pitiful.
13] Mr Know-it-all
When an Estate Agent doesn't know an answer to your question, don't expect a confession, nor should you expect a respectable response like, "I'm not entirely sure, but I will find out for you and get back to you". Strap on your seatbelt and expect a train of verbal bullshit. In most cases, an Estate Agent won't comprehensively know the in's and out's of all the areas they deal in.
Example:
Hey, Mr Estate Agent, what are the local schools like around here?"
errr…well, they're very good. Yeah, my daughter goes to the one around the corner. Highly recommended. Your children will be safe and well educated there"
The Estate Agent is lying. He doesn't have a kid. He hasn't even had sex with a human before, only with bags of money.
This is taken from the 5 Reasons You Don't Need To Bitch-Slap An Estate Agent blog post.
14] Product of their own environment
When I watch the news and see 3 year old children in war torn countries strapped with semi automatic rifles, I don't blame the children. They're just a product of their environment. Similarly, estate agents are mostly just products of their smuggy, self-obsessed and conniving environments.
I don't really have a point here. I'm just saying, the entire environment is jacked up, so everyone that enters gets contaminated by it.
15] Chinese Whispers
You have to remember, the estate agent is the "middle-man" The problem with having a middle man, especially one that's dressed as a clown, is that information often falls out of their head, meaning information doesn't always seamlessly relay as it should. Strange that, innit?
It's not uncommon for a lot of the lower-end offers to never get delivered to the vendor if the estate agents feels he can make more money from the deal.

Please note, I don't actually think every Estate Agent out there is dodgy; I just think the majority have committed at least one of the sins above. I have no doubt in my mind that there are a few good men standing.

Like this post? Then maybe you should sign up to my FREE newsletter so you receive more like it!
405 Comments- join the conversation...
Please leave a comment...
Want FREE Landlord/Tenant advice from experienced Landlords?
Join our active Landlord community by registering to our Landlord Forum.
Learn, share and resolve your problems!