Special Offer
£15 Visum Discount Code for Property Sales & Tenant-Find Services
FREE Exclusive £15 Discount code, which can be used on Visum's popular Rightmove Property Sales & Tenant-find services! You won't find this discount code anywhere else!

I guess you're here because you want to know more about Visum, but specifically, whether they're above board or one of the many cowboys parading around as a legitimate operation.
Visum is one of about a thousand Online Agents to choose from, that offer online property sales & online lettings services. Over the recent years, online agents have been emerging thick and fast, like hairs sprouting from a 13 year old, so the confusion of which to use isn't terribly surprisingly. Needless to say, my objective for today is to help simmer the confusion.
To cut a long story short: Visum are a legit solution for letting or selling property online, and what many people don't realise is they're actually the UK's first online letting agent, and they've always been one of the cheapest online agents around. I suspect their competitive price-tag leaves suspicion behind, but rest assured, they do what they say on the tin. So if you're thinking about using their services, whether it be to let or sell your property, you should do so without fear. Go ahead, sign-up for their online letting services or online sales services.
What do Visum actually do?
You probably already know. But here's a breakdown if you're playing catch-up…
Like every other Online Letting & Estate Agent, Visum will market your 'vacant BTL property' or 'property for sale' across the biggest property portals online, most notably Rightmove and Zoopla, giving your property the largest advertising reach and the best chance of creating enquiries from prospective buyers and tenants.
The process is simple: you upload your property details onto their website, and they will then distribute the details across the property portals. Once your property goes live (which is usually with in 24 hours), you should start receiving enquiries from prospective buyers or tenants (depending on whether your objective is to sell or let, obviously) who are scouring through properties on the portals, and then you can start the process of arranging viewings.
Customer Support
One of the biggest fears with using online agents is their customer service, or lack their of to be specific. The misconception is that you make a trade off with online agents, because you don't have the luxury of being able to walk into a physical shop-front and talk to/shout at an agent.
Truth is, most of the reputable online agents provide a more accessible customer service solution than the average high-street agent. Visum in particular handle email and telephone enquiries for your property 7 days a week, 365 days a year. During the week their staff man the phones from 8am to 8pm, their computer system takes control during other times.
So rest assured, you WILL be talking to real people if support is required.
Available packages
Online Letting Services
Visum has 3 letting packages available for landlords, the 'Basic', 'Plus' & 'Premium'. Pick your poison…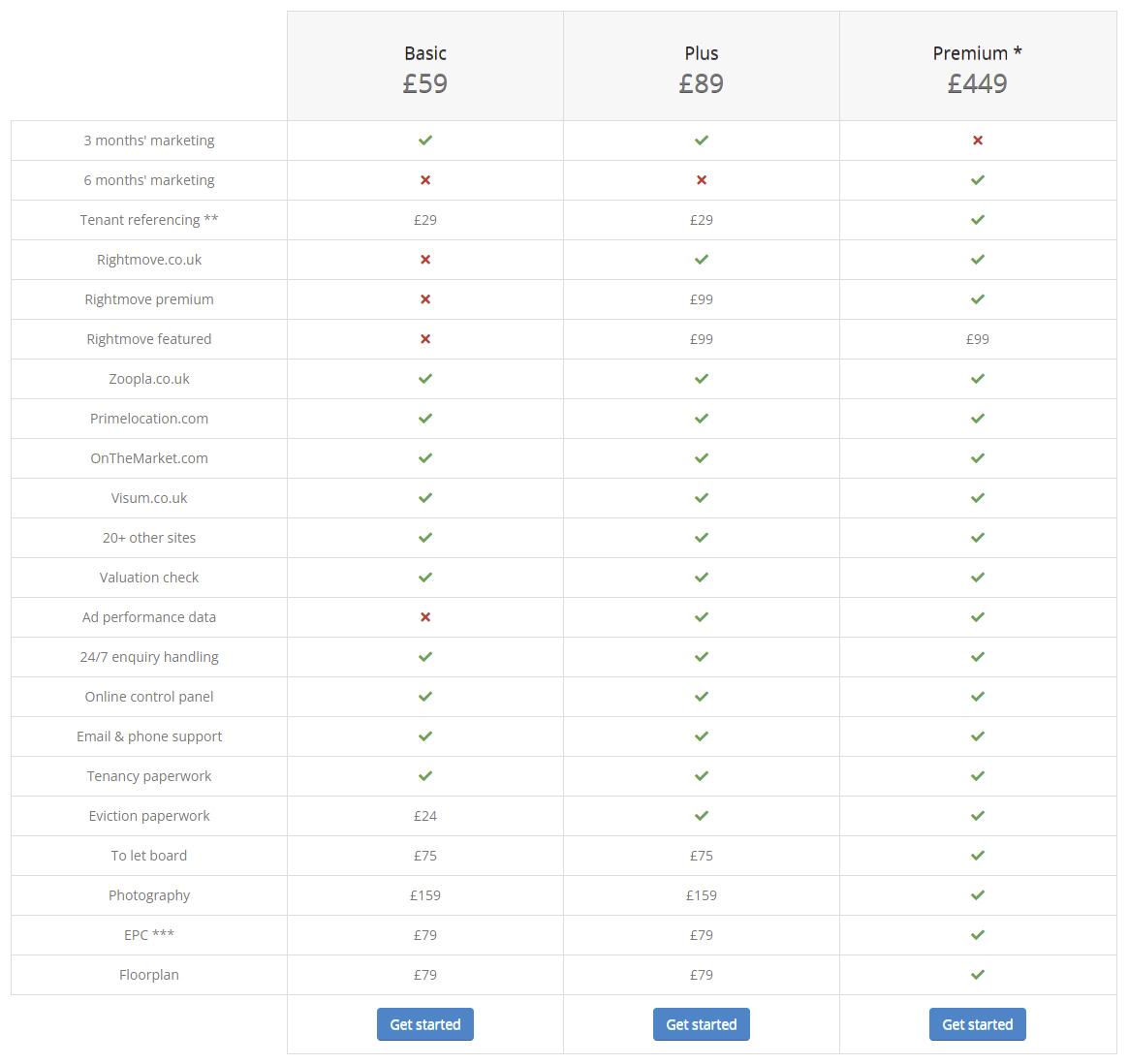 Online Sales Services
Visum also has 3 Sales packages available for vendors, 'Basic', 'Plus' and 'Premium'.
* There is a setup fee of £80 payable with the first block of marketing, so add £80 to the following prices…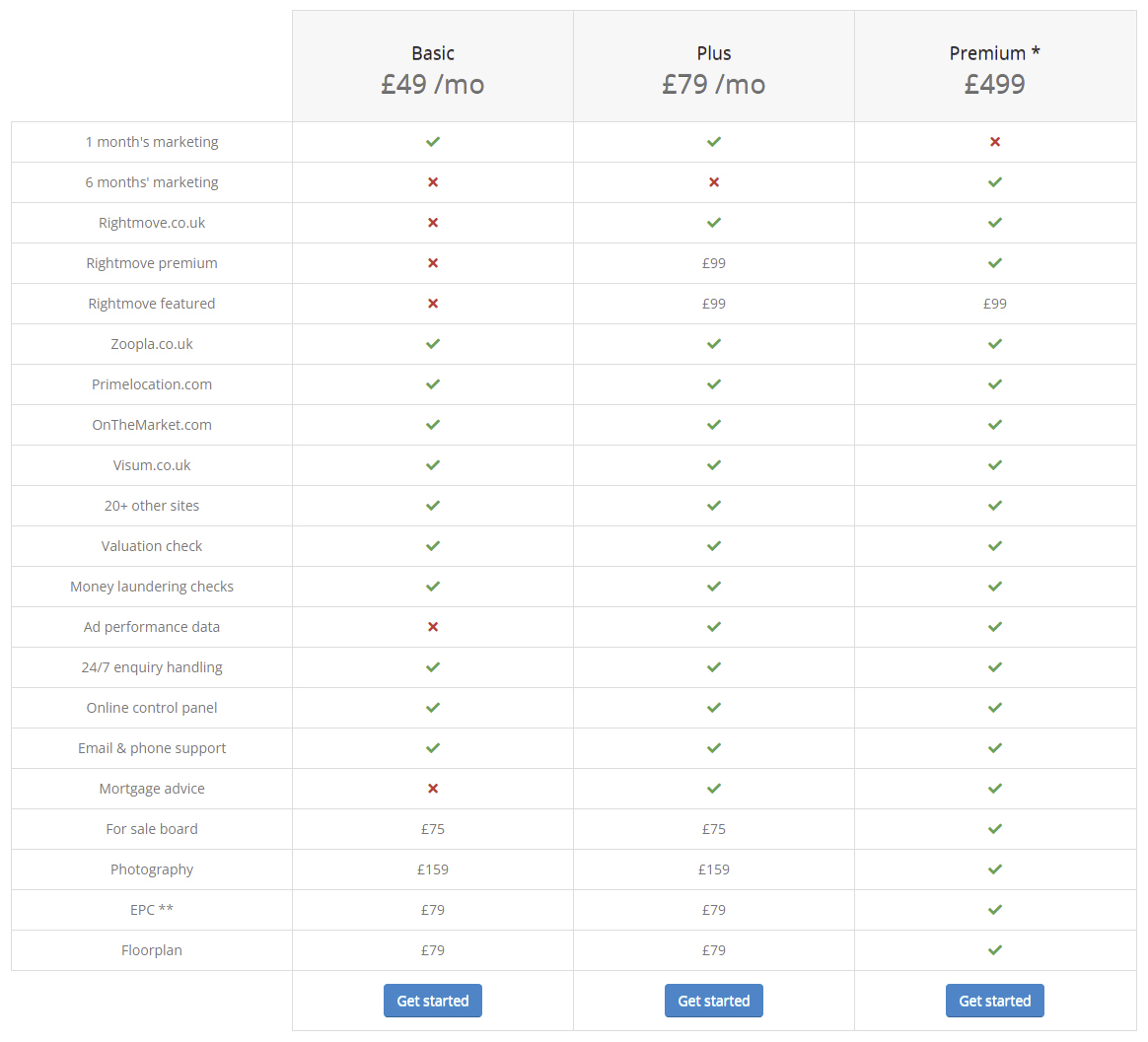 Don't forget… you have been given an FREE Exclusive £15 Discount code, which can be used on any of Visum's packages! You won't find this offer anywhere else!
Discount code: PIP1
Important: Which package?
This is where people often make the wrong choice and end up bitterly disappointed.
For most people, the natural option would be to immediately eye-up the cheapest solutions, which is the 'Basic' for both Sales & lettings. However, I'd personally ignore the 'Basic' like the plague, because it doesn't get your property listed on Rightmove, which in my opinion renders the package as useful as a chocolate teapot! Yes, the 'Basic' will get your property listed on Zoopla, which is a hugely popular portal and needs no introduction, but if I had to make a choice between where I want my property listed, it would be Rightmove every damn time. Historically, I've just had much better results on Rightmove, but that isn't surprising, because it is the most popular UK property portal… by a long shot.
Rightmove is where the majority of enquiries are generated for most agents- it's by far the best marketing tool because it's so damn popular. I've said before and I'll say it again: I don't care how you do it, Just Get Your Property On Rightmove if you want to find tenants quickly or sell your property quickly.
In my opinion, the price difference between the Basic & Plus is minimal when taking into consideration the difference in value, so it makes no sense to go cheap! Essentially, the Basic package is junk!
Positive Feedback / Happy Customers
I've been actively directing landlords and vendors towards Visum's and a few other online agents for a while now, and the feedback has 99% of the time been very positive. There have been a few mishaps, but they were based on the fact that the wrong package was chosen (which I've already discussed).
So to summerise, Visum are legit, and they've received very positive feedback from many folk I've spoken to. So once again, let me prompt you to go ahead, sign-up for their online letting services or online sales services if you're in the market.
Why choose Visum to be your estate or letting agent?
So, we know online agents are growing in popularity, and the increasing amount of options available are making us all dizzy. So why does Visum think we should choose them over their rivals? This is what they had to say when I asked them the question…
Time tested and proven: We were the world's first online agent: starting way back in 2004 and innovating constantly since then. Every other online agent out there has copied our model to a greater or lesser degree, knowingly or otherwise. If imitation is the greatest form of flattery then we're flattered out!

We are the only "pay as you go" agent: our unique pricing model offers more savings versus traditional agent fees (and other online agents' fees too) the more quickly your property sells. Our customers tend to be switched on and motivated to do their research, which is one of the reasons why we sell properties in less than half the national average time.

We never close: our advanced systems mean we can handle enquiries 24 hours a day, 365 days a year, so if someone enquires about your property at 3am on Christmas morning then we'll let you know about it. don't worry – we won't phone you up at that time, we'll send a discreet text and email!

Extreme flexibility: We don't have a one size fits all package that forces you to pay for extras that you don't want. Our menu pricing allows you to hand as much or as little of the work of letting or selling your property over to us as you wish to.

Total control 24/7: Tweak your advert in real time, manage enquirers, purchase add ons and more using our custom built, simple to use admin platform. Managing your property listing has never been easier.

Help when you need it: Our directors are extremely experience letting and estate agents, and also private landlords with near on twenty years of experience too. There isn't much we haven't seen, so if you're stuck with something then drop us a line.

Reassurance and peace of mind: We're members of the Property Ombudsman Scheme and adhere to their code of conduct, giving you powers of redress in the extremely unlikely event of a dispute.
So, what do you think? Are you convinced?
Disclaimer: I'm just a landlord blogger; I'm 100% not qualified to give legal or financial advice. I'm a doofus. Any information I share is my unqualified opinion, and should never be construed as professional legal or financial advice. You should definitely get advice from a qualified professional for any legal or financial matters. For more information, please read my full disclaimer.