Right, we've got a lot to get through here, folks (or you can just skip to the relevant part if you're after specific information).
Most residential rental contracts in England & Wales between private landlords and tenants are Assured Shorthold Tenancies (AST).
Alas, it's evident that many landlords and tenants sign on the dotted line even though they're not fully unaware of how ASTs work and what it means as far as their rights and obligations – which seems so crazy to me.
So in this blog post, I'll do my best to cover key points all landlords and tenants should be aware of, ideally, before signing the contract. I'll also address some common questions and situations which occur during a tenancy.
Let's do this…
Quick Overview: Assured Shorthold Tenancy Agreements
An Assured Shorthold Tenancy (AST) is the most common form of tenancy for private residential properties in England and Wales;
it is legally binding contract between landlord and tenant that outlines the terms and conditions of the tenancy, including rules and responsibilities;
the contract term is typically fixed at 6 or 12 months;
it's best to form an AST by a written contract, but it can also be an oral agreement;
the only way to terminate an assured shorthold agreement is if there is a mutual agreement, the tenant or landlord breaches terms of the tenancy agreement, or once the fixed term has expired.
What is an Assured Shorthold Tenancy Agreement?
An Assured Shorthold Tenancy Agreement (AST) is a type of tenancy agreement, which was introduced under the Housing Act 1988.
It's a legally binding contract between landlord and tenant, which sets out the terms and conditions of a tenancy, such as the duration of the agreement and the rental amount payable by the tenant.
A landlord will typically use a tenancy agreement when signing up a new tenant, or renewing an existing tenancy.
If your tenancy began on or after the 28th February 1997, it is likely to be an Assured Shorthold Tenancy, which is the most common type of tenancy in the rental private sector. Tenancies starting before the 28th February 1997, but after 15 January 1989, are more likely to be Assured Tenancies.
The primary difference between an "Assured Shorthold Tenancy Agreement" and an "Assured tenancy" is the legal procedure the landlord has to take in order to regain possession of the property. You should NOT use an AST if you have an Assured tenancy.
Similarly, many landlords make the mistake of using an AST contract when they actually have a lodger! A 'lodger' is not the same as a 'tenant', so you should not be using a tenancy agreement contract. Generally speaking, if you're a live-in landlord (i.e. you live in the same property as your tenant, and share communal areas, like the bathroom and kitchen), then you most likely have a lodger, and should use a lodger agreement instead. For more information on lodgers, please go to the lodger guide for live-in landlords.
Where can I get a good tenancy agreement contract from?
They're available in all shapes and sizes; they can vary from 2 page documents to 50, and they're available from a wide variety of sources. Therefore it is extremely important to source your tenancy agreement contract from a reputable supplier, which specifies how the document was compiled.
A large number of suppliers, especially the ones which offer free contracts (and even ones charged at a premium, to be honest), often supply garbage contracts. They'll either be poorly formatted and/or riddled with invalid clauses (i.e. clauses which aren't enforceable by law). That's usually the result of someone unqualified (e.g. landlords and/or letting agents) modifying the contracts with their own makeshift rules (e.g. the tenant is only allowed visitors on Tuesday between the times of 1pm – 5pm).
It is important to note that all written tenancy agreement contracts must be "fair" and written in "plain English" and not intended to mislead the tenant in any way.
It goes without saying, failing to use a properly compiled contract can be an expensive mistake.
And here's my plug (sorry!)…
The Assured Shorthold Tenancy Agreements available for download on this website were drafted by Stones Solicitors LLP.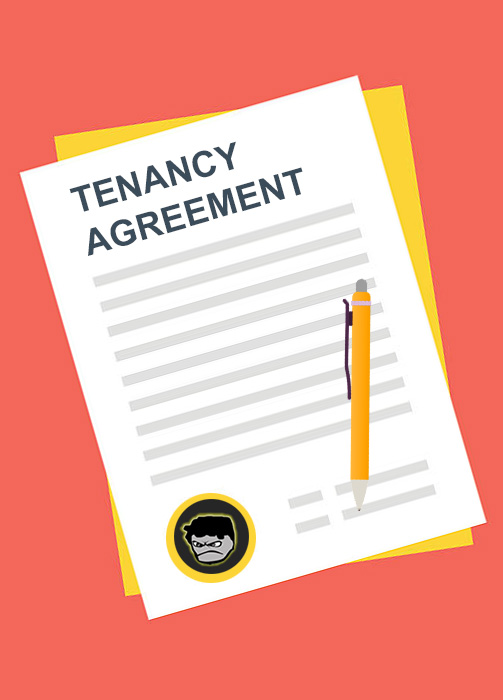 Download Your Tenancy Agreement
Only £4.99 - download once and unlimited use
All of our Tenancy Agreements were originally drafted by specialist landlord law solicitors
Provided in .doc format so fully editable
Written in "plain English" with easy to understand terms and conditions
GDPR updated
Visit Shop
For further information on this specific issue, you may want to read my guide on how to check if your tenancy agreement is any good or not.
When should I use a Tenancy Agreement?
An AST should be used where a landlord is renting a residential property to just one person or multiple tenants (that aren't strangers, otherwise your rental property might be classed a House in Multiple Occupation (HMO)).
An AST is not suitable in all circumstances, and should not be used in the following conditions:
If the property receives more than 100k per year in rent (This was 25k before October 2010)
If the property receives very low, or no rent at all
If the property is a holiday home
If the property is let to a private limited company
If the property is owned by the Crown or a government department
If the property is being let with more than two acres of agricultural land or an agricultural tenancy
Do I need a written Tenancy Agreement?
There is no law which states that an AST cannot be formed through an oral/verbal agreement. In fact, many are (rightly or wrongly so – but it's clearly wrong).
With or without a written contract, from the moment a landlord and tenant agree on terms, and the tenant is permitted to enter and live in the property by the landlord, a legal tenancy is formed. The tenant will at this point be protected by their statutory rights, as will the landlord.
But needless to say, it's just plain ol' good sense for all tenancy agreements to be formed via a written agreement so both tenant and landlord can always reference the terms and conditions of the tenancy, and not rely on memory.
The risk of doing this without a contract is that there is no written proof of what was agreed upon, so in the event of a dispute, it becomes extremely difficult to prove either case. If everything is written in black and white, there can never be any question of what was agreed upon.
Obviously none of this is rocket science, but you'd be amazed at how many disputes I hear of that entails verbal agreements.
I would avoid getting into this situation at all costs by always using a written tenancy agreement.
How do I know if I have an Assured Shorthold Tenancy Agreement?
There are several factors which will determine whether or not an Assured Shorthold Tenancy has been agreed. You will have one if:
If the tenant pays less than 100k per year in rent
If the tenant moved into the property on or after 28th February 1997
If the tenant is renting from a private landlord
If the tenant has rights to have privacy in the property where the landlord cannot enter the property without mutual agreement
How long can a tenancy last for?
Since 28th of February 1989, an Assured Shorthold Tenancy can last for any duration. However, while the tenancy can be as short as required, under an AST the tenant has a legal right to stay in the property for a minimum period of six months, regardless of whether the agreed upon duration is for a shorter period.
What is the recommended length of a tenancy agreement?
Most tenancy agreements have a fixed term of between 6 – 12 months. That's pretty much the industry standard.
Any longer than 12 months is high-risk in my opinion, especially when you're dealing with new tenants, because the reality is, neither party knows what the other is like.
I personally always offer 6 month tenancies to new tenants (basically, the minimum term), but always with the intention of them remaining long-term tenants if all goes well. I explain this to all my prospective tenants from the offset – it's for everyone's protection.
Presuming everyone is happy after the 6 months and we're willing to continue the tenancy, I then either renew the tenancy (at this point, I'd be more willing to offer a 12 month fixed term, but still no more), or do nothing and allow the tenancy to roll into a periodic tenancy (this is my preferred option as it's much more flexible for everyone).
Who keeps a copy of the tenancy agreement contract?
There is no law specifying who should and shouldn't have a copy of the contract. But again, common sense is the way to go – both landlord and tenant each have their own copy (and an agent if one is involved).
What information is included in a tenancy agreement contract?
Tenancy agreement contracts can range from 2 pages to more than 50 – they can drastically vary. However, the following is generally always included:
Here are just a few of the issues the contract should cover:
The amount of rent and deposit payable and the term of the tenancy
Tenant's obligation to pay bills and council tax
Tenant's obligation to keep the property and any garden in good order and repair
To use the property for residential purposes only
Not to cause nuisance or annoyance to others
Not to keep pets without written permission
Not to leave property unattended for more than 21 days without informing landlord
Any tenancy agreement can be amended by updating, adding and removing terms of the tenancy (but as previously mentioned, that doesn't necessarily mean that every term in the contract – even if signed and agreed upon by both tenant and landlord – is enforceable by law).
For example, a tenancy agreement can give both tenant and landlord more than their statutory rights, but cannot give any less. In other words, no clause can overturn anyone's statutory rights.
Basic rights of Landlords & Tenants
There are legal obligations a tenant and landlord must adhere to, even if they aren't specified in the tenancy agreement. These conditions form part of the AST contract, even though they have not been specifically agreed upon.
Some of the most common implied terms are:
the landlord must keep the installations for the supply of water, gas, electricity, sanitation, space heating and heating water
the tenant has the right to live peacefully in the accommodation without nuisance from the landlord
the tenant has an obligation to take proper care of the accommodation.
Changing the terms and conditions of the tenancy agreement
During the fixed term of a tenancy, terms and conditions of the tenancy agreement can be amended but only if both the landlord and tenant agree to the new conditions. The change should be recorded in writing, either by drawing up a new written document setting out the terms of the tenancy or by amending the existing written contract.
I know I've already harped on about it, but I'd be remiss if I didn't say again here – it's important to be diligent when modifying a tenancy agreement. Ensure that ALL terms and conditions in the agreement are legal and enforceable by law and don't undermine anyone's statutory rights.
It is always advised to seek legal advice from a professional when amending any form of legal contract.
After the fixed-term has expired, you can offer a new tenancy agreement contract, which includes any new terms.
Renewing a tenancy agreement
There are generally two common ways of renewing an existing tenancy. The good news is both processes are pretty straight forward.
Sign a new tenancy agreement
The first way is to simply draft a new tenancy agreement, which takes over when the previous tenancy ends. Both landlord and tenant will need to sign the contracts again, and agree to any new terms and conditions that may have been added e.g. rent increase.
Allow the existing tenancy to become a periodic tenancy
The second method is to do nothing. Literally, do nothing.

Simply allow the tenant(s) to continue their occupancy as they have been. In this instance, the tenancy will become what is known as a periodic tenancy (or "rolling tenancy").

All the same terms and conditions in the expiring tenancy agreement will still apply, but the only difference is that the new tenancy agreement becomes periodic. The "period" is dependent on how frequently the rent is paid. For example, if the rent is paid on a PCM (Per Calendar Month) basis, then the contract will run on a month-by-month basis. Same principle applies if the rent is paid on a weekly or bi-weekly basis.
For more details on renewing tenancies, please refer to the How To Renew A Tenancy Agreement blog post.
Ending a tenancy agreement
Under the Housing Act 1988, a landlord has the legal right to repossess their property at the end of the tenancy. In order for a landlord to do this the right way, they must follow the correct legal procedure.
A tenant is required by law to be given 2 months notice, while a tenant must give at least 1 months' notice.
A lot of landlords (and tenants, to be fair) believe that tenancies automatically terminate on the "end date" specified in the tenancy agreement. That is not the case.
In order for either party to terminate a tenancy agreement, a separate notice must be served.
More details can be found on ending a tenancy agreement in my terminating a tenancy agreement post, which includes all the methods available for both landlord and tenant.
Ending a tenancy agreement early (during the fixed term)
It's possible to end a tenancy agreement early, but the how will depend on the circumstances.
Mutual agreement
If it's the case that both parties agree to terminating the agreement before the fixed term, then this is what is known as 'surrender'. This can be done in two ways: "operation of the law" or by a "declaration of surrender".
Surrender of operation by law
This is when the tenant gives up their occupation of the property to the landlord and the landlord accepts this. This could involve the tenant handing over the property's keys to the landlord and the landlord accepting that the agreement is over and that they now have possession.
Declaration of operation by law
This is when the tenant signs a "Declaration of Surrender". This written document then acts as proof that the tenant has given up possession of the property to the landlord.
For a surrender to be legal, both parties must agree. It's advised for everything that has been agreed to be written down so everyone knows where they stand. If a joint tenancy is in place, all the joint tenants and the landlord must agree to the surrender.
When a tenant has legally surrendered the tenancy, the landlord will then have the right of possession of the property under Section 5 of the Housing Act 1988. The landlord needs to end the agreement properly, before re-letting the property; otherwise the landlord could be accused of unlawful eviction.
Breach of terms or legal obligations
If the tenant has breached terms of the tenancy (e.g. fallen in rent arrears), the landlord can issue a section 8 eviction notice to start the process of an early termination. But be warned, this can be a messy process if the tenant disputes the allegations and is adamant on staying put.
If the landlord has breached the terms of the tenancy and/or fallen short of their legal obligations (e.g. if the property is uninhabitable or poses a serious risk to health and safety), then the tenant may have grounds to terminate the tenancy early. Again, this can also be a messy process, so it's best to consult with a legal professional or a housing advice organisation (e.g. Shelter).
Pet Clauses in Tenancy Agreements
Most tenancy agreements will make provisions for pets, stipulating whether a tenant has been granted permission to keep a pet in the property, or whether permission is required first.
If the tenancy agreement does not include any provisions for pets, the tenant should ask for permission first.
If you are a pet-friendly landlord, then I definitely recommend including a pet policy with your tenancy agreement.
The issue of landlords, rental properties and tenants with pets is a complex one, so I have another blog post dedicated to it.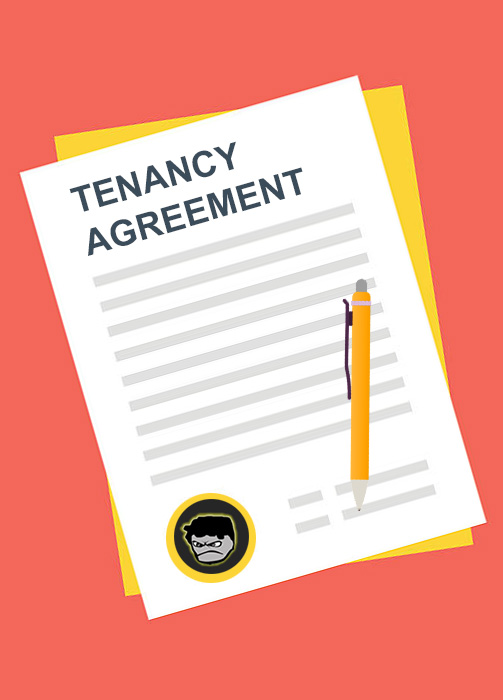 Download Your Tenancy Agreement
Only £4.99 - download once and unlimited use
All of our Tenancy Agreements were originally drafted by specialist landlord law solicitors
Provided in .doc format so fully editable
Written in "plain English" with easy to understand terms and conditions
GDPR updated
Visit Shop
Disclaimer: I'm just a landlord blogger; I'm 100% not qualified to give legal or financial advice. I'm a doofus. Any information I share is my unqualified opinion, and should never be construed as professional legal or financial advice. You should definitely get advice from a qualified professional for any legal or financial matters. For more information, please read my full disclaimer.
Phewwww, I think I'm done for now.
Hopefully I've provided a decent overview and covered the key points (or, at least a lot of them). I'm sure this post will evolve over time.
In the mean time, feel free to browse more of my blog posts related to tenancy agreements (in which I go into more detail on some of the talking points covered in this post)…
More Articles on Tenancy Agreements