A few days ago I had some letting agent shister shamelessly promote his own company under a fake alias on my blog by masquerading as a satisfied customer. Sadly, that kind of embarrassing marketing tactic is unsurprisingly common, especially among estate/letting agents.
He left his comments over in my How To Privately Sell Your House On Rightmove blog page- if interested, check out comments 11 – 14. Surprisingly, he didn't respond once I called him out on it. Snake.
I don't really want to make a big deal about his actions, because I'm sure he made himself accountable for his actions and punished himself appropriately. However, what I found interesting was that he, let's assume he was a genuine customer, claimed to have found tenants with the use of a free property portal, and specifically without the help of Rightmove.
That got me thinking. His underlying message was, "you don't need Rightmove to sell your home", which is actually true, but I wouldn't shout it from the rooftops in case someone actually heard and misconstrued it as good advice.
However, there's still, very surprisingly, a lot of value left in local advertising, and highstreet agents still capitalize from its potency. The local gazette will still manage to fish out a dinosaur or two in the market to buy. But the problem is, local advertising isn't scalable and it's becoming less effective everyday.
So, while I agree, you don't need Rightmove, whether it be to sell your home or find a tenant… you'd be an f'ing idiot not to. I'm sure this is common sense to many of you reading this, so this is for the benefit of the novice.
But let's focus on the tenant-finding aspect, because we're landlords. Basically, if anyone is trying to encourage you to find tenants without the use of Rightmove, I would pay no minds. Failing that, you'll instantly squash your odds of finding tenants, or at least to in any reasonable amount of time.
There is currently no substitute for Rightmove
Love them or hate them, Rightmove have monopolized the online property space and have that shit tied up into a tidy little bow. You want to buy or rent a property? Get your shit on Rightmove. Want to sell your car? Get your shit on Autotrader. Want a Landlord Blog? Stay right here. That's just the way it is.
Whether you're using a high-street letting agent or an online letting agent, it doesn't really matter, just ensure your hired help is going to whack your property on the most popular property portal in the UK, Rightmove. There is no substitute for the moment, and that's precisely why Rightmove get away with continually making agents teary-eyed when increasing their rates.
My experience with Rightmove
Whenever I'm looking for tenants, Rightmove is at the heart of my strategy. Every other medium used is just an added bonus.
Rightmove has generated by far the most enquiries for me, with Gumtree in second place (but it must be noted, Gumtree notoriously produces lower quality leads).
Don't get me wrong, there have been times where I didn't source my tenants from Rightmove even though I was advertising on there. But nonetheless, they've still been the most effective and consistent for generating enquiries.
How to advertise your rental property on Rightmove
Getting your property onto Rightmove is easy, and it doesn't have to be expensive. The only catch is you have to go via an letting agent because Rightmove doesn't deal directly with individual civilians off the street- you people are chumps. But there are plenty of online agents to choose from, and one of the most popular ones, OpenRent, even offer you the service for FREE (no strings attached- you'll get your vacant property on Rightmove for free). You can read my full review on Openrent. So there really are no excuses.
The expensive, but allegedly hassle-free option is to use a high-street letting agent. Most reputable ones with any sense will market your property on Rightmove as part of their marketing tactics. Likewise with Online letting agents, only they're significantly cheaper, but the landlord is obligated to do more of the leg work (e.g. take the viewings).
Either way, I don't care how you do it, just get your property on Rightmove if you're looking for tenants.
You can do it without Rightmove
I just want to throw this disclaimer out there (again), because I know many will be itching to throw their unsavory, conflicting opinions this way. And sure, I may act interested. But I won't be.
As already said, there are plenty of different methods of finding tenants, many of which are extremely effective and don't involve Rightmove. However, marketing on Rightmove will give the landlord the biggest possible advantage, and the likelihood of reaching out to more prospects than any other medium. For the smidgen of effort and money required to make it part of your marketing campaign, it really doesn't make sense to avoid it, even if your confidence lays elsewhere.
Zoopla is probably Rightmove's biggest competitor right now, and many people rave about them, but in terms of popularity, Rightmove is still dominating. Significantly. If I had to choose between the two, I'd choose Rightmove every damn day of the week.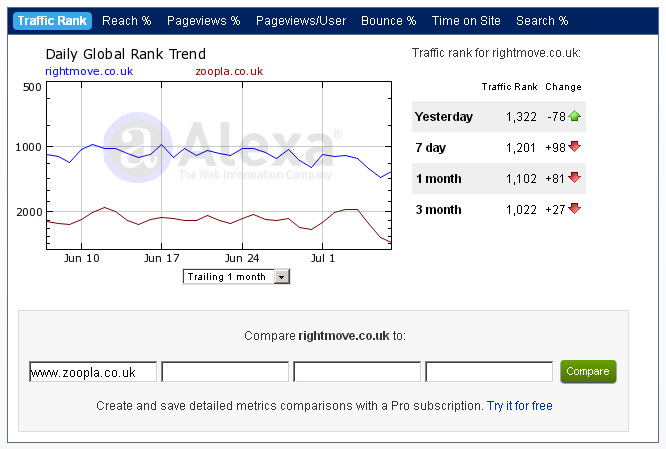 The above graph shows how much more traffic Rightmove gets compared to Zoopla, although I wouldn't bet my left bollock on the accuracy. But the actual conclusion is almost certainly true.
And just as a warning, many online letting agents say they'll market your property on 500+ property portals for something ridiculous like £10, and to the naked eye, that may seem like an extremely compelling proposition. They'll also provide you with a list of each of those portals, and some of the names may seem extremely impressive, like The Sun, The Sunday Times, The Telegraph, The Independent, AOL, MSN etc. But if it doesn't mention Rightmove, ignore the flashing lights. That bullshit list is just smoke and mirrors. Those websites combined couldn't even find you an ex-convict DSS tenant.
Do you know how many people visit the Sun website to find vacant properties to rent? Me neither. But it doesn't matter.
Quick question for the landlords out there: do you make Rightmove a priority in your marketing campaign? Is it essential to you? Or are you indifferent, and refrained from making them the be-all and end-all of your strategy?
Looking for a tenant? Get your property on Rightmove. That's all I'm saying.
Disclaimer: I'm just a landlord blogger; I'm 100% not qualified to give legal or financial advice. I'm a doofus. Any information I share is my unqualified opinion, and should never be construed as professional legal or financial advice. You should definitely get advice from a qualified professional for any legal or financial matters. For more information, please read my full disclaimer.