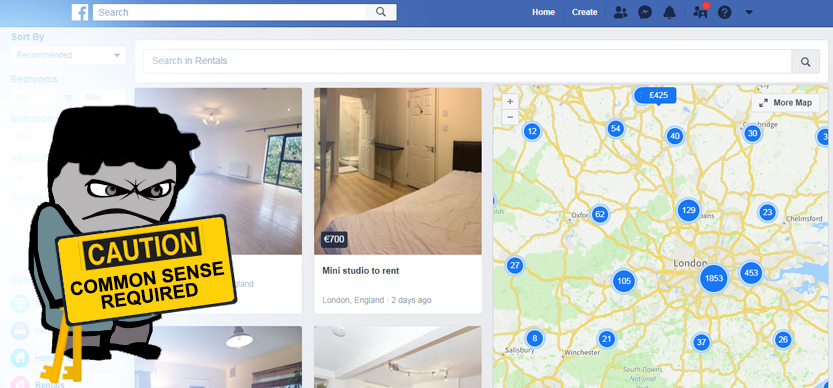 When I first caught wind of Facebook Marketplace, I recoiled, screwed my face up like Grandmother had dropped one of her atomic dusty farts, and thought, who's going to go anywhere near this shit?
My gut was screaming 'Gumtree on steroids', a scammers paradise. Avoid like the plague, especially if common sense comes sparingly.
But apparently – so I've been told – my unreliable and flaky gut has been keeping me distanced from a potentially powerful lead generator that landlords should not be so quick to shoo away!
Facebook Marketplace, it's the platform you might want to consider adding to your marketing arsenal the next time you're embarking on the soul-destroying task of finding for new tenants!
What is Facebook Marketplace?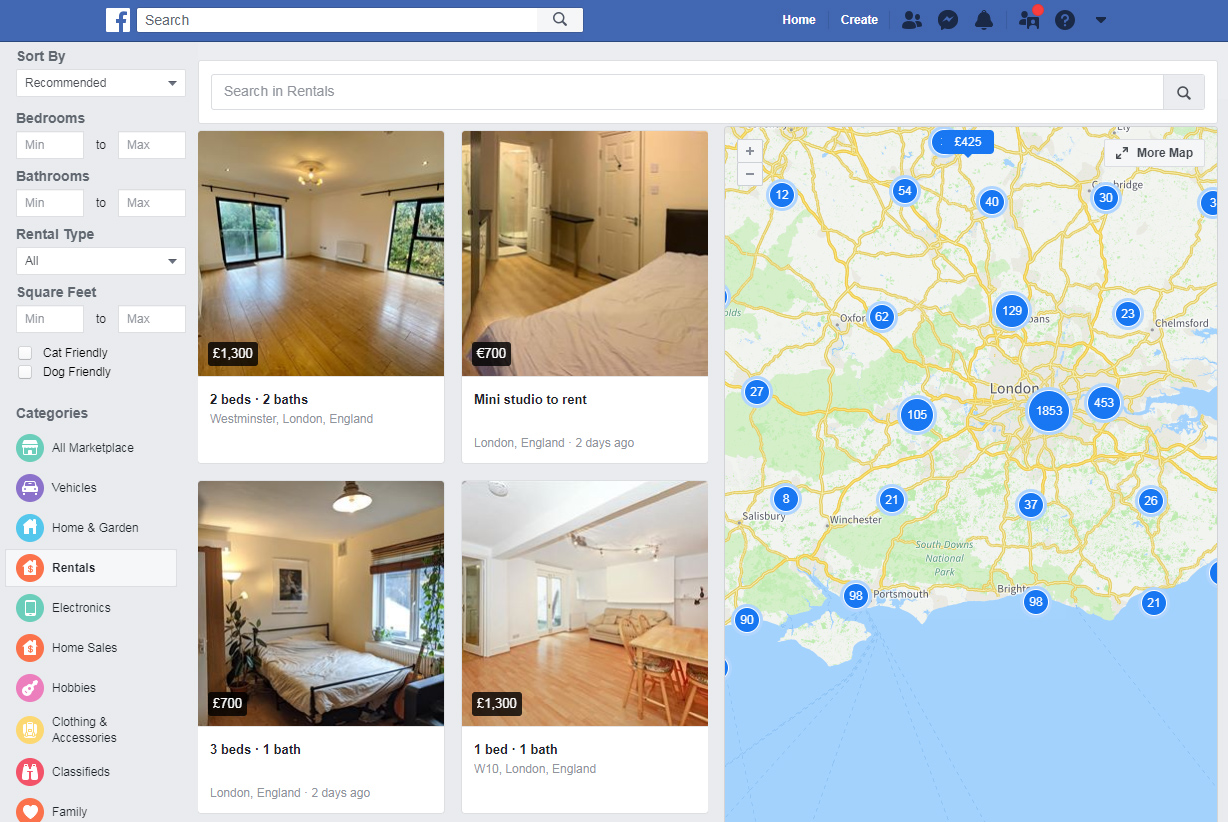 Have you 'eard of it? Have you seen it? Have you used it?
Facebook Marketplace isn't particularly shiny anymore, it's been stewing away since late 2016. In tech years, it's fossilised turd.
It's most likely everything you imagine it to be, a free classified platform [on Facebook] similar to Gumtree and Craigslist – an online car boot sale – where Facebook users can advertise their unwanted and soiled junk for sale.
Since its launch, Facebook has been slowly opening up the types of items you can shift on their turf, from clothing to vehicles. In late 2018 (or thereabouts) they opened it up to the UK rental market, allowing landlords to flaunt their vacant properties to the Facebook community.
Facebook purely acts as a lead generator, they don't facilitate in any financial transactions; they leave the details of any sales between the buyer and seller, such as price and shipping. In our case, scheduling viewings.
All pretty straightforward stuff.
Should landlords use Facebook Marketplace to find tenants?
In short, I'm inclined to say yes, but only if it's necessary. At the very least, all landlords should be aware of its existence in case there's an enquiry draught that's in dire need of extra exposure. Hence why I'm doing this.
Admittedly, I've yet to try the ol' girl out myself, so my opinion is based on hot air and bullshit anecdotal evidence and hearsay. But I'll probably give it a test drive the next time I'm scratching around for a new tenant (which will hopefully be never. To be honest, I feel like projectile vomiting just thinking about the process!). In the meantime, perhaps you might want to give the trollop a go.
When & why landlords should use Facebook Marketplace?
The When
Rightmove/Zoopla Vs Facebook Marketplace
While the question is being asked – although, I'm not sure how seriously it's being taken – whether Facebook Marketplace is the new Rightmove, I would strongly advise against using Facebook Marketplace exclusively to generate leads. That would be bloody bonkers.

Instead, shove your BTL onto Rightmove and Zoopla via an online letting agent, and then if you want or need extra exposure (often Rightmove & Zoopla provides enough firepower, but not always), use the likes of TheHouseShop, Gumtree and Facebook Marketplace as complementary tools. That's how I'd do it anyways.

Mind you, I'm always prepared for the quality of leads to take a nosedive when I start searching on classifieds.

In any case, I'm typically a fan of going all guns blazing with the marketing guff when there's stiff competition, or if a particularly property has proven to be notoriously difficult to occupy, or if finding tenants as quickly as possible is a priority.
The Why
Success Story
I recently chopped it up with the head honcho over at TheHouseShop; he's the lunatic that took a firm hold of me, slapped me around the chops with a wet thong, and said, "ARE YOU MAD? Facebook Marketplace is the shit! Get on board!"

So here we are, in the thick of it, and the reason for why I [thankfully] did a u-turn and looked into Facebook Marketplace.

TheHouseShop feeds a slice of their property inventory, approx 250,000 units, to Facebook marketplace. To quote Mr Honcho:

"Since listing our inventory on Facebook Marketplace, our enquiry rate has increased 10-fold."
"We became the single biggest lead generator for one of the UK's biggest online letting agents after we syndicated our stock onto Facebook Marketplace" (letting agents list their stock onto TheHouseShop's platform, and then they distribute the stock onto Facebook Marketplace).

Make of that what you will.

Ma-hoooossive Exposure
Needless to say, even if a puny amount of Facebook's user-base flirts with the Marketplace, the number is still high enough to make you dizzy.

According to this article on thenegotiator.co.uk, "Facebook's own data suggests that approximately 35% of its active users around the world visit Marketplace on average, so in the UK that points to some 14 million people using its selling channel every month."

Ultimately, if you want a buttload of eyeballs on your crap, then shoving it onto the Marketplace might be a good start!

Growth in popularity
Facebook Marketplace isn't a fancy new trick that's loitering around under the radar anymore. Alas, the cruel reality is, I'm just unfashionably late to the party!

Facebook doesn't disclose how many properties they have listed, but I get the impression stock is plentiful and it's been growing quickly for quite some time now.

Notably, I'm seeing rather a lot of letting services – from rather big companies – feeding their inventory to the Facebook marketplace, and I suspect more and more are jumping onto the bandwagon every day! That's only telling me one of two things!

It's either comical bullshit hype:

Or a stroke of genius:

For the sake of 5 minutes work and zero financial expense, it's probably worth finding out which it is.

If you did happen to fall for the £1500 Google Glasses hype, I'm sorry.

It's Free
Need I say more?
How to advertise your rental on Facebook Marketplace (your options)
You have a couple of options. Some more pleasant than others.
Use Facebook Marketplace with caution!
Admittedly, my initial scepticism of how effective Facebook Marketplace can be for potential leads has shifted. However, you can bet your lop-sided nut-sack on the fact that it will take a lot more to convince me that it's not crammed with chancers, scammers and bottom-of-the-barrel leads. Don't get me wrong, Gumtree is notorious for breeding the same rabble, but it's still a very effective and popular platform that I'm not shy about recommending when it's used sensibly.
However, if you're the type to believe that the stripper has – against all odds – genuinely fallen in love with your stupid personality while straddling your waist for 3 minutes [in exchange for a tenner], then you're better off avoiding strip clubs and Facebook Marketplace altogether, because you're the type of buffoon that will get swindled by a "Nigerian Prince" scam and lose every penny.
Every landlord should thoroughly reference & credit check prospective tenants regardless of where they are sourced from. But dare I say, it wouldn't be completely bat-shit crazy to be hyper vigilant when processing leads generated from classified websites. Just saying.
Bear in mind, many tenants with poor credit rating intentionally avoid dealing with agents directly and applying through portals like Rightmove and Zoopla because they're unlikely to pass the vetting process, so that's why they flock to classified websites, hoping to deal directly with dithering landlords with slacker vetting processes. Hence why the quality of leads generated are typically less desirable. However, with so many people using Gumtree and Facebook it would be illogical to count every applicant out.
In conclusion, if you want to maximise exposure to your vacant rental property, for whatever reason, you could do worse than advertising on Facebook. Try it.
Have you used Facebook Marketplace to market your rental property (or to shift anything else, for that matter)? If so, when and how did it unravel?
Love & Peace!
Over and out! xoxo
Disclaimer: I'm just a landlord blogger; I'm 100% not qualified to give legal or financial advice. I'm a doofus. Any information I share is my unqualified opinion, and should never be construed as professional legal or financial advice. You should definitely get advice from a qualified professional for any legal or financial matters. For more information, please read my full disclaimer.