Special Offer
£10 Discount Code
Exclusive £10 Discount code – can be used for any Letting services, and their standalone add-on products and services (e.g. professional photography, referencing, EPC's etc)! You won't find this discount code anywhere else!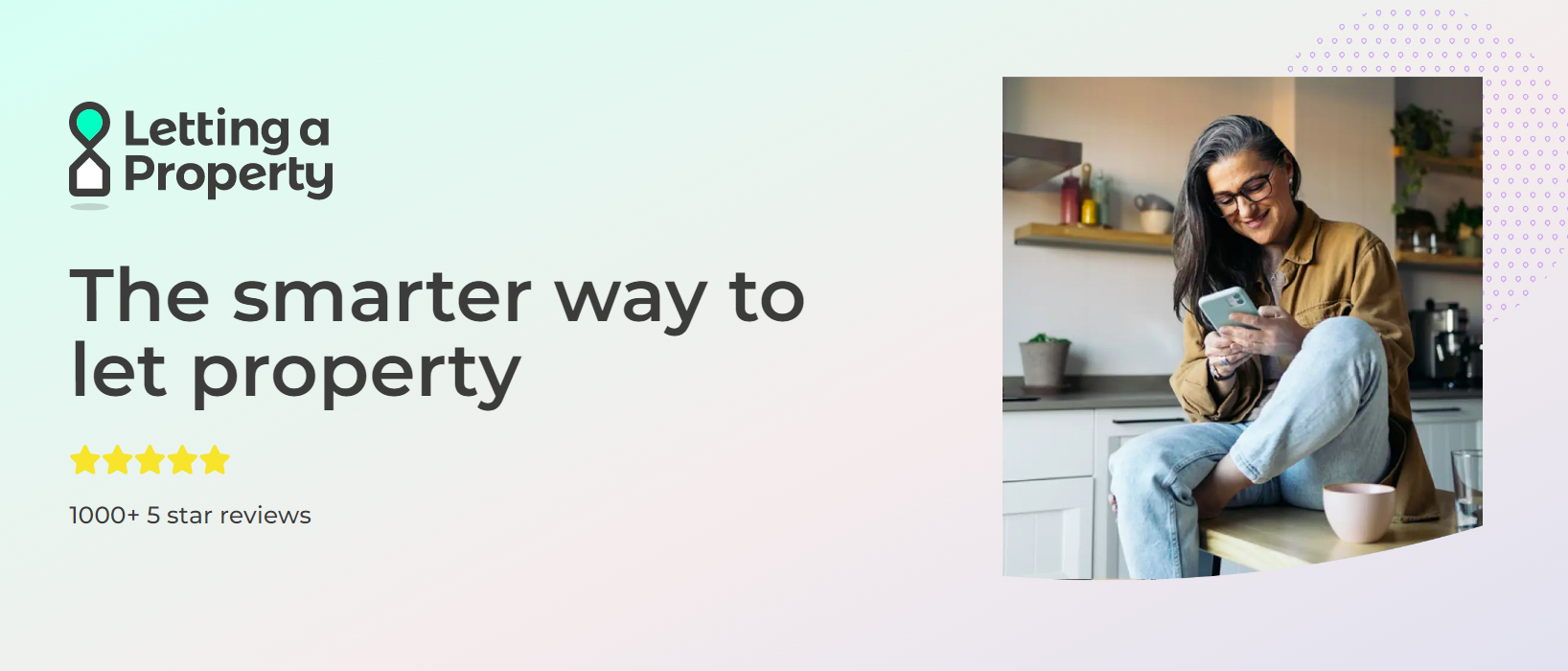 Boy has time flown by.
I originally shared my [positive] experience with using LettingAProperty.com back in 2011 – that's when I could still bend over and touch my toes. Fast forward 12 years to 2023, I can barely see my toes, let along touch them, but the good news is that during that time I've found time to use several different online agents, which means I'm now in a better position to provide a more objective view of LettingAProperty's services and how their service compares.
While my review of LettingAProperty.com from 2011 will remain in tact somewhere further down the page (because it's all still relevant and good stuff), today I have a much better understanding of where and how LettingAProperty.com fits into the extremely competitive world of online letting agents, hence why I've decided to update and expand on my original review. Let's do this…
Table of contents
Quick intro to LettingAProperty.com
LettingAProperty (LAP) is a highly reputable online letting agent founded in 2008. They offer a wide range of services to UK landlords, including tenant-find and management packages, and a bunch of auxiliary products (e.g. Gas safety certificates, EPCs etc). Basically, they have something for every type of landlord.
Online letting agents have rapidly grown in popularity over the past decade, simply because they're so freaking cheap and effective. Essentially, the basis of their appeal is that they're a buttload cheaper than traditional high-street agents, so they've become the go-to solution for many landlords, which obvs includes LettingAProperty.
For more details on the inner workings of how online letting agents operate, and specifically how and why they're so much cheaper (if you're not already aware), you may want to dive into my complete guide on Online Letting Agents before proceeding.
My thoughts on LettingAProperty.com in 2023
If you're looking for a lettings management service…
In short, if you're looking for an online letting agent to provide you with a highly competitive fixed-price management package, then in my opinion, LettingAProperty.com is the best solution today. No bullshit. I've used dozens of other online letting agents (many of which I've affiliated with), so I really don't have a donkey in this race.
I genuinely believe LettingAProperty.com is the best solution for managed services because:
Great customer service (i.e. they are very responsive)
They have been trading for donkey's years (over a decade), so have experience and a solid reputation!
They're profitable and aren't reliant on continuous funding from investors. This is so important, and admittedly, I didn't realise how important at first.

Over the years I've watched the industry titans' Upad and Howsy topple after failing to raise much-needed investments. No one saw it coming, but their demise told me one thing: their unsustainable prices made them unprofitable and consequently required continuous venture capital to survive.

LettingAProperty charges sensible and sustainable prices (prices that aren't silly, but remain competitive), which makes them profitable and resilient enough to stand on their own two feet. That's critical for when using a management service.

They provide a nice mix of 12 month term management packages, all including a tenant-find service:

Special Offer

£10 Discount Code

Don't forget the exclusive £10 Discount code, which can be used for any Letting services, and their standalone add-on products and services (e.g. professional photography, referencing, EPC's etc)!

Their two comprehensive management packages (Essential and Complete) include a lot of assurances designed to alleviate stress from landlords, including rent protection/guarantee, eviction support, legal cover etc.

They're useful and practical features, especially for inexperienced landlords and/or landlords that like to sleep a little easier.

I can only recommend the Complete package for anyone that is looking for complete peace of mind. Yes, it's £99 per month, but it comes with something very special and unique, the "Rent always paid on time" feature. This ensures that you will always get the entire rent paid on time (within 5 working days from its due date), even if your tenant is late or falls into arrears.

This differs from "Rent protection", because there is no claims process – you, simply, just get paid. All the time.
Book a call with an advisor
If you're interested in any of LettingAProperty's lettings services and you want to know more information, I recommend scheduling in a 15 minute call with one of their agents. They'll be able to answer any of your questions and talk you through their process.
If you're looking for just a tenant-find service…
In other words, if you're a self-managing landlord that simply wants a cost-effective solution to list a vacant property on Rightmove and Zoopla in order to generate leads – without all the bells and whistles – then I would NOT recommend LettingAProperty.
And nope, it doesn't hurt me to say that, because it's the stone-cold truth. Their tenant-find service isn't competitive, and to be fair, I think they know that.
Don't get me wrong, I don't believe you'll receive a bad or grotesque service if you decide to splash out on it. On the contrary, you'll still benefit from their notoriously good service, and most likely skip away feeling extremely satisfied (especially when compared to high-street tenant-find services and their fees). However, LettingAProperty seems to focus their attention and resources on their management packages, so their relatively steep £99 standalone tenant-find service (steep compared to other online agents) feels more like a side-hustle for them.
So if you're looking for a pure tenant-find service, my conscience has to point you towards OpenRent. Their tenant-find service provides much better value for that specific purpose, in my humble opinion:
Letting Agent
Rating
Term
Includes / Notes
Price

OpenRent






Rating

Google Reviews

Duration


5 days / 3 months*

Includes / Notes

Ultimate Advertising package

Key features

Rightmove listing

Zoopla listing

Optional add-on products

£69 EPC

£45 Gas safety check

£159 EICR (+ £10 per bedroom)

£20 Tenant referencing (1 x tenant)

£79 Photograghs & Floorplan

*5 days free, and then the option of continuing service for 3 months for £39 for new customers and £49 for returning customers!

Price

Free Trial

*FREE Inc VATNo hidden fees, no credit card details required!

Visit Website
Even though I think OpenRent wins the show in this department, you can find a more extensive menu of tenant-find services in my online letting agents blog post, if you're interested.
Okay, so that's my brief 2023 update. Below is my review from 2011, when I used their Tenant-find service (which is still largely relevant)…
My original Review of LettingAProperty.com when I first used them in 2011
So, I recently used LettingAProperty.com to market my vacant BTL property to assist in finding tenants. And now, inevitably, I want to gossip and share my experience, because sharing is caring!
My thoughts and experience with LettingAProperty.com
I agreed to give LAP's complimentary "Tenant-find" service a spin on the basis that I'm allowed to share an open and honest review, even if that entails pulling their website and service apart and dragging their good name through a sweltering pit of diarrhoea. Basically, I wanted the assurance of no comeback. I'm sick of asshole companies dishing out bogus 'Take down' notices on the basis of defamation, when all I'm doing is providing an honest review.
In any case, I was pleased to hear the Director, Jonathan Daines, was more than happy to oblige with my condition. Ballsy decision, Mr Daines, and it's appreciated. So, don't mind if I do.
I wonder if he's actually read any of my other reviews (a few of which lead to me being threatened with legal action)? Either way… too late, no takesy-backsies!!!
Did I find tenants with their service?
Let's cut a long story short… and then you can decide if you want to continue reading the rest of my drivel…
Yes, I certainly did find tenants with LAP. I found suitable candidates within 2 weeks of the advert going live. Not bad going. I was pleased.
How many enquiries did I receive?
I received 17 enquiries in exactly 1 month. I think that's pretty good. I certainly received a healthy amount of interest.
Granted, a few of the applicants weren't suitable (which became apparent after referencing), so I never considered them all to be enquiries of any significant value. However, that's no reflection on LAP's service, because you're ALWAYS going to get time-wasters and inadequate-donkeys applying.
Pricing Overview
LettingAProperty currently offers 4 packages:
Find a tenant package
Management packages:

Basic package
Essential package
Complete package
View details of LettingAProperty.com packages
I personally tried the "Find a tenant" package, being a relatively experienced landlord myself this was more than suitable for the level of service I required. All I really cared about was shoving my vacant property on Rightmove & Zoopla in order to receive the enquiries. A buttload of them.
In my opinion, that should be the biggest priority for all self-managing landlords when looking for tenants – to get their crib onto Rightmove and Zoopla.
Need more than just advertising your property?
For the less experienced landlords, or for those wanting a little more hand-holding beyond the basic tenant-find services, your eyes are probably prying over the more comprehensive packages available- and I don't blame you. They're excellent packages (and I'm not just saying that), packed with features, which alleviate much of the heavy-lifting and stress away from landlords, by providing extra assurances and guarantees.
From what I've seen, LettingAproperty.com offers, by far, the best solution for landlords looking for the most robust management solutions, which includes full management, rent collection, rent guarantee, and home emergency cover!
Why is LettingAProperty comparatively expensive?
If you've been doing your research (which you should ALL be doing) and scoured through the list of my recommended Online letting Agents you'll notice the freakishly large elephant in the room. That is, LAP's comparative basic 'Find a Tenant' package is more expensive than every other online agent's basic 'Tenant find' service. The cheapest, offered by the extremely popular OpenRent, is currently £49 (which includes a wonderful free and no-obligatory 5 day trial), so there's a huge gap! So, what are LAP bloody playing at, right?
Have I used other online agents for less and found tenants? Yes
Have I been pleased with other cheaper online agents? Yes
Have I used the OpenRent, the £49 online agent and found tenants? Yes! Several times.
Oh. So should I use LAP?
There's a two-fold answer to this question.
Firstly, after much contemplation and reflection… do you know what I realised? Even though I have used cheaper agents and received positive experiences, I didn't feel ripped off (ignore the fact I didn't pay for for the service in the first place). I mean, I received, felt and saw the value in their service. I realised that's the main thing. I guess other landlords feel the same too, because LAP were among the first to emerge in this ever-growing and competitive sector, and they appear to be going strong, despite the Rolls-Royce price tag.
So my point is, even though LAP is comparatively more expensive, I didn't at any point feel like they were under or over charging. I felt like their price-tag reflected in the service and value they provided.
You do actually receive a recognisably smooth and complete service with LAP. It was pretty obvious that they have invested heavily in user-experience…
Now, the second aspect to the answer; I'll just directly quote the Big Cheese, Jonathan:
…in comparison to other cheaper sites, we are more expensive…in terms of competing with all the services a high street agent offers, we are considerably cheaper with our Essential (Rent Guarantee) and Complete (Rent on Time) packages. We really are not trying to compete with other online letting sites…
Basically, their core interest isn't vested in shifting their quick tenant-find bronze package, but rather, to provide a much more elaborate and managed service to those landlords that are looking for a cost-effective package comparable to a fully managed high-street service.
I get it!
What I liked about LettingAProperty
It works
Obviously, the service worked. After loading my property onto the LettingaProperty.com website, my advert was exported to hundreds of property portals within 24 hours. I received plenty of enquiries, and I found suitable tenants.
Tenant referencing
Their tenant referencing service was decent, and unlike many of the other agents, it was included with the package, so I didn't have to pay any additional fees.

They carried out comprehensive checks including a 6 year credit check, CCJs, an employment reference and referenced a previous landlord.

Enquiry notification
Every time an enquiry came through, I got an email and a text message. I liked that.
The information provided in the enquiry emails were quite useful. They included:

Tenants name
Tenants Contact Number
Tenants Email Address
Tenants Employment status
Details of whether they have pets
When the tenant is looking to move
Preferred viewing time for tenant
Best time to call tenant

I thought that was all pretty useful because in some cases there was enough information to tell me whether the applicant was suitable or not, even before contacting them and/or giving them the opportunity to view the property. Avoids a lot of time-wasting.

Customer Service
I had a personal customer service rep that was always informative and contactable (this makes a big difference). Oh, BIG shout out to my rep, Thomas. He was always friendly and useful! He actually contacted me on a regular basis, I didn't have to contact him. That was cool shit.
Enquiry handling
Another feature I liked about LettingAProperty is that they handle all the calls from a call centre, and then send the applicants details to the landlord in an email. That way I knew the tenants credentials beforehand, and it allowed me to contact them in my own time. Other services I've used attach a unique 0845 number to the adverts that got redirected to my mobile, which meant I had received and handled all the calls. That also meant I had no information on the prospective tenant calling. Personally, I prefer the email method. Obviously, some landlords may prefer getting the calls direct. So this is more of a personal preference of mine, as opposed to a "positive". Going forward, maybe the landlord should have the choice of how they want to receive their leads. That would be a neat feature.
24 hour Appointment line
This is pretty self-explanatory, but it's a good feature. Prospective tenants can make appointments during any time. This also continues from my previous point, landlords won't receive calls at ungodly or inappropriate times, because they'll always go to the call centre.
LAP listened to my complaints
I don't expect any service to be perfect or infallible. Improvements can always be made to any system. What gets on my tits is when you raise legitimate and logical flaws, only for them to be ignored.

I noticed a few problems during my experience, and they're issues I raised with LAP immediately.

I don't know if LAP paid extra attention to my complaints because they knew I was going to blog about it, or whether they genuinely listen to all their customers. I've had a few discussions with Jonathan Daines, and my gut tells me he genuinely cares about all his customers, but that's just speculation. For all I know, he could use the slips in the suggestion box as toilet paper.

Anyways, my point is, I raised a few things I didn't like about the system:

All the phone calls from their support were from a 'unknown number' – I didn't like that at all, and I suspect many of you don't either! I'm genuinely scared when I see "Unknown number" flash up on my mobile, consequently I rarely answer them. No one in the history of mankind has ever called from a withheld number carrying good news.
I couldn't 'pause' my advert, which was pretty surprising! At one point I wanted to pause my advert to prevent further enquiries, but I wanted the ability to re-enable my advert just in case the deal I had on the table with a prospective tenant fell through (which frequently happens in this game). This feature is imperative for every self-respecting landlord!

So while these are all negatives, I still listed them under the 'What I liked about LettingAProperty' section. Why? Because shortly after raising these issues, they were resolved. To me, that's a sign of a company that listens!
(side note: these issues may or may not exist today in 2023, I'll try to find out)
Would I recommend LettingAProperty?
Yes. For sure.
By any landlord's standards, receiving a good service with outstanding customer support and finding a tenant for £149… can't shouldn't complain. It really is chump-change compared to the prices high-street agents charge for practically the same service.
LettingAProperty's slogan actually states that they're "The UK's No1 Online Letting Agents" – would I agree with that? I honestly can't answer that, not because I'm saying they're not, but because I've used other agents for less, which also provided value! Operate word being "value"
Thanks for the ride
I'd like to give a big thank you to LettingAProperty for giving me the opportunity to try out their service. I'd especially like to thank the Managing Director, Jonathan Daines, and my customer service rep, Thomas Foley, for all his assistance. We had a good thing going on.
The best way to find tenants
I would recommend EVERY landlord to use a combination of the FREE landlord marketing services I've previously mentioned and Websites That Allow Landlords To Advertise Rentals On Rightmove And Other Property Portals (there are cheaper, but not necessarily better alternatives to LettingAProperty), to find tenants.
Have you used LettingAProperty or any other similar service?
Please let me know, I'd love to hear your feedback. Similarly, if you have any suggestions on how to improve LettingAProperty's service, or online lettings services in general.
Disclaimer: I'm just a landlord blogger; I'm 100% not qualified to give legal or financial advice. I'm a doofus. Any information I share is my unqualified opinion, and should never be construed as professional legal or financial advice. You should definitely get advice from a qualified professional for any legal or financial matters. For more information, please read my full disclaimer.