It can't just be a bloody coincidence or a conspiracy, can it?
There's got to be a definitive reason for why so many of us fantasise about the demise of estate agents. If you haven't personally had a soul-destroying experience with one, the odds are that you're a tiny stone's throw away from someone that has.
I recently read the results of a national survey, which listed estate agents as one of the most despised people among society, sitting comfortably below ticket inspectors. I can't clarify how reliable the source was, but it sounded incredibly accurate.
I guess that could also explain why there's an increasing amount of us choosing to sell our homes privately via hip new online estate agents, like Purplebricks. Not only do they provide a solution that's a buttload cheaper than the traditional high-street agent, but their business model gives the selling power and control to the vendor, which eradicates the need of slimeball agents.
I could probably sit here all day and night compiling a list longer than my… of all the reasons estate agents are disliked. And I bet you could, too…
1] No qualifications required
There's no real science or mystical theory to why the majority of estate agents are spineless, mentally challenged turds. In fact, it's quite simple, it's that you don't currently need a license or undertake any flimsy or rigorous training programme to become an estate agent (in the UK), so any old fool off the street without qualifications or experience can – and does – set up shop.
Now, this may sound like a petulant and unfounded rant, but I assure you there's substance in my allegation, and that's proved by the continuing growth and success of online estate agents. As already said, the online agent model is largely based on the premise that anyone can sell their own home as long as they receive the leads.
Wait, so thousands of people with no experience in selling property do exactly the same job as an agent every day? Like, really? Yes.
2] Limited consumer protection
Estate agents are for the most part protected from their own stupidity, because it's not a hugely regulated industry.
It's notoriously extremely difficult to claim any compensation from estate agents. It's amazing how British consumers have more rights when buying a tin of baked beans compared to spending tens of thousands of pounds on their home.
3] The Wanker Mobile
Need I say more?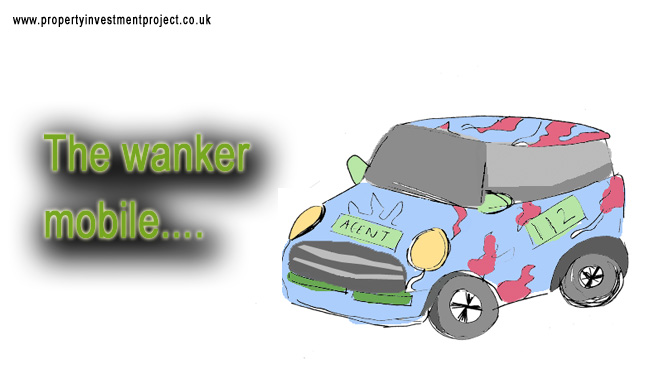 4] "This property is extremely popular"
Needless to say, estate agents aren't short of a trick or two.
One of their favourite party trick is arranging two viewings to accidentally coincide *nudge, nudge, wink, wink*, so the property appears to be in demand. Alternatively, the agent may often get someone from the office to call their phone while taking a viewing and pretend that an eager party has just put in an offer.
Buyer beware, idiots with semi-functioning brain in operation.
5] That house is perfect for you, sir!
Ever heard of an estate agent discouraging a sale because it's fundamentally not suitable? Me neither. They'll lie through their teeth in order to encourage a sale, even if they're trying to flog a dead horse.
Example:
Hey Mr Estate Agent, is that barn an appropriate living environment for my wife and my newly born child?
Well, let me see; according to my calculations, I get 1.5% of the sale price. So if I worked this out correctly- then YES, it's a perfect living environment for you and your family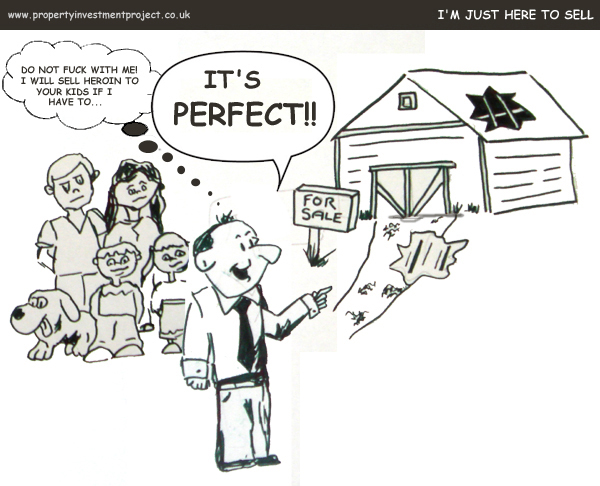 6] The Estate Agents perfect deal
Estate agents don't try and get you the best deals; they try and get themselves the best deals. It's all about the commission. Regardless of whether you're a buyer or seller, they have tactical methods of trying to exploit anyone at either end of the chain.
If you're a buyer, estate agents may encourage an overpriced sale to maximize their commission. If you're a seller, the agent may try to under value your property, and then refer the property to a friend of theirs to snap up.
Sounds far-fetched, right? Happens all the damn time.
7] Different planet
They each live on a different planet, and naturally, they rule all.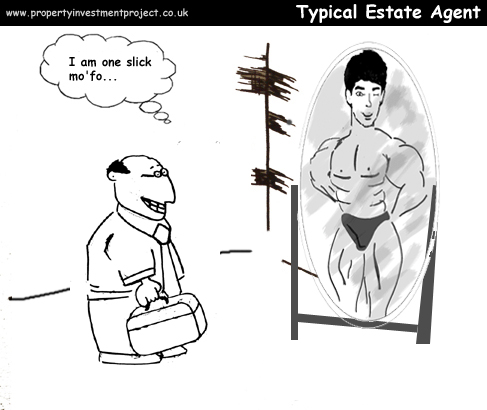 8] Time-wasters
Estate agents love taking it upon themselves to show prospective buyers properties that are completely out of scope from their initial requirements. Why do they bother? It's usually when they don't have enough properties in their books that match the brief, so instead of having the balls to confess, "Sorry, we don't have any properties that match your criteria", they take their prospects on a bullshit wild goose chase.
Here's an all-time classic clip from Gavin and Stacy of a stereotypical Estate agent that's a total time-waster. It's funny because it's true.
9] Money-grabbing buffoons
The nutritious problem with any competitive commission based job (but especially in this industry), is that the roles get filled with a particular type of idiot; greasy, ruthless and willing to draw blood for the next buck. They either come that way or eventually get conditioned by the system.
It's truly a sad state of affairs.
I'd fancy my chances at finding a unicorn before finding an agent that looks after my best interest.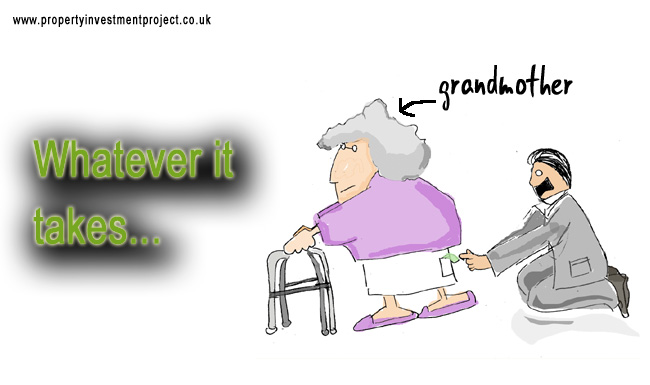 10] They hate their own kind
There are credible theories circulating that suggest 'Black on black' crime was actually inspired by 'Agent on agent' crime.
What chance do we as consumers have if they hate their own kind? I'm not just talking about feuds between rival companies, I'm also talking about in-house war; back-stabbing fellow colleagues and stealing deals from under their noses is only the tip of the iceberg.
11] Flyboarding
Do you often notice copious amounts of hideous for sale and for let signs and wonder, "How can there be so many houses for sale/for let"? The reality is, half of them aren't available, and that's what is known as "flyboarding"
Estate agents leave those hideous, out-dated signs up as a means of cheap advertising. "Cheap" being the operative word.
False advertising.
12] Turbulent work ethic
I have tried selling during a booming market once. Ironically, it was a horrible experience.
I've realised that if the property market is 'hot' and there is plenty of demand, estate agents generally perform at their worst. The level of communication will be at an all-time low and they'll be working on their own schedule. The reality is, during a property boom, houses sell themselves, so they really don't have to do much 'selling' or provide much of a service.
However, the moment the market starts dwindling and they're hit in the one place that hurts the most (their wallet/purse), you'll miraculously start receiving what feels like a service. They'll polish your shoes, pop round and drop off some sugar, and artificially build common ground in order to 'relate' to you and your problems. It's pitiful.
13] Mr Know-it-all
When an estate agent doesn't know an answer to your question, don't expect a confession, nor should you expect a respectable response, "I'm not entirely sure, but I will find out for you and get back to you"
No sir, you should strap on your seatbelt and expect a train of verbal bullshit.
Example:
Hey, Mr Estate Agent, what are the local schools like around here?"
errr…well, they're very good. Yeah, my daughter goes to the one around the corner. Highly recommended. Your children will be safe and well educated there"
The estate agent is lying. He doesn't have a kid. He hasn't even had sex with a human before, only with bags of money.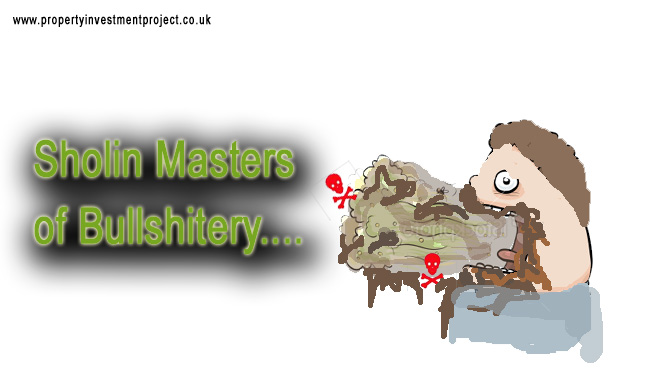 14] Ridiculous fees
Most of us have fallen victim to this nonsense; their piss poor service at bullshit prices. But it's not just their prices that annoy many of us, it's the way they create imaginative ways of swindling money out of us and then package it to us like they're actually providing value.
Some agents have the audacity to charge vendors even if they don't sell their property after a certain period of time. While others force vendors to pay as much as 3% when they have merely found a "ready, willing and able buyer"
Yes, it's as ludicrous as it sounds – the fee is still applicable even if the sale doesn't go through, as long as they find an interested party.
I'm sorry, WHAT? How about I bend over and stretch my arse cheeks wide apart for you, so you can lube me up with your pot of wet-look hair gel, so you can really get to work on me?
15] Chinese Whispers
You have to remember, estate agents are effectively the middle-men. The problem with having a middle man, especially one that's dressed in an oversized polyester Burton's suit and veneers whiter tham snow, is that information often falls out of their head, meaning information doesn't always seamlessly relay as it should. Strange that, innit?
It's not uncommon for a lot of the lower-end offers to never get delivered to the vendor if the estate agent feels he can make more money from the deal.

Please note, I don't actually think every Estate Agent out there is an unscrupulous tosser; I just think the majority have committed at least one of the sins above. I have no doubt in my mind that there are a few good men standing, they're just not as easy to find as the remaining parasites.

Disclaimer: I'm just a landlord blogger; I'm 100% not qualified to give legal or financial advice. I'm a doofus. Any information I share is my unqualified opinion, and should never be construed as professional legal or financial advice. You should definitely get advice from a qualified professional for any legal or financial matters. For more information, please read my full disclaimer.