'We Buy Any House' companies are popping up all over the place, and they've been luring home-owners with the promise of achieving a super fast cash sale. But naturally, with so much at stake, there's a lot of scepticism around these companies, and the question that keeps being asked is, "are they a scam?"
In this blog post I cover:
How We Buy Any House Companies really work
What the risks are (i.e. the scams to be aware of)
Expert insight on how to choose a We Buy Any House Company
Overview of the best We Buy Any House Companies
Let's get into it…
Table of contents
Which 'We Buy Any House' company is the best? Which should I use?
With so many to choose from – ranging from unscrupulous cowboys to well-intentioned outfits – and with so much on the line, picking the right company is obviously critical.
In this blog post I will go onto making it clear as day that some are [significantly] better than others, and many of the operators are best to avoided like the plague. But first, I'll show you my shortlist of 'We Buy Any House' companies that I believe to be the best out of the bunch.
After drudging through dozens and dozens of them, I shortlisted the ones that appealed to me the most, particularly because they tick the following boxes:
Member of NAPB
Good public feedback/reviews
Extensive trading history
Competitive market value offers
Direct cash buyers (i.e. not brokers)
Companies house records/filings
Professional website (some of them I saw were truly horrendous – they looked like school projects)
Best rated Quick House Sale / Cash Buyer Companies
Service
Rating
Features
Offers (up to)

My Homebuyers




Rating



TrustPilot Reviews

Features

Guarantee to beat any genuine cash offer

Members of The National Association of Property Buyers, members of The Property Ombudsman and Trading Standards

Any property, any condition considered (England or Wales)

Cash offer within 24 hours, Sales completed in as little as 7 days

Legal fees included, no agent costs or hidden fees

Guaranteed sale

Direct buyer (no middlemen)

Offers (up to)


80-85%

of Market Value

Get cash offer

Home House Buyers




Rating



Reviews.co.uk

Features

Members of The National Association of Property Buyers, members of The Property Ombudsman and Trading Standards

14 days average sale time

Service is 100% FREE

Cash offer guaranteed for 7 days

Direct buyer (no middlemen)

Offers (up to)


80-85%

of Market Value

Get cash offer

House Buy Fast




Rating



feefo Reviews

Features

Founder of The National Association of Property Buyers, members of The Property Ombudsman, NAEA Propertymark and Trading Standards.

Any property, any condition considered (England and Wales)

Cash offer within 24 hours, Sales completed in as little as 7 days

No legal or estate agency fees to pay

No viewings required

Will buy tenanted properties

Direct buyer (no middlemen)

Offers (up to)


85%

of Market Value

Get cash offer

Property Solvers




Rating



Reviews.co.uk

Features

Members of The Property Ombudsman, The National Association Of Property Buyers, Trading Standards & Anti-Money Laundering regulations

Any property, any condition considered (UK)

Sales completed in as little as 7 days

No legal or estate agency fees to pay

Guaranteed sale

Cash offer within 24 hours

Direct buyer (no middlemen)

Offers (up to)


75%

of Market Value

Get cash offer

QuickBuyers




Rating



TrustPilot Reviews

Features

Members of The Property Ombudsman & The National Association Of Property Buyers

Any property, any condition, any location considered (UK)

They claim to buy it quicker than any of our competitors (can have funds in your bank within 14 days)

No fees or hidden costs, free Legal service

Cash offer within 24 hours

Direct buyer (no middlemen)

Offers (up to)


75-85%

of Market Value

Get cash offer
Please note, I try my best to keep the information of each service up-to-date, but you should read the T&C's from their website for the most up-to-date and accurate information.
I do want to clarify, for all the "We Buy Any House" companies that didn't make my shortlist – it doesn't necessarily mean I think they suck balls (although, it could mean exactly that). It might just mean I didn't come across their service. Moreover, I did try to keep my list as compact as possible in order to avoid inflicting analysis paralysis (in other words, too many options often causes confusion), so I had to be cutthroat during the filtering process. Either way, the companies I've listed is where I would personally look first if I wanted to sell ASAP for cash!
What is a "We Buy Any House" company?
While webuyanyhome.com and webuyanyhouse.co.uk are two different trading companies (neither connected to the 'WeBuyAnyCar' brand), both of which are 'We Buy Any House' companies, I must clarify that I'm not referring to any specific company in this blog post, bur rather all companies that offer "we buy any house" services (also commonly known as Quick House Sale and Cash Buyer Companies).
As alluded to in the introduction, there are currently a boatload of these companies to choose from – so you're certainly not limited to the two companies that have [unimaginatively] branded themselves around the concept. Although, I get why they did it – great for marketing purposes.
There are generally two types of 'We Buy Any House' companies:
A company that directly buys the properties with their own cash reserve
A company that sources a 3rd party cash-buyer and effectively brokers the deal (I don't recommend using one these companies, because the process tends to be longer, and you're effectively dealing with a middle man)
Either way, you're getting a cash-buyer and consequently a quick sale. At least, that's the idea.
Why use a 'We Buy Any House' company?
'We Buy Any House' companies used to be considered as "the last resort to selling a house", appealing largely to those most vulnerable and/or desperate to sell quickly in order to access cash quickly (usually due to financial difficulties).
Basically, when all else fails, you call these guys in to take care of business.
And while that's still largely the case, there has been an undeniable shift over recent years, as the appeal of bypassing the hassle of traditional methods of selling a house – which are notoriously painfully tedious and long – has managed to capture the attention of ordinary sellers. Simply, a lot of people that aren't necessarily distressed are willing to lower their asking price because of the perks that We Buy Any House companies bring to the table.
Is a 'We Buy Any House' company a suitable option for you? Here are some of the reasons why they may work for you…
If you want a super quick cash sale (in as little as 7 days in many cases);
You want to avoid the aggro that typically comes with selling on the open market (time-wasters, the unknown, solicitor/conveyancing delays etc.);
You don't like the idea of working with traditional high-street estate agents;
Your property requires renovation/work and you don't have the finances, time or will to handle it yourself;
You've inherited a property and want a quick and hassle-free sale;
You're relocating / emigrating;
You're going through divorce / separation;
You need access to cash quickly to settle debt;
You don't want to deal with any potential property chains (which can be very delicate and volatile, leading to major delays).
You're a landlord and want to quickly sell a property occupied with sitting tenants.
But they're not the only reasons why they've become extremely popular, they're also become a saving grace for homeowners that are trying to sell difficult properties, which includes (but not limited to):
Properties with doubling ground rent
…etc.
Properties suffering with any of those ghastly ailments can be a tough sell on the open market through traditional means, and that's precisely why 'We Buy Any House' companies have become an unlikely saviour to many, 'cause they'll happily gobble them up. Case in point (a Tweet I randomly bumped into from a professional landlord, that goes by the alias @landlord_secret):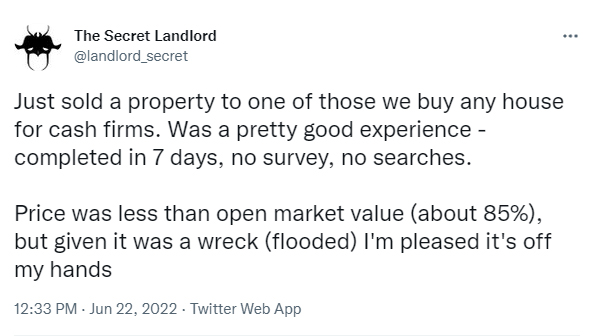 How much do We Buy Any House companies pay? Do they offer a fair price?
If your idea of a fair price is the equivalent to market value, then hell no! Not even close.
However, if your idea of a fair price takes into account that these companies make their living from buying low and selling high, and there's a cost to benefiting from a fast cash sale and avoiding all the usual headaches that come with a traditional open market sale, then perhaps you won't be disappointed (I can't make any promises, though!).
In short, you will NEVER get the full market value when selling to a We Buy House Company (and nor should you). Please don't sit at the negotiating table thinking you'll be able to work your charm, even if it is famous and widely feared. It will get you nowhere in this part of town.
And I guess that's the drawback (or perhaps the catch) to using these companies. Yes, they will buy your property for cash and push the sale through very quickly (many of them boast about completing sales in as little as seven days), but you'll have to sell anywhere between 75% – 85% of the market value.
It should be noted that these companies do take on a lot of risk with these acquisitions, especially in a declining market, when the value of property can very easily reduce by several percentile points in a matter of months. So perhaps that's worth bearing in mind when you inevitably wonder whether it's worth taking the financial hit (of about 15% – 25%).
At the very least, you could get a couple of cash offers from a few companies and then determine whether or not you feel comfortable proceeding with any of the offers.
Be wary of any property cash buyer that offers 100% of the market value! A genuine property cash buyer will never pay full market value!
Bottom line, people use these companies if they need to sell their property very quickly and are willing to sell below the market value (for whatever reason)!
How fast can a genuine cash buying company buy my house?
As absurd as it may sound, a reputable and professional cash homebuyer can actually make an offer within 48 hours and buy your house and put cash in your account within 7 – 28 days. So essentially, many of them do live up to their bold claims.
In complex situations (e.g. dealing with tenanted properties, properties that require extensive surveys etc), it may take longer, but that's expected.
Of course, if you end up dealing with a not-so reputable company, expect the process to be tedious and drawn out. This is often the case when dealing with companies that need to secure finance or find you a buyer before being able to complete.
How is it possible for them to buy so quickly Vs an "open market transaction"?
First and foremost, the obvious answer to that is they don't need to find a buyer (they are the buyer). But beyond the obvious, it usually boils down to the following (when you're dealing with a reputable company):
Searches – ordering searches at the moment, depending on where you are buying/selling, are taking anything up to 6 weeks to come back. Cash buying companies indemnify their searches to speed up the process. Yes, that comes with some risks [for the buyer], but it's calculated and ensures a speedy sale.
Financing – mortgage applications take time to process and arrange. Cash buyers have their financing ready and can draw funds immediately, so there are no delays on that front.
Solicitors – they have relationships with solicitors that understand the business and prioritise their files in order to get things turned around.
So it's easy to understand why it's possible.
How "We Buy Any House" companies work
To help better understand and explain the entire process – from enquiry to completion – I reached out to MyHomeBuyers.co.uk (a reputable 'We buy any house' company) and asked them for a step-by-step breakdown of a typical process for a quick sale (2 – 3-week completion timeline). What better than from the horse's mouth, right?
During first call, provide formal valuation
Present formal offer (within 24 hours)
Sale agreed instruct solicitors and RICS
Vendor completes property information forms and returns them to their solicitor
Their solicitor issues draft contracts
Our solicitors raise basic enquires and indemnify searches
RICS is back and signed off
Our solicitors provide report on title
Funds sent and completion takes place
Vendor hands keys to a local agent once they have funds in their account
It's important to note that the breakdown is just an example of a typical transaction, and it may vary for purchases that come with complexities. Moreover, that's not exactly how every 'We buy any house' company will operate, but it should hopefully give you a general guide.
Are 'We Buy Any House' companies a scam? Are they safe to use?
If you had a pound for every nightmare story about We Buy House companies, then you probably wouldn't need to sell your home in the first place. Am I right?
Thankfully, 'We Buy Any House' companies aren't all built the same. There are some genuine companies out there providing excellent service.
However, there is rarely ever smoke without fire, and there's definitely a blazing one over here! The industry is definitely riddled with cowboys, and that's because the "house cash buyer" industry is currently unregulated, making it a prime breeding ground for corruption.
There are several common traps to avoid when dealing with 'we buy any house' companies, along with good practices to follow when choosing a company to work with. I've already covered reg flags to be wary of in depth in my 'Compare Quick House Sale / Cash Buyer Companies' blog post, so I won't repeat myself here. I definitely I recommend reading through them if you're interested in selling your house to a cash buyer company. Needless to say, you should choose wisely.
Expert Insight

I've managed to drag Kelvin Elliott into the conversation, so he can share some of his expert and dorky insights.
Kelvin is the purchasing director of MyHomebuyers.co.uk, one of my recommended We Buy Any House companies and top picks (I have a list of recommended companies further down this page)! He lives and breaths this rabble.
Turns out Kelvin is also frustrated and concerned with the behaviour of some people in the industry (which ultimately drags his name and life's work through the manure farm), so I thought it would be useful to pick his ear for knowledge, but also give him the opportunity to explain how a good We Buy Any House company separates itself from the garbage!
Just to clarify, this is not a sales pitch for his services, it's purely to shake precious gems out of his toupée – he knows stuff about this industry that will make your toes curl. If you want to use a cash buyer company, you should always choose a company you feel comfortable with.
Q. How is the We Buy Any House industry monitored?
There are no formal regulations or regulatory body, and any company that tries to reassure you that they are regulated is lying. I wish that there was formal regulation, as it would very quickly sort out the genuine companies from the scammers.
There are, however, voluntary redress bodies that cash buyers can join, such as the National Association of Property Buyers. These set a code of conduct that members agree to, and they provide support for sellers if there's a problem with their sale. The best cash buyers will also be registered with the Property Ombudsman and Trading Standards. If you want to avoid the scammers, these memberships and registrations are the very minimum you should be looking for from your cash buyer.
Q. What other red flags should sellers be looking out for?
It might sound odd, but you need to be sure that your cash buyer is really a buyer. Many We Buy Any House companies don't actually buy your home, but simply broker a sale in the background and cream a cut off the top. you're basically using an estate agent that charges 15-20% commission! A genuine cash buyer company will buy your home from you and then try to sell it on, so their search for a buyer doesn't slow down your move.
Q. How can you tell if a cash buyer company is really a direct buyer?
don't be afraid to ask for proof of the funds they will be using to buy your home. Any reputable cash buyer will be happy to prove that they are genuine. If they get funny about it, that's a real red flag. You should also ask for evidence of previous purchases. Again, if they can't show you this, then walk away.
Q. Apart from NAPB membership and proof of funds, what else should sellers be on the lookout for?
For me, the biggest giveaway is a contract. These are never worded to your advantage and they will inevitably tie you in to upfront fees, cancellation fees or other hidden costs, as well as last minute price drops and many other unscrupulous practices.
We never ask you to sign a contract because we have nothing to hide. We trust that you'll stay with us because you want to, because you are getting great service and an honest price, not because you have to, because you are legally tied-in to the deal.
If a We Buy Any House company asks you to sign a contract, then you have to ask yourself what they're trying to hide. The same is true if they insist that you use their solicitors.
Q. But won't their solicitors be experienced in fast house sales?
that's true, and I'm not saying you shouldn't use them. I'm just warning against companies who insist on this, rather than giving you the choice.
What it is that they're afraid your own solicitor will find out about them? You do need to be careful of the costs if you're using your own legal team. Companies that offer free legal fees, may only cover the full cost of their own solicitors. If you use your own, and they cost more, then the company may only pay an amount equivalent to their own legal costs, and you'll have to top up the difference.
Q. Why do some We Buy Any House companies offer up to 100% of the market value? Should you always look for the highest offer?
Absolutely not!
The best headline offer is rarely the best offer in the end. No one can offer 100% and still make money, it just doesn't work that way.
If a company is tempting you in with an unrealistically high offer, then you can be certain that they will be making their money somewhere else along the way. This could be in hidden fees and costs, or more likely, you'll find that they drop the generous offer price at the last minute, sometimes as late as completion day, when it's too late for you to change your mind.
It's also worth noting that cash buyer companies should not be making any formal offers before conducting a full valuation. It's a red flag if they do, because it likely means they are starting at a much higher offer than they intend on paying, therefore will reduce their offer as time moves forward. If you think about it, it's impossible to make an accurate offer before conducting a full valuation.
We will only ever make a formal offer on a property once we have completed a full asset management valuation and the offer is fully underwritten, which means the offers we make are the offers that we intend on paying. The only time we will ever reconsider the offer is if something significant is found that affects either the value, mortgageability or the saleability of the property. As long as homeowners are honest and upfront about any potential issues at the early stages, it is very rare that an offer is changed, and that's how all genuine cash buyer companies operate.
Q. So if an offer seems too good to be true, it probably is?
Exactly. Genuine We Buy Any House companies will never offer more than 80%, perhaps 85% on the very best properties. This is a price that covers their costs, with a small profit margin, and one that they can stick to through to completion, with no hidden extras along the way. Far too many companies hook you in with a high offer with no intention of ever paying that much.
Q. Are there any other ways of identifying scammers?
Even if you're in a rush to sell, you should still take the time to do your research. Rushing into a bad deal could cost you thousands, or even tens of thousands of pounds. Check out the company with Companies House – they should have a company registration number displayed clearly on their website. Double check that they actually have the NAPB and other memberships (some will just lie about it) and most important of all, read the independent reviews. Anyone can post fake reviews on their own website, so use sites like Trustpilot and of course this one!
Q. How do I find a reputable and honest We Buy Any House company?
It can be a challenge. But it's worthwhile in the end. Choosing wisely will save you a fortune and avoid a lot of stress and heartache along the way.
Ten simple questions can very quickly narrow down your shortlist:
Do they have proof of funds?
Do they have a track record of successful purchases?
Are they members of NAPB and registered with the Property Ombudsman and Trading Standards?
Do they claim to be regulated (even though regulation doesn't exist)?
Do they ask you to sign a contract?
Do they ask for any fees upfront or have a cancellation fee if you change your mind?
Do they insist you use their solicitors?
Are they offering an unrealistic price?
Do they have positive independent reviews?
What are they like to deal with?
Q. Number ten is an interesting question. How do you find that out [what a company is like to deal with]?
The best way to get a feel for a company is to talk to them. If they make you feel reassured and provide prompt, professional service, then that's a really good start. Selling your home is a huge and daunting financial deal, so you need to feel confident in the company you're selling to. If a company doesn't feel right when you talk to them, or in your email exchanges, then trust your gut and walk away. there's plenty of others out there to choose from.
For example, at MyHomebuyers.co.uk, you'll always get to speak to myself, the buying director. I've been buying houses for over a decade and have dealt with tens of millions of pounds worth of homes, so I know what I'm talking about and can answer any questions you have. Fast home sales are not right for everyone, and I get that. I'll explain your options and make you an offer, but there's never any hard sell and there's no obligation to proceed. I'd rather work with people who I can genuinely help than try to grab everyone's business, even if a fast home sale isn't right for them.
Damn, that was good stuff (genuinely). Hope you found it as useful as I did.
Thanks, Kelvin! Here's another plug to your website for your troubles, and so folk know where to find you, MyHomebuyers.co.uk.
'We Buy Any House' Vs High-street Estate Agents
Cost / Net value compared
Here's an example I found on a We Buy Any House website, which displays what you can expect in terms of costs/net value when comparing against an estate agent, so make of it what you will (I'm just the messenger)…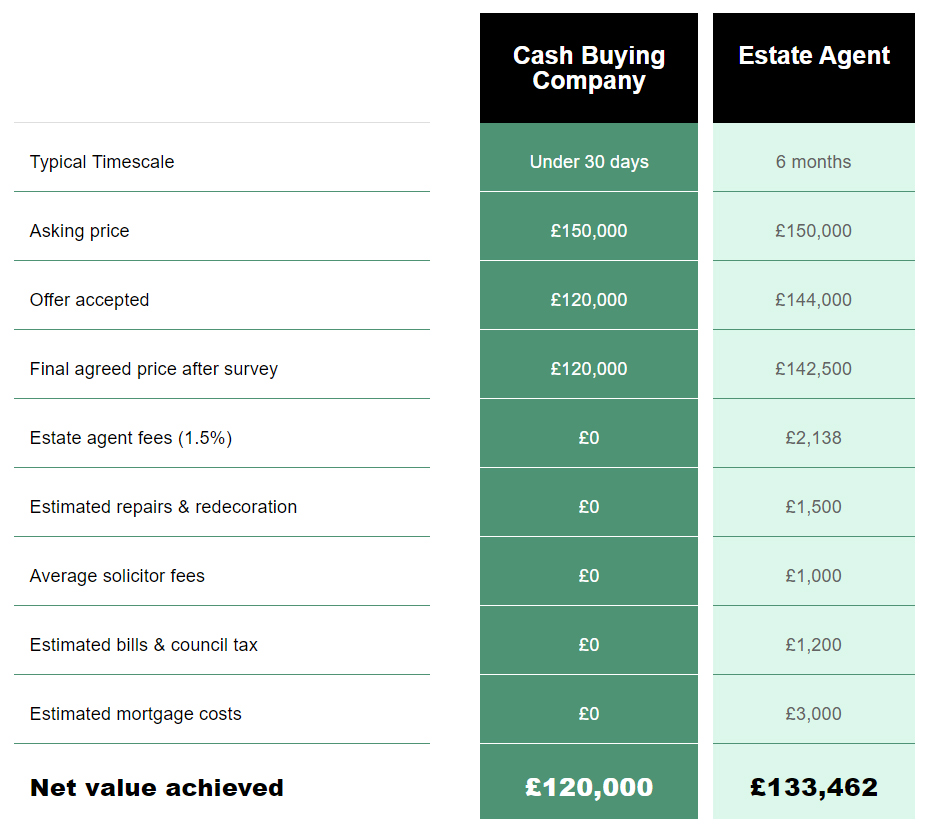 They sure do paint a pretty little picture, don't they?
Is it accurate? Well, it does highlight real benefits of using a cash buying service, but for one specific example. The reality is, using traditional methods to sell can be a notoriously long process, which in itself comes at a cost that many don't consider (but should), and I think that's what the comparison table shows above anything else. Basically, time is money.
Happy selling, friends!
Disclaimer: I'm just a landlord blogger; I'm 100% not qualified to give legal or financial advice. I'm a doofus. Any information I share is my unqualified opinion, and should never be construed as professional legal or financial advice. You should definitely get advice from a qualified professional for any legal or financial matters. For more information, please read my full disclaimer.