So here it is, the final chapter of my saga; I can finally see the light at the end of the tunnel, after having dealt with my nasty little tenants that left me with unpaid rent and a property that can be best described as a shithole. There's been absolutely zero highs (up until now), and plenty of lows.
It's been a brutal few months, which I know some of you have thoroughly enjoyed watching unravel.
Unfortunately for you, it's over, the shows over, folks!
After this blog post, I'm probably going to return to compiling mundane, marginally correct, and mostly useless landlording tips for a while. Unlucky.
So make the most of this emotional piece while you can; cherish my every tear and my every quivering word.
For those out of the loop, you can catch up through the following links:
Are you dealing with tenants that left without paying rent?
Before I crack open the violin and get into my emotional tale, I just want to address those landlords that end up here, looking for practical solutions for dealing with unpaid rent – and don't necessarily give two-craps about my over-dramatised shit-show experience.
Unfortunately, you won't receive any practical advice in this particular blog post, but you will in my blog post where I cover how landlords can recover unpaid rent from tenants.
That said, don't feel like you need to move on immediately, you're more than welcome to stick around and make yourself feel better by indulging in my misery! Apparently misery likes company. So here it is…
Current state of affairs – my tenant is wilfully leaving! Hoooray!
The good news is I didn't have to go through the excruciatingly slow process of evicting my crazy tenants through the obscure legal system that seems to give tenants in arrears more support and rights than the actual landlord that's kept his side of the deal and done everything by the book!
My shit-for-brains tenants eventually buckled under the pressure of the Section 8 notice by surrendering their tenancy in the form of a bitter, incoherent text message, which basically said the following:
They were the victims (even though they were in arrears)
They have cleaned the property
They have painted some rooms (WTF?!? WHY?!?)
I stitched them up with a cold property
The keys are hidden under some rubble, next to the front door
Tenants that play the victim when in arrears!
I despise it when tenants play the victim when they're in arrears due to a financial crisis.
Why do they insist on acting like it's the landlord's fault?
Tenants like that should be used as cannon fodder in a medieval battle. I wouldn't be satisfied if they were blown to smithereens in a modern day battle. With technology these days, they'd disintegrate in milliseconds and wouldn't feel an ounce of pain. It must be a medieval battle, where rusty axes and spears are at the front line. They don't deserve an easy way out, not on my watch.
I didn't really understand the "cold property" remark. If it's cold, put the fucking heating on. If the property fails to insulate the heat, then let me know about it when the problem was discovered during the tenancy so I can resolve the problem.
Don't tell me about it when it's too late, what good is that to anyone, IDIOT? Mind you, it was actually nice to discover that their existence was cold and uncomfortable; hopefully they'll live out the rest of their days in the same muggy conditions.
I know, I'm bitter!
In any case, I didn't care what the chumps had to say. I was just pleased they packed up their shit and rolled out. I feel sorry for their new landlord, though.
The joy of departing from terrible tenants, and the inevitable financial hit!
Needless to say, I was buzzing like a blue-arsed fly when my tenants surrendered their tenancy. I did take a moment to pay my respects to the next poor schmuck that ends up being their landlord, but I wasn't going to let that kill my mood. Not today anyways.
As a landlord, you don't get many highs, but one them is definitely that moment when a problematic tenant vacates. It's like opening the lid of a pressure cook! Tsssssssssss! There's no other feeling like it in the realms of being a landlord. So on a positive note, their next landlord (the poor schmuck) will eventually get to relish that amazing feeling.
Ordinarily, when a tenant vacates I rigorously inspect the property with the tenant(s) while referring to the inventory form that was completed during the start of the tenancy. But obviously there was no hope of that happening this time.
Plus, the thought of being in the same room as them makes me feel anxious, because I know I'll go down for murder.
Actually, I'd probably plead insane and get thrown into a padded room, because I'd be poetic and develop a dangerous method of torturing the Mofo's with the very same Section 8 notice I served them with. Death by excessive paper-cuts or some shit. I'd cut them open like a fat Christmas Turkey.
Sad reality is, when a tenant vacates with arrears the landlord usually has to take a financial hit. The security deposit will only cover so much, and it's usually only part of the arrears. The rest boils down to collateral damage of being a landlord, which includes damages and cleaning bills. Oh, and there's plenty of that.
The law is currently so unhelpful on so many levels for decent and suffering landlords [that stick to the law] that it's not even worth relying on.
Chasing one or two months rent arrears and the repair bill for a broken door handle is often futile, because by the time the court case comes round, 20 years later – I mean, what's the bloody point?
If by the end of it all the Judge happens to rule in the landlord's favour – which seems to be a rare occurrence these days – the tenant will probably be required to repay the piffling amount of £1.25 per month because that's all they can afford. By my calculations, I would have recovered my money while I'm sitting in my Dentist's chair, getting my dentures fitted…in 2070. Pointless.
In my case, I was out of pocket by 1 1/2 months rent. The deposit covered one month, the other half month was a loss. But obviously I didn't have to spend any money on cleaning because my tenant said he cleaned the property in his cute farewell text message, RIGHT?
That's the interesting thing about "clean", it's a very subjective issue. One man's pot of piss is another's man's pot of lubricant. The only certainty here is that my tenants' idea of "clean" very much differs from mine, but very much resembles the standards barnyard animals adhere to.
A glimpse of the mess my tenants' left behind…
Let me give you a small taster of the wonderful 'features' my tenants left behind for me…
Mould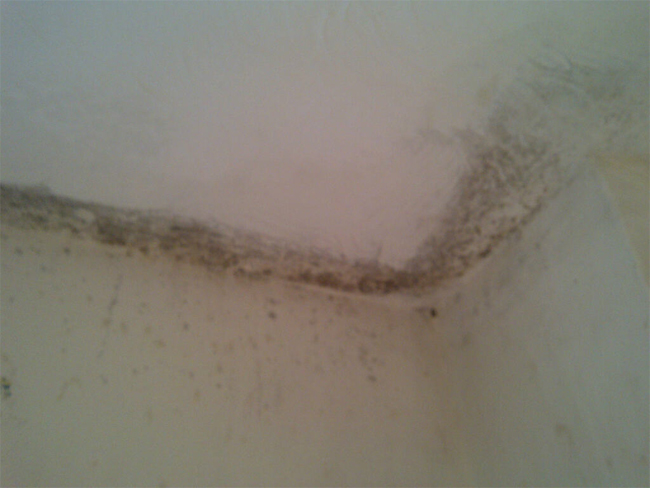 That's mould. Lots of fucking mould. I wish I could tell you that the picture was taken in the basement or storage room, where the best place for mould to breed would be, but I can't. That's in the corner of the bathroom; a room dedicated to controlling and maintaining human hygiene.
The pair of silly-bollocks had actually painted OVER the mould. So initially, the problem wasn't visible to me. The only reason I noticed something wrong was because of the mismatch and discolouration of paint. Instead of applying the new paint to the entire ceiling/walls, they only applied it over the part that had been infested, so there was an obvious contrast between the new and old paint. When I took a closer look for inspection and started to scrape away the newest layer of paint, I realised what they had done and why- instead of trying to kill the mould, they tried to mask it. I guess I should be thankful that they're lazy as they are stupid, otherwise I may never have spotted the mess.
What a couple of dickheads. When they told me they "painted" the property in the text message, they sold it to me like they had done me a favour, and I should be on my knees thanking them. Why don't they just stick a baseball bat up my arse and tell me I got laid?
I have a few theories to why the mould developed, besides from the obvious (my tenants being filthy pieces of horse shit):
The bathroom has an extractor fan, but it isn't activated via the light switch, it has a separate switch. I'm guessing they never bothered switching on the extractor after/during showers or baths
I doubt they ever opened the windows for ventilation because they already said the house was cold
I noticed the gutter outside the bathroom window overflows with water when it rains, which is near the mould infestation
Over the weekend I scraped off all the mould/paint after applying paint stripper, then I excessively sprayed the area with anti-mould solution, and then finished off by repainting the area with anti-mould emulsion. I got my electrician to link the extractor with the light switch, and I got the gutter repaired. Hopefully that should prevent the situation from happening again. Here's a full article on how I removed the mould.
Grease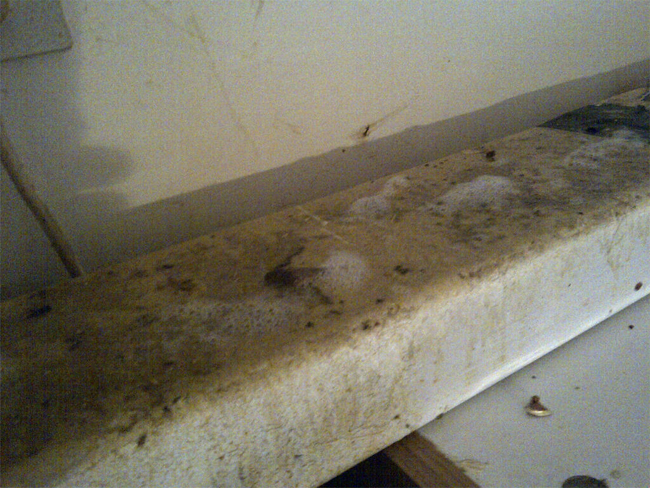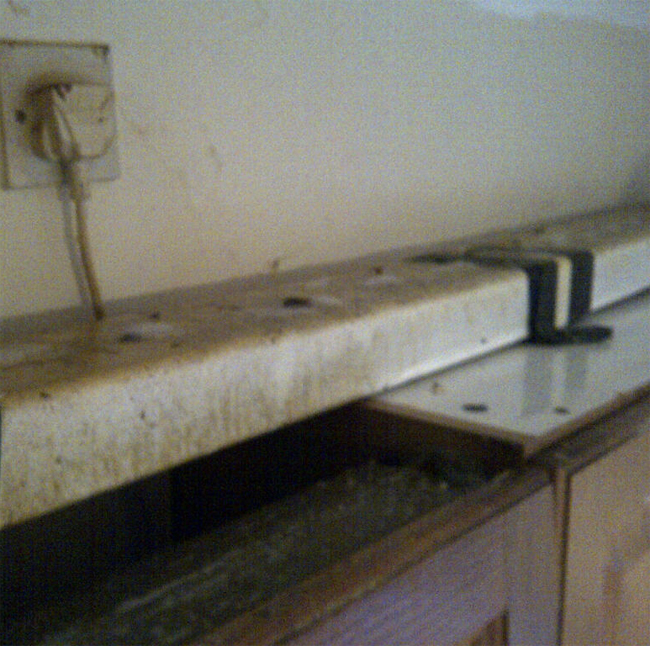 That's the view from above the kitchen units, where the cooker extractor ventilation system lies.
I want to clarify, the entire crime scene was covered in thick, saturated, congealed anal grease, even the white'ish surface under the ventilation pipe. It looked like a pimple-faced teenager had emptied the contents of his face all over the kitchen. Unfortunately, I only remembered to take a picture after I started cleaning the area, and that's why the surface under the pipe looks relatively clean(er) and the pipe is covered in foamy cleaning solution.
Evidently, the units hadn't been cleaned once during their tenancy. Even the plug and socket had been swallowed alive by the grease. I wonder what kind of greasy shit they were storming up during meal times. I wouldn't be surprised if they were having deep fried battered Mars bars for breakfast, lunch and dinner.
It took me the best part of 2 hours to clean the top of all the units. I went through 4 scouring scrub pads, the majority of a 1 litre cleaning solution and 2 pairs of marigolds. Not to mention the emotional toll; a part of me died that day, a good part too. I felt absolutely disgusted afterwards.
Miscellaneous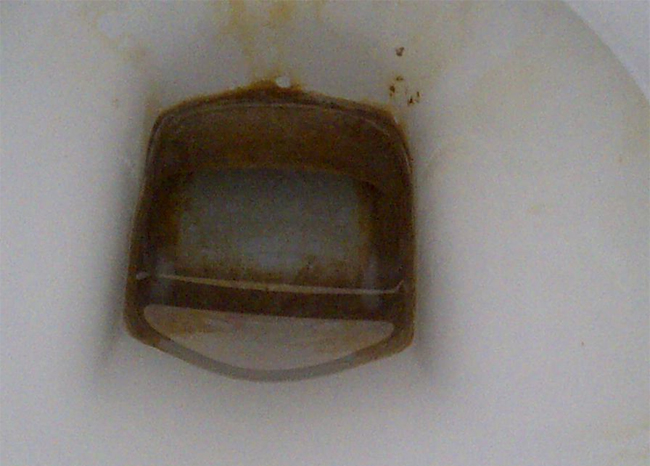 I don't know what to say about this.
How? Why? What?
It looks like shit (kinda'), it smells like shit, but it's not shit. I think it's rust, but I'm not not sure how or why they let it reach that stage. Rust usually occurs in the toilet bowl when there is a high iron content in the water, but it's easily avoided by regular bleaching. Moreover, none of my previous tenants had ever left the toilet in that condition. So I'm not entirely sure why that situation developed, besides from the fact that my tenants are filthy fungal rat-weasels. They probably cover themselves in used cooking oil before making greasy love.
The rust can be removed, but not with regular household substances, I'll need to get some industrial strength shit, like a mining drill, encrusted with diamonds.
Unfortunately, I don't think there are any steps I can take to prevent this from happening again. I guess my next tenants will just have to clean the toilet on a regular basis. Imagine that.
Conclusion
I genuinely feel lucky, even though the pictures tell a different story. I lost one month's rent and I was left with a property that even donkeys would turn their nose up at, but it could have been a lot worse. By law, they could have stayed in the property a lot longer without paying a single penny, and the damage could have been a lot worse. Most of the problems were curable with a little elbow grease. Bloody annoying though. I still can't believe people choose to live in those conditions. Operative word being "choose"
The silver lining? I've kept all the receipts for cleaning the property, so I can offset them against my income tax. Brilliant.
Finally, I'd like to thank everyone who has supported me through the dilemma by showing genuine concern, sympathy and even interest (even if it was for your personal amusement). It was all very much appreciated.
Chapter closed.
Until the next time… xx
Disclaimer: I'm just a landlord blogger; I'm 100% not qualified to give legal or financial advice. I'm a doofus. Any information I share is my unqualified opinion, and should never be construed as professional legal or financial advice. You should definitely get advice from a qualified professional for any legal or financial matters. For more information, please read my full disclaimer.