Stay calm and don't do anything totally crazy.
That is the single most important step when dealing with tenants that are late with rent or have completely stopped paying, usually because one of the following reasons:
Tenant has lost their job
Tenant has taken a pay cut (or financial circumstances have changed)
Cost of living/inflation
A joint tenant has moved out (for whatever reason)
Unfortunately, dealing with late rent/tenant arrears is one of the most common problems faced by landlords, and it's largely regarded as the most terrifying situations any landlord can face, particularly if it drags on for long enough (which it often does).
The reality is, every landlord will eventually deal with rent arrears, and knowing that alone is critical and extremely powerful. Thousands of landlords are dealing with rent arrears on a daily basis, so if it's something you're currently experiencing, fear not, you're not alone. Of course, that never really provides any consolation, because the point is, it's happening to you.
As a seasoned landlord I'm certainly no stranger to rent arrears, and experience has taught me…
Before getting into the depth of this blog post, I want to quickly share an exclusive offer currently being offered to you, which ensures FREE legal support to assist you with any of your concerns regarding rent arrears.
Special Offer
LegalforLandlords are currently offering our readers' FREE Legal Advice
If your tenant is behind on rent, you can receive free legal advice from LegalforLandlords.co.uk (one of the UK's leading legal services for landlords) and exclusive discounted rates for their legal & tenant eviction services (if you wish to use them)!
Book your free 15-minute consultation for Eviction and/or Rent Arrears services and use the Discount / Promo code: PIPLANDLORD
Right, now back to the regular schedule…
If you ever happen to capture the grey mood of a hunched over landlord; strolling around aimlessly and depleted of life, like his world has fallen apart, the law of averages says he's dealing with a tenant in arrears. Because, sadly, we don't really care or get saddened by much else. It's totally pathetic, but it's true.
While rent arrears and late payments is so incredibly common, it's pretty odd how so many new landlords completely neglect the prospect of it ever happening to them, consequently, they're left dazed and confused when it becomes their reality. Dealing with the situation is part of the job, there's no escaping it, and I don't even know why anyone would contemplate becoming a landlord without knowing it's eventually going to happen to them. It's not a question of if, but when.
However, being aware of the risks is one aspect, knowing how to deal with it when it occurs is another. It's when I read comments/questions like the following, when I start to realise how so many landlords don't have a scooby…
Can I move my tenants stuff out when they're at work?
Is it illegal to throw my tenants out if they haven't paid rent?
My tenant hasn't responded to all 30 of my phone calls, what should I do?
No, no, bloody yes, and stop calling… immediately.
And believe me, I read a couple of landlords asking those questions on a daily basis. That's a whole lot of prospective lawsuits.
Rightly or wrongly so, there is a legal/proper procedure that should be followed when dealing with rogue tenants, and until a tenant surrenders their tenancy or is legally evicted, your property is still their home.
Page contents
1) Late Rent Vs No Rent
Is your tenant late paying rent or have they completely stopped paying? There's an important difference, and how you deal with the situation will vary depending on what stage you're at!
If your tenant is late, then there's still time and plenty of opportunity to salvage the situation, and this blog post will cover key areas to assist. However, if that ship has sailed and your tenant has become completely unresponsive and/or has completely stopped paying rent, the only sensible option left might be to admit defeat and start the horrendous eviction process. There's no sugar-coating that ordeal I'm afraid.
2) Stay calm, don't act on your ludicrous impulses
It's unlikely that you're your normal self right now, you're probably unhinged and emotional. That means you're dangerous, and not in a good way. A very stupid way.
It's incredibly easy to let frustration take over when you're dealing with unreasonable tenants in arrears. The first few times I dealt with late payers/arrears I was overcome with rage and frustration, and that was the driving force behind some pretty morbid fantasies.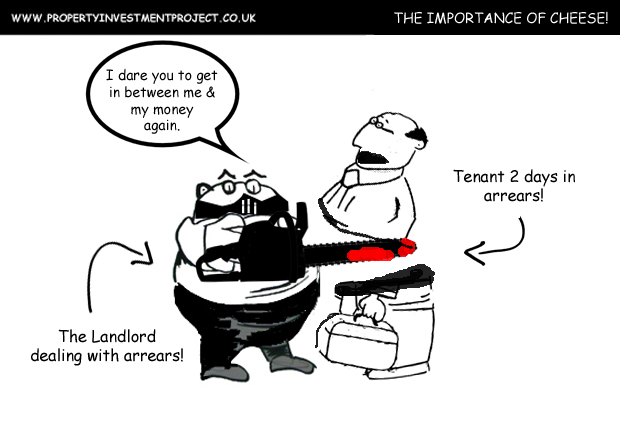 Seriously, don't lose your shit and act mindless. Please, be cool.
At a certain point it stops being about the money, but more so about the fact that some unconscionable low-life is taking the absolute piss. Of course, that's not always the case, often the tenants are coming from a genuine place, even though they're behind on rent.
But when you're dealing with assholes, that's when it's tough to deal with the injustice; I honoured my end of the deal, I followed all my legal obligations as a landlord, and provided a clean and safe living environment, so I just wanted the same mutual respect in return.
Naturally, it doesn't help that I'm the most impatient person in the world, I want all my problems resolved immediately. But, really, patience is key. You need to realise that you're already in a bad situation, but it's also an extremely sensitive one, and it's easy to make the situation 10 times worse by acting irrationally (which is usually unlawful).
Your first port of call is to remain calm and fight all your urges to do anything stupid, that includes rounding up 'the boys' and paying a visit to your tenant. You and your ugly mates might successfully shake down them down, and your menacing tactics may even force them to vacate, but if your tenant has an ounce of intelligence or receive advice from someone with an ounce of intelligence, they'll prosecute you faster than a blink of an eye.
Just be cool. Remain rational and patient, and accept that justice will prevail if the correct procedures are followed. If you allow yourself to get thrown off course, you can easily become prone to prosecution, further delays and costs.
3) Accept the realities of the situation
Once you're calm and have removed the idea of strapping your work tie around your mouldy forehead and kicking your tenant's front door down like Rambo, you need to accept the realities of the situation. This is easier said than done because the realities can be sickening and difficult to accept.
Once you start to familiarise yourself with the legal process, you will follow suit of every other landlord that has been in your position, and that is to feel even worse. But you need to ignore the injustice and accept the law as it stands and follow accordingly. The legal system won't change for you, so you need to accept it.
It's emotional: I've read several articles on how to deal with rent arrears/late rent, and none of them mention the emotional stress it causes the landlord, which I feel make them utterly incomplete.

I'm not saying that everything I share in here today is going to be any more practical or useful, but I do recognise the severe impact the situation can have emotionally. It's one of the biggest adverse affects, besides from the crippled cash flow.

You'll probably lose sleep over this (if you aren't already); you'll lay awake with overwhelming frustration and worry. I've done it, and it's horrible. There's nothing I can do or say to relieve you from the pain, all I can say is that it is normal, and the situation WILL get resolved, just not as quickly as you would like.

Allow your emotions to flow, but do not allow them to control your actions.

Tenants rights: tenants do NOT lose their statutory rights if they fall into arrears or breach any other term of their tenancy. They simply don't. Your naïve and brittle mind may think otherwise, and you may even believe that stripping someone of their rights because they aren't paying their way is the 'right' procedure. Regrettably, your wet-dream is only that, a wet-dream.

Back in reality, you CANNOT just "kick the tenant out"

Rogue tenants have all the same rights as decent tenants, so they're still entitled to live in quiet enjoyment, which means you can't "harass" them in any shape or form, which includes making unannounced cameo appearances, flooding them with phone calls, text messages or letters.

Slow process: late payments and arrears rarely get resolved quickly, so accept that this could take time to resolve. Truly frustrating.
You'll lose money: there's a good possibility that by the time this is over, you'll be out of pocket in some shape or form. And even if you chase after your losses, you'll probably question whether the chase was even worth it, because trying to squeeze money out of someone that allegedly doesn't have any is brutal and fruitless.
Plan your finances: the biggest fear is almost always the worry of having to pay the mortgage- most landlords rely on the rent to pay the mortgage.

You need to ensure that you can make the payments in case the late payments continue. Plan your next few months, and if needs be, make changes to your lifestyle to accommodate the situation. You could also try contacting your mortgage lender and see if they're prepared to cut you some slack, but I wouldn't hold my breath.

Needless to say, every landlord should have a contingency pot they can dip into so these situations can be absorbed, but yeah, let's be real. Do whatever you can to gather some disposable cash to keep afloat.

Even if your tenant assures you that "they will resolve the problem shortly"- still make arrangements, which leads me onto my next point…

The lies and excuses: It's not unheard of for tenants to suddenly transform into the biggest bullshit artists on the planet when they're in arrears- in fact, that's horrifically normal. They'll pretty much say and do anything just for some breathing space, and you can't really blame them for that. We're all just trying to survive.

If they suddenly start breaking down in tears like a little bitch over the phone or elsewhere, you'll need to be compassionate, but simultaneously, and more importantly, you'll need to remain focused on the situation without allowing your compassion to take control. At the end of the day, it doesn't really matter if they're being genuine, nor does it matter if you believe what they're saying or not… because they still owe you cheese.

Your tenant has the upper hand: the ball is in their court, and that will be the hardest part to accept, because you'll have to bow down to someone that's in the wrong- and despite that, being protected by the law.

They can either make this extremely quick and easy for you, or excruciatingly painful and long for you. However, in many cases, you can control how they play it by how you manage the situation.

Two wrongs don't make a right: it doesn't matter how much wrong and pain your tenant has inflicted on you, you still need to stick to the proper legal procedures. That's one hard muther-fudging pill to swallow, but you're a professional, so you're going to swallow that fat penis of a pill like a man… or a whimpering little girl. Either way, swallow it.
Eviction: if the tenant falls 2 months in arrears, the process of eviction can commence, but only then. That may seem like a life sentence, but that's because it is.

I'll be the first to say that having to wait for some useless tosser to fall 2 months into arrears before being able to kick-start the eviction process is scandalous. But it is what it is. Patience.

On a side note, you might be able to evict on other grounds (other than rent arrears) that may allow for a quicker eviction. Here's a list of the different grounds for section available to landlords. Alternatively, if your tenant is approaching or is out of the fixed date period of the tenancy term, it might be easier and quicker to serve a no-fault Section 21 notice.

Landlord Vs Tenant: it's extremely difficult to bounce back to a healthy relationship once a tenant falls into arrears, even if the debt is paid. Of course, this largely depends on "why" the tenant fell into the situation and how quickly it was rectified, but generally, there's just too much uncertainty and bad blood looming afterwards. It's like when someone cheats in a relationship, things are never the same afterwards.

In most cases, the landlord will want to find new tenants because rebuilding the trust is a tall order, and there's always that undercurrent of detestation that will never quite escape. You may need to accept that the relationship is over, which means you'll need to find suitable replacements shortly. However, I don't necessarily believe that to be a bad thing, just something to be aware of.
4) Communication is imperative
At the early stages, communication is vital.
Once it's been established that rent will be late, or is late, refrain from allowing your understandably sour mood to surface when communicating with your tenant. Bite your tongue if you must, and dump your frustrations elsewhere. I have this blog, this is my therapy, feel free to also unload. Permission granted.
As said, it's better to try and work with your tenants than against, so try to keep them on your side, or at least on neutral territory.
Be understanding, and recognise that this can be resolved amicably and quickly if it's handled rationally. The source of the problem might just be an abnormal, unforeseen circumstance, which won't take a miracle to resolve. Don't act prematurely before truly understanding the situation. Try to resolve the situation.
Enquire why the rent is late, when it will be paid, and if there is anything you can do to help. It's important to focus on your primary goal, which is to collect rent, so you need to be accommodating and helpful, despite how aggravated you are. Yes, it's two-faced, but so what, really?
Finally, remember, it's important to use traceable means of communication e.g. recorded delivery letters and emails with receipt confirmation. If this ends up going to court, you will need all the evidence you can get your grubby little mitts on, especially ones that will prove that you tried to resolve the problem professionally, legally and fairly.
"He said this", "she said that", "he tried to poke it in me" will get you nowhere.
If your tenant has completely stopped paying rent then the odds are communication is out the window; they're probably unresponsive. Sadly, that is normal.
5) Try offering solutions
Realise that it is unlikely your tenant will maliciously pull the rent from out of their arse, so trying to 'force' it out of them will most likely be futile. If they could pay, they would. Your time is better spent thinking of how you can come to a solution together that will work for both parties.
If you can, offer a solution. Again, this will largely dependent on "why" the tenant is arrears in the first place. But creating a fair and realistic repayment plan can be effective. You may not retrieve the total amount owed any time soon, but knowing the debt is slowly being reduced is better than nothing.
6) Send 'late rent' notices
If my tenant is 3 days late on rent, I send a friendly enquiring text message and wait to hear why, and once I receive the response, I give them a call to discuss the situation if their reason concerns me.
While it's always best to communicate via letters/emails, I find that it's more practical and easier to discuss these situations over the phone. Plus, it means my gentle and kind "tone" isn't misconstrued as violent and aggressive, and that's important during these times.
If rent hasn't been paid with in 5 days, irrespective of what was discussed on the phone (assuming they picked up), I send them a rent arrears reminder notification in the post.
During the initial communication (either by phone or messages), I kindly inform them that I plan on sending the notification just for my records and because it's protocol so it doesn't come as an alarming shock and feel like a kick in the face when they receive it.
If rent is still unpaid after 14 days, I send them a follow-up rent arrears reminder notification. Both notifications I send are downloadable from the links I have provided.
As already discussed, tenants behind on rent generally have one common trait; they promise the world just to get us off their back. So disregard everything they have promised, it means nothing, send the notifications regardless. Don't delay based on promises, because you'll end up wasting precious time.
7) 'Late Rent' penalty fees
I've written about tenant late rent penalty fees in detail before, and I'm definitely not a fan of using them, purely because I think they're massively counter-intuitive.
If your tenancy agreement is riddled with late rent penalty fees clauses, you might be tempted to start reminding your tenant of the financial sanctions they're liable for at this point. Of course, that's your right, but I'd be cautious before adding fuel to an already lively and difficult situation.
While it won't be always the case, it's mostly safe to assume that if a tenant is late paying rent, they're going through financial difficulties. So if they're struggling to pay rent, they sure as hell won't be able to pay the late payment fees.
Enforcing late payment fees will most likely terminally sour the relationship with your tenant. Moreover, a irritated tenant is much more difficult to handle. The primary aim should be to get the rent, and the best way to do that is to make it easy for the tenant, not more difficult.
8) Admit defeat when it's time / Use an Eviction Specialist
You've remained calm, you've tried to resolve the problem rationally, but your tenant isn't playing ball.
Three weeks has passed, and you don't see any light at the end of the tunnel. Your tenant has only delivered broken promises and/or assurances that you have no confidence in.
It's time to admit defeat and start psyching yourself up to start the eviction process/repossession. In reality, this is where it often ends up. I'm sorry, but it's true. Brace yourself, but continue to remain calm.
A big mistake many landlords make is prolonging this step, especially based on promises made by tenants. It's so easy for landlords to get sucked into promises and guarantees and keep delaying this [inevitable] step.
You need to be professional by detaching yourself from everything but the underlying facts: your tenant is significantly late on paying rent and you're losing money, so you need to take action, not sit back and rely on hope.
'Hope' will get you killed… or leave you disappointed. Most likely the latter, but "killed" just sounds cooler/more dramatic, thus better.
In most cases, you will need to serve the relevant notice, whether it be a Section 8 or Section 21, that's usually enough to scare them into paying what is owed and/or vacating the property.
If the tenant eventually pays and you want them to remain in the property, then that notice can be forgotten, so it's best to always serve notice in these situations.
Once a notice is served, and you're sure it has been received, don't communicate with the tenant unless it's necessary, or they contact you first. It's a waiting game now. It's tough and extremely frustrating, but you've done your part for now. The next step is eviction…
I'm not going to discuss the eviction/repossession process here, because I've already covered how to evict a tenant, which includes seeking advice/help from professional eviction services for those that want it.
If at any point you feel out of your depth, don't be afraid to seek professional help.
LegalforLandlord are one of UK's best known providers of landlord legal services, including dealing with evictions and problem tenants. The best part is, they exclusively provide readers of this website with free legal advice, no obligations. Enjoy!
Specialist Service
Rating
Price From
Notes

Landlord Legal Service




Rating



TrustPilot Reviews

Price From


FREE

Notes

I've started to get inundated with enquiries from landlords requiring assistance with problematic tenants, so I reached out to one of the leading tenant eviction specialists in the country, LegalforLandlords - they have agreed to give Property Investment Project followers free legal advice and special discounted rates!

Key features
Our legal services can help you avoid the expense of solicitors' fees.
PIP landlords can access key services FREE of CHARGE or at special discounted rates.
FREE legal advice service.
Pre-court-action letters from only £29 + VAT.

Additional paid services
Step 1: Service of Notice(s) to tenant - £179 + VAT (£159 + VAT with £20 discount)
Step 2: Applying for standard or accelerated possession orders which start from £735.83 + VAT (£715.83 with £20 discount)
Step 3: Applying for a warrant for possession - £399 + VAT (£389 + VAT with £10 discount)
Step 4: Debt recovery, tracing services, enforcement of judgment - £79 + VAT (£69 with £10 discount)

Visit website


Call for Free Advice on: 0333 240 8255


Email Support
Book FREE Case Review


Discount Code: PIPLANDLORD
9) Sometimes a loss is a victory (vacating & rent recovery)
You may need to cut your losses and consider it a victory. Your pride/ego may take a battering, but that's something you'll eventually overcome with excessive alcohol and drugs.
If your tenant says "Hey, look brother, I can't pay the rent, I don't have the money, but I'm going to move out ASAP", that's usually a victory in these situations in my eyes. Allow the tenant to surrender the tenancy.
Trust me, the sense of relief you'll feel when a tenant in arrears vacates, despite the fact they owe you money, is mind-blowing. It can be a euphoric high if you allow it to be.
Either way, the last thing you want to do is try and keep a tenant like that shackled down so they're forced to honour the fixed dates in the tenancy agreement- you'll be cutting your nose off to spite your face. You'll effectively be trying to cage a beast. It's healthier and easier to start over with hopefully better tenants that can keep the cash flowing. A fresh start.
Be realistic about what you can and can't achieve, and salvage whatever victory you can.
By all means, once they have vacated, feel free to chase and recover any owed rent (link to guide/services that can assist with debt collection), because you're absolutely entitled to that. But again, you need to be realistic about the achievable gains. Needless to say, you should be getting some comfort by the tenant's security deposit.
10) Once it's over
This may seem a far cry away, but despite how low, horny and hopeless you feel right now, it WILL be over, and you owe it to yourself to learn from the situation when that glorious day approaches.
Try to understand "why" your tenant fell into arrears, and learn from it. Was there anything you could have done differently to prevent the situation from occurring in the first place? Was it a case of not having a stringent enough screening process when you were sifting through the tenant applicants? Takeaway whatever you can from the experience and use it to your advantage.
Prevention
Unfortunately, there's no silver-bullet solution that will make any landlord immune to this kind of attack, because we're dealing with humans in a world where "shit happens"- even to the best of us. However, the following will make life easier…
Limit the risks: the best and only place to start is from the tenant referencing stage. Choose wisely, and be annoyingly diligent. Finding good tenants is one of the most crucial parts of being a landlord.
Be prepared: understand you're not immune to rent arrears, so always be prepared for when it happens. Rent insurance policies, tenant guarantors and short tenancies are useful and good ways of limiting damage. But also, keeping an emergency pot of cash aside to help absorb these unforeseen circumstances is good business.
If there's one single piece of advice you should takeaway from my meandering dribble, it's that you should ALWAYS follow the legal/proper procedures, even if that means fighting every last urge in that bangable body of yours. I mean that respectfully.
Finally, good luck. I am with you.
Disclaimer: I'm just a landlord blogger; I'm 100% not qualified to give legal or financial advice. I'm a doofus. Any information I share is my unqualified opinion, and should never be construed as professional legal or financial advice. You should definitely get advice from a qualified professional for any legal or financial matters. For more information, please read my full disclaimer.