Blogging about Japanese knotweed was never on the agender. Ever!
Unless someone is willing to pay a very handsome amount to promote their weed demolition business, I can't imagine anyone foaming around the chops to discuss a weed, albeit an immortal strain that's capable of total destruction. Sounds cool, but it's still a weed.
Unfortunately, no one is throwing a dime my way, I'm willingly going down this mundane path because shit just for real for me. Or, at least, by association.
I've just spent the past few hours listening to a [legitimate] sob story, from my dear friend, Michael, whose mental health has been in decline ever since a property survey positively identified the presence of Japanese knotweed in his back garden.
His plan was to sell his home during the summer, so he can relocate to accommodate his expanding family to more spacious pastures, but that plan has officially gone down the shitter.
I'll be honest, I don't really know where I'm going with this blog post, but having just tinkered with a very emotional and unstable soul, that's currently dealing with the horrific reality of trying to sell a house riddled with Japanese knotweed, I feel I may have useful information to share, perhaps even a few gems. Granted, it's not coming straight from the horse's mouth, but I'm as good as any microphone.
I know this situation sucks and I feel for anyone that's going through it, because the truth is, there is no ideal solution, only compromises.
Page contents
How does Japanese knotweed impact a house?
First and foremost, I want to quickly share why and how the organic matter is such a royal pain in the ass for homeowners (to be fair, if you're reading this blog post, you probably already know all too well).
So, in Michael's case, Japanese knotweed was discovered at the bottom of his back garden; a specialist Japanese Knotweed survey determined it wasn't impeding the actual property (yet). But the problem is, Japanese knotweed – unlike the head on my hair for the past 10 years – grows very quickly, and is cunning enough to navigate its way through cracks in structures. Once they're in these structural weaknesses, they will naturally expand and this may cause the cracks to further widen and cause serious structural damage. Terrifying.
Think Jumanji…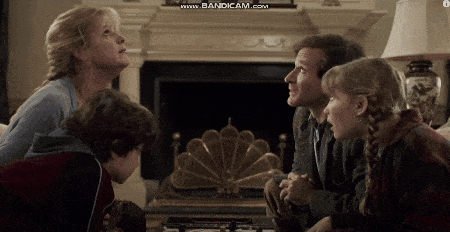 How much does Japanese Knotweed impact the value of a property?
In case you're wondering (which you're probably not, because it's pretty obvious), the Japanese knotweed will definitely [negatively] impact the value of a property. But fortunately, that's only an issue if you're even lucky enough to find an interested buyer.
The issue with having Japanese knotweed is it has a stigma, so although lenders will still lend on it if you have a treatment plan in place (supplied by a reputable Japanese knotweed treatment specialist), it effects how desirable the property is.
The amount a property is devalued by will depend on the severity of the infestation. For example, in Michael's case, because the infestation wasn't impacting the property, he was told that he should expect to take a 10% hit from the market value. However, in more extreme cases, where the property has been compromised (e.g. subsiding) or is likely to be some time soon, it could be significantly more costly, up to 20%.
How do I know if my house has Japanese knotweed?
Japanese knotweed Survey
If you suspect you have a Japanese knotweed infestation, the first port of call should be to call in the professionals to conduct a thorough Japanese knotweed Survey (not to be confused with a standard structural property survey). This is what Michael did.

There are plenty of specialist companies that provide free surveys, however, there is usually a catch (but a reasonable one). For example, I came across japaneseknotweed.co.uk (I have no affiliation with this company, they're just the first result that appeared in my Google search, and they seem reputable based on their TrustPilot profile), and they provide a free* survey:

*NB: if no knotweed is found on the property or within 7m of the property boundary a charge of £165 plus VAT will apply.

Okay, still seems reasonable, I 'spose.

In any case, best to read the small-print before booking any free surveys. But my guess is, they all pretty much work in the same way (i.e. you'll be subject to a fee if Japanese knotweed is not found, otherwise, expect the company to desperately upsell their removal/treatment services – that's where they money is!).

Property survey
If you're completely oblivious to the existence of an infestation, a property survey instructed by a potential buyer may pick it up. According to this guide,

A property surveyor might not always check for Japanese knotweed. Although chartered surveyors are trained to identify the plant, they will not necessarily go out of their way to look for it, especially if you have only commissioned a basic Condition Report, as opposed to a more thorough HomeBuyer Survey. There have been cases where surveyors have missed Japanese knotweed when undertaking a Level 3 Survey, in these cases, the surveyor has been found negligent for missing the plant and not informing the buyer.
How to sell a property with Japanese knotweed
This can be tricky. But not impossible.
Option 1: use an estate agent
The good news is, most estate agents are familiar with Japanese knotweed, and many of them will take on your case if you wish to push on with the sale (and take the financial hit). But obviously, your audience will be limited, so don't be surprised if you're not inundated with enquiries and offers, and the few that you do receive are low-ball offers that will make you want to scratch your eyes out.
But first, before even starting the process, you should arrange a knotweed survey, to determine the severity of the situation. Your agent and any potential buyers' will need to be informed of the situation.
While Japanese knotweed acts as repellent alone, the other gigantic issue can be getting a mortgage on a property plagued with the stuff. In short, most lenders are under no illusion when it concerns the dangers of Japanese knotweed, so even if you manage to find an interested buyer, deals often collapse because the buyer is unable to get their finances arranged. That's why it's common for defective properties to be purchased by cash buyers [at bargain prices].
I guess my point is, even if your property is in the midst of an ongoing street-fight with Japanese knotweed, you can still use an estate agent to sell it via the traditional route.
Option 2: sell it directly to a property cash buying company
Selling your property directly to a professional cash buying company (a.k.a "We buy any house" company) is by far the easiest solution.
Here are a few of the key perks:
Cash sale

Complete sale in little as 7 days

No knotweed treatment plan required

No Legal fees, agent costs or hidden fees
Property cash buying companies specialise in buying shambolic and lop-sided properties for below market value – properties that the common man wouldn't touch with a bargepole – so they're usually chomping at the bits for some of that weed. Essentially, they'll buy almost any ol' rubble, which is why they appeal to house sellers dealing with subsidence, hoarders, and yup, you guessed it, knotweed.
Case in point (a Tweet I randomly bumped into from a professional landlord, that goes by the alias @landlord_secret):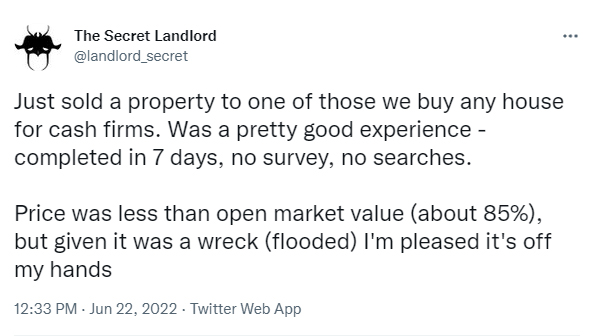 No, a flooded property is not quite the same as a property plagued with knotweed, but it's a problem property no less, so you know what I mean.
The obvious perks of using companies of this nature is that they produce mind-bogglingly quick turnarounds [because they buy in cash]! Most of them boast about being able to make an offer with in 24 hours and completing within 7 days (yes, it's possible to sell your house and have the money in your bank within a week!). Presumably, that's why these companies have become insanely popular among sellers (particularly the desperate kind) and the reason for why they're popping up all over the country.
I agree, it all sounds rather wonderful, but it's not all peaches and creams, because you'll be expected to accept the predictable catch in the form of a financial hit – an even bigger one than you'd ordinarily expect when selling a house with a Japanese knotweed infestation! They'll typically offer anywhere between 70% – 85% of the market value, minus the cost of managing the infestation.
Sadly, it's often the case that this is the only option for some homeowners with difficult properties.
However, it is a super quick and painless option, because they'll take care of everything, including the necessary surveys and legal work, and that alone can make it a worthwhile trade-off. But obviously, you need to weigh up all the variables and consider what's best for you.
I've written a complete guide on cash buying companies, which includes a list of highly rated companies, and the pitfalls to watch out for when contemplating using a cash buyer. So if you want to know more about this option, I defo recommend reading it. At the very least, you may want to find out how much they're willing to pay for your [mangled] property, by getting a free and no obligation cash offer.
Here's an example of a reputable Cash Buyer Company…
Best rated Quick House Sale / Cash Buyer Companies
Service
Rating
Features
Offers (up to)

My Homebuyers





Top Pick

Rating



TrustPilot Reviews

Features

Guarantee to beat any genuine cash offer

Members of The National Association of Property Buyers, members of The Property Ombudsman and Trading Standards

Any property, any condition considered (England or Wales)

Cash offer within 24 hours, Sales completed in as little as 7 days

Legal fees included, no agent costs or hidden fees

Guaranteed sale

Direct buyer (no middlemen)

Offers (up to)


80-85%

of Market Value

Get cash offer
Be wary of any property cash buyer that offers 100% of the market value! A genuine property cash buyer will never pay full market value, not even close!
Interestingly, I asked my contact at MyHomebuyers.com what their experience is with selling a property with Japanese knotweed, and this is what he had to say:
Buying a house with Japanese knotweed is relatively straightforward for us. Any house with Japanese Knotweed and no treatment plan in place is un-mortgageable and can only be sold to cash buyers. This limits the market that you are selling to which drives the value of the property down. To make the property mortgageable the seller will need a treatment plan in place along with a certificate in place by an approved provider. This will often cost circa £2500 – £5000 and takes 2 -3 years.

Although a property with a treatment plan in place is acceptable for lending, there is still a stigma around selling a house with Japanese knotweed and this will still put open market buyers off which limits the market slightly and affects value. We will happily buy a property without a treatment plan in place and complete the sale in as little as 2 weeks.

I would say from experience, it [Japanese knotweed] can knock up to 20% off the market value in the lower value stock. I remember we bought one that was worth around 300K in normal terms, and I think even though we got the plan [Japanese knotweed treatment plan] in place with a guarantee, it still took a lot longer to sell and we sold for about 25K less than it normally would.

Selling to a cash buying company can save a lot of time and money. So when you factor in all of the costs and time it takes to sell a house with knotweed along with the reduced offers on the open market, an offer from a cash buying company could end up being good value.
Make of that what you will.
Here's a list of more property cash buying companies that are highly rated.
Do I have to tell my estate agent and/or buyer about the Japanese knotweed?
Yes.
Moreover, estate agents are required by law to honestly present properties to buyers, which includes being upfront about Japanese knotweed infestations affecting land.
How much does Japanese knotweed cost to remove (in case you're wondering)?
A small fortune.
At least, that's what the tears rolling down Michael's face implied.
But it's not only the cost that's painful, it's the time it takes also. So if you're in an immediate rush to sell, this probably isn't a suitable option.
Normally, excavation is required to properly remove Japanese knotweed, and that process involves removing all Japanese knotweed growth, the root system and all contaminated soil. Chemical treatments are also available, but they will not remove Japanese knotweed, only help control its growth.
Obviously, the cost to remove Japanese knotweed varies (I know, not particularly helpful. Sorry!), depending on the scale of the problem. But generally speaking, the sooner it's identified and dealt with, the easier and cheaper it is to get rid.
Again, you can contact a company like japaneseknotweed.co.uk to help assess your situation and provide you with your options.
What about renting out a property with Japanese knotweed? Am I allowed to?
Obviously a handful of people will have the luxury of having this option at their disposal, but this is actually what Michael decided to do.
His house was on the market for several gut-wrenching months and he couldn't manage to push a sale over the line, and he wasn't willing to take the hit he'd have to endure if he sold his soul to a professional property buying company (actually, I don't even know if that's the case, because I never discussed that option with him), so he decided to scrap plan A and escalate matters to Plan B: rent his property out. In the meantime, he's going to put down a smaller deposit than he initially wanted to on another house. Not ideal, but a workable solution that makes sense.
Michael works in the rental industry, so he's very familiar with the process of renting. If this is an option you're interested in learning more about, but don't have a scooby about the rental market, may I gently point you towards the direction of my free eBook for new landlords?
Renting out a property with Japanese knotweed is an option, but I completely appreciate that it won't be available for most people, because usually a sale is required to finance the next move. Either way, I thought it was worth mentioning, since it's what Michael decided to do, and it's still a viable option worth considering [if you've got the cheddar].
Right, I'm done. That's all I've got.
If you've been in this situation or are currently dealing with it, I'd love to hear your story, especially if you have any tips…
Disclaimer: I'm just a landlord blogger; I'm 100% not qualified to give legal or financial advice. I'm a doofus. Any information I share is my unqualified opinion, and should never be construed as professional legal or financial advice. You should definitely get advice from a qualified professional for any legal or financial matters. For more information, please read my full disclaimer.