Let me put your spinning mind at ease by answering the most frequently asked question when it comes to selling a tenanted property…
Yes, you can sell your property while it's occupied with tenants; landlords do it all the time, and there's diddly-squat your tenant can do about it. Facts!
However, whether you want to sell while it's occupied is a whole other bag of jam donuts; there are several points that ought to be considered before [haphazardly] throwing your tenanted property onto the market…
Let's get into it!
Page contents
Your options when selling a tenanted property
If you wish to sell your property which is currently occupied with a tenant, you have two options:
Sell with the tenancy
With this option, you will sell your property subject to the existing tenancy. That means your tenant will remain in the property after the sale is completed, and they will then start paying rent to the buyer and keep it as a BTL.
Complete sale after possession (i.e. eviction)
In this case, you will need to terminate the tenancy before the sale is completed, so the property is vacant/untenanted.

(side note: there are house-selling services available that will purchase your property as soon as it becomes vacant, which means you won't experience void periods. I discuss this in more detail below in the how to sell a tenanted property section).
How to sell a tenanted property (4 options)
The usual methods are relevant, but I'll quickly run through them in case you learn something new…
Option 1: use your local high-street estate agent
Presumably, there's little to be said here. Just approach your local agents and see what they say.
Despite what some may believe, you don't need any special kind of estate agent to sell a tenanted property, but using one that is experienced in doing so would be particularly beneficial. They'll be better experienced at managing tenants, some of which will be disgruntled by the situation.
Moreover, stick to the golden rules when choosing an agent to work with (e.g. make sure they're regulated, shuffle through reviews etc), you should be in safe hands (relatively speaking, of course! We are talking about estate agents after all. Enough said!).
Option 2: use a cash buying company (good for anyone looking for a super quick cash sale)
I'd be remiss if I didn't mention "cash house buying companies" (also known as 'We buy any house' companies), because even though they definitely won't be for everyone, there's no denying that they're an extremely effective solution. Actually, I have to say that they're probably the best solution for selling a buy to let property as quickly as possible, so they certainly deserve some airtime.
Cash buyer companies can provide a super quick cash sale, in as little as 7 days, but here's the kicker: you'll be expected to sell anywhere between 15-25% below market value.
Yup, like I said, not for everyone.
However, despite the drawback, there seems to be enough up-side to their services, making them extremely popular among landlords. They make the process of selling a tenanted property super effortless (an experience that can be excruciating at the best of times).
So the question is: are you willing to accept less to avoid a whole bunch of potential hassle and waiting time? Many are. Case in point, here's a Tweet that appeared on my Twitter timeline, by someone that goes by the alias @landlord_secret: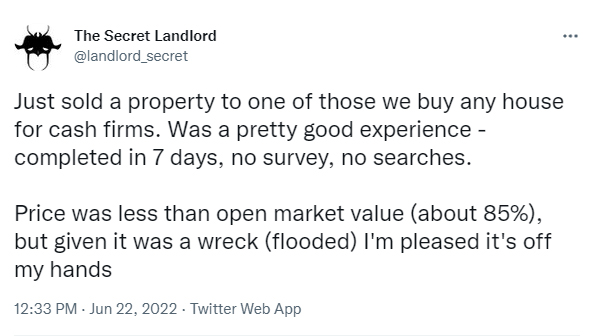 I'm not entirely sure what his exact circumstances were, but it sounds like one of his rental properties was damaged by flooding and he wanted out, but the point is that he was willing to sell for 85% of the open market value to get the property off his hands, and I'm sure that's a sentiment many landlords can empathise with.
It must be stated, these companies do take on a lot of risk with these acquisitions, especially in a declining market, so perhaps that's something to bear in mind when you inevitably wonder weather it's worth taking the financial hit.
If you want to find out how much your tenanted property can fetch from a cash-buying company, you can get a free, no obligations offer from them (similarly to how estate agents will value a property).
Here are a couple of reputable companies that have positive reviews, and one's I've managed to retrospectively strike affiliate partnerships up with. I have good relationships with both companies and I genuinely believe they're the good guys', but feel free to do your own research.
Service
Rating
Features
Offers (up to)

My Homebuyers




Rating



TrustPilot Reviews

Features

Guarantee to beat any genuine cash offer

Members of The National Association of Property Buyers, members of The Property Ombudsman and Trading Standards

Any property, any condition considered (England or Wales)

Cash offer within 24 hours, Sales completed in as little as 7 days

Free Legal fees included, No agent costs or hidden fees

Guaranteed sale

Direct buyer, with no middlemen

Offers (up to)


80-85%

of Market Value

Get cash offer
The Pros of using MyHomeBuyers
Update: The MD of MyHomeBuyers saw this blog post and wanted to make the following point(s):
A lot of landlords want to sell but are concerned about serving notice to their tenants and being left with a vacant property. We [myHomeBuyers] would be more than happy to make an offer on a property before notice has been served. If the offer put forward doesn't work for the landlord then they can continue to rent it out without the concern of voids.
Assuming the offer is in line with the vendors expectations then we can agree on the sale and do the conveyancing during the notice period, this way we can complete on the property as soon as the tenant vacates. The benefit to this is the property is never left empty and not paying for itself and the landlord knows exactly where they stand from day one.
If the landlord has already served a section 21 or they have a problem tenant that they are trying to evict, we would be happy to work with the landlord and wait for the property to become vacant enabling us to complete shortly after.
Service
Rating
Features
Offers (up to)

House Buy Fast




Rating



feefo Reviews

Features

Founder of The National Association of Property Buyers, members of The Property Ombudsman, NAEA Propertymark and Trading Standards.

Any property, any condition considered (England and Wales)

Cash offer within 24 hours, Sales completed in as little as 7 days

No legal or estate agency fees to pay

No viewings required

Will buy tenanted properties

Direct buyer (no middlemen)

Offers (up to)


85%

of Market Value

Get cash offer
If this is a solution you want to know more about, I recommend reading my full guide on Quick House Sale / Cash Buyer Companies; I go through some of the scams to be wary of, and list more companies that are regulated and have good reputations in the industry.
Option 3: use an online estate agent
I'm not going to get into discussion of what is and what isn't an online estate agent, because I've already done that in my supreme guide to online estate agents.
So I'm going to commence on the basis that you, at least, have a grasp of how they work (and how much money they can save you compared to traditional high-street agents!).
To be honest, I wasn't entirely sure how well equipped online agents were to deal with selling tenanted properties, so I put out feelers to find out. The marketing folk at Yopa (currently the 2nd biggest online estate agents in the UK) were quick to respond with a bold response: we are both experienced and successful in dealing with selling tenanted properties.
Right, got it!
Someone remind me, what's the difference between confidence and arrogance?
No, I'm joking.
Technically, I'm not specifically recommending Yopa (although these people on TrustPilot are), I'm just the humble messenger. However, I am saying that if you want to use an agent that is experienced in what you need done, and at a cheaper rate than your local agent, perhaps they're not a bad option, especially since they offer a free no obligations in-person valuation.
I've also included details of Strike (UK's second biggest online estate agent), they offer a very similar service to Yopa, only for FREE. Yes, that's correct, FREE. It's legit, too. You can find out more in my overview of Strikes Free Estate Agency service.
Estate Agent
Rating
Duration
Includes / Notes
Price

Strike






Rating

TrustPilot Reviews

Duration


6 months

Includes / Notes

No fee package

Key features

Zoopla listing

Negotiation

For sale sign

In-person valuation

13 weeks Sole Agency contract

Price

Free

Free

Visit WebsiteBook Free In-Person Valuation

Yopa






Rating

TrustPilot Reviews

Duration


12 months

Includes / Notes

Core package

Key features

Rightmove listing

Zoopla listing

Photograghs

Floorplan

Negotiation

For sale sign

In-person valuation

16 weeks Sole Agency contract

*Selling fee of £1,499 in a few specific London postcodes.

Price

*£999

Inc VAT

Visit WebsiteBook Free In-Person Valuation
Option 4: use a "Specialist Portfolio Estate Agent" if you want to sell a property portfolio
If you're trying to shift a portfolio of properties, whether they're tenanted, unoccupied or a mixture of both, and particularly if they're scattered around the country, then I can only recommend using a "Specialist Portfolio Estate Agent".
Essentially, they operate the same as regular high-street agents (i.e. they're middlemen brokering a deal with a buyer), but they specialise in selling portfolios.
To summarise their service (and why I think they're a good option for landlords looking to sell a portfolio):
They find investors, deal directly with them, and manage the entire sale all the way to completion.
They manage and work with the tenants directly (and can even assist with relocation if required).
it's a relatively hassle free solution given the circumstances; the agent will look for investors to purchase the entire portfolio in one transaction even if they are scattered over the country, meaning you don't need to sell each property individually.
You can get anywhere between 85 – 95% of the market value for your entire portfolio. Bear in mind, the speed and simplicity provided can easily compensate for the below market value sale price.
Since this such a specialist and comparatively niche service, there are only a handful of agents available. I've never spoken with Landlord Sales Agency directly, but apparently they're a decent option…
Service
Features
Offers (up to)

Landlord Sales Agency




Features

Members of the Property Redress Scheme and The Property Ombudsman

No charge for valuation and no obligation to proceed

Can sell any UK based property in any condition

Will market your landlord property portfolio to 30,000 buyers and investors and agree a sale within 28 days

Management of every aspect of the sale, including tenant communications, solicitors, repairs, refurbishment and even relocation if required.

No sale, no fee

Offers (up to)


85-95%

of Market Value

Get an offer
Legally repossessing your property
If you've decided that getting rid of your tenant before selling is the best move (for whatever reason), the usual rules applies, and you'll need to legally terminate the tenancy, which may mean you'll have to get comfy and wait several months for the process to complete.
Notifying your tenant of the sale
If selling with tenants in situ is still Plan A, diplomacy and courtesy will be key to a smooth transition.
Don't be naive enough to believe you hold all the chips- the tenant is definitely sitting on the same table as the board of directors! While they may not be able to completely stop the process, they will have the ability to make the process unbearably painful or relatively painless (selling is never totally pain free). You'd be wise to play nice in order to minimise the pain.
1) Offer your tenants first dibs
Purely out of courtesy, even if you know they're in no financial position to be serious contenders, you want to give your tenants the opportunity to buy the property before going to market.
2) Explain reasoning BEFORE marketing/selling
Being abrupt in these situations can be profoundly damaging, and that includes marketing before discussing it with your tenants and/or doing it without providing an explanation.
Take the time to talk to your tenants and explain why you are selling. Make up a sob story if you think it will improve your position (e.g. you're having financial difficulties, so you either have to sell your kidneys, or your house).
3) Be reassuring
Since you have made the decision to sell with tenants in situ, you have the opportunity to spin a story which reflects the tenants best interests (even though you're probably doing it to minimise the impact on your bank balance).
Reassure the tenants and explain what your decision means:
You're not kicking them out, because you don't want them to lose their home as they've been good tenants (I'm assuming they have been)
The T&C's of the tenancy still applies (more about this below)
Another landlord will most likely buy the property, so their occupancy is most likely safe
Can you demand more money for your property with tenants in situ?
It's entirely possible.
But, while it may seem logical that a tenanted property should fetch a premium, it's not always as straightforward as that. As discussed, it will depend on the quality of your tenant, but more crucially, the rental yield the property can achieve. In other words, the ROI (Return On Investment), which will specifically take into account the rental income over the initial cost of buying the property. Plus, and needless to say, there needs to be demand for the property.
A good agent will be able to provide assistance with the numbers.
Can you use a normal estate agent to sell a tenanted property?
Technically, you don't need to use an agent at all. I mean, in the sense that you don't need to knock on the door of your local high-street agent. But at the very least, you'd be a total donkey not to use 'some kind of agent' to help market your property across the UK's biggest property portals like Rightmove & Zoopla to generate the leads from prospective buyers. And then, you can take on the task of processing, scheduling and conducting all the viewings if you want to. However, in this very particular scenario, I would avoid going 'lone wolf', purely because it's a buttload more convenient to get a mule on the payroll to liaise with your tenants and schedule the viewings. Doing it any other way can easily result in diminishing returns.
In any case,
Is it better to sell an unoccupied property (i.e. should you evict your tenant first)?
I honestly can't answer that for you, but I do have some thoughts on the matter that may help you discover your position.
If you're happy to sell to a cash buying company (option #2), then none of this will apply, to be honest. I personally don't see any downside whatever the case may be, as they'll be willing to buy a property in any state.
However, if you intend on selling on the market via an estate agent, then there are some obvious concerns and difficulties that come with selling a tenanted property (none of which should surprise you).
Marketability / smaller market
A tenanted property might be less appealing to potential buyers who want to move in immediately (especially if there's significant waiting time for the property becomes vacant). This can reduce the pool of potential buyers and affect the property's marketability.
Viewing complications
Yup, taking viewings with tenants in situ can be a royal pain in the butt at the best of times, and the horror is only amplified if your tenant isn't pleased with the situation (which wouldn't be terribly unsurprising or unusual in these circumstances, and understandably so).
Condition of your tenant in situ
If you're selling a tenanted property, there's a reasonable chance you're going to attract landlords that are looking to expand their portfolio. That means they'll know exactly what they're doing.
So if selling up is part of your exit-strategy to unload a rogue tenant that's disruptive and/or in fallen into rent arrears, it's likely that the truth will rear its ugly little potato-head when the landlord throws the occupants under the microscope before making any serious offers.
Point is, any serious buyer that is looking to acquire your tenanted property as an investment will likely care about the condition and quality of your tenant.
Scheduling & Arranging Viewings
Regardless of whether who is responsible for the viewings – whether it's you or an agent – there are a few statutory rights protecting the tenant that should be respected.
The tenant should be given 24 hours written notice before a viewing
The tenant must give consent to each viewing at a convenient time for them
Constant disruptions might breach their statutory right to live in quiet enjoyment.
It's crucial to knowledge that viewings are particularly stressful and disruptive to tenants during in this situation, which a good landlord/agent will appreciate and fully understand. So to minimise the pain, I would recommend organising block-viewings (just like I do when conducting regular tenancy viewings), as opposed to scattering the viewings throughout the week. It may also be wise to ask the tenant which days are most convenient for them, and stick to those days. Communication and compromising is key, just like any healthy relationship.
Paperwork / Changing the tenancy agreement contract
As the seller, you don't really need to be concerned with the legalities of the tenancy after you've wiped your little hands clean of the property. It's the buyer's responsibility at this point. However, if you really do have a conscience and care for the fate of your tenant, the following information may be of importance (and useful to relay to your tenant during the 'reassuring' phase I covered):
After contracts have exchanged and the property is officially sold, the new owner will automatically become the landlord of the tenants. The text books describe this as saying that he "stands in the shoes" of the vendor. You will no longer be the landlord and therefore you will be dismissed from duty. Congratulations.
The tenancy agreement contract will remain valid even though the landlords name is out of date.
Transferring the Tenancy Deposit
OOOOH SHHEEEEEET. What about the tenancy deposit?
Ok, so if you have a shred of common sense and you're worth more than a dollop of dog excrement, then you have complied with the tenancy deposit legislation by securing your tenant's deposit.
Typically, you don't need to worry about the deposit, because your conveyance solicitor should help arrange for the transfer of any tenant's deposit. Bear in mind, you'll be "transferring" the deposit, and not getting it returned, so whether you want to account for that in the 'asking price' is your call.
On that note, may I recommend using a Conveyancer that has experience in selling tenanted properties?
You may also want to contact the deposit scheme directly and discuss the transfer of ownership, as they may have their own guidance and suggestions. Either way, it should be relatively easy.
Completion & apportioning rent
To make the transfer of tenancy easier to cope with, completion is often arranged to take place on a rent payment date, so there's no need for the rental income to be apportioned between the buyer and seller. However, if that's not the case, arrangements should be made between the buyer and seller so the appropriate amount of rent is credited to the buyer (assuming that the tenant had paid rent in advance, which is usually the case). Again, your conveyance solicitor should be able to assist with this matter.
Good luck, and happy selling, folks!
Disclaimer: I'm just a landlord blogger; I'm 100% not qualified to give legal or financial advice. I'm a doofus. Any information I share is my unqualified opinion, and should never be construed as professional legal or financial advice. You should definitely get advice from a qualified professional for any legal or financial matters. For more information, please read my full disclaimer.