Someone whip out a box of Kleenex, a pot of petroleum jelly and the violins already! I've had a freakin' nightmare.
I've just endured an extremely painful week, so please bear with me while I projectile vomit last week's Filet-o-Fish over my keyboard and share my bullshit week with you.
While a small handful of you may learn one or two rudimentary pieces of wisdom as a result of my terrible week, history dictates that the vast majority of you will be calmed and joyed by my woes, and use them as a vessel to elevate your own soulless existence. Glad to be of service. Assholes!
I'm sorry. I'm just bitter right now. So bitter.
Anyways, here's a stark reminder of how unexpectedly expensive maintenance costs for a landlord can be…
A couple of months ago I wrote a blog post about what prospective landlords should know before becoming a Landlord, which some of you may remember. I essentially listed a few pitfalls of being a landlord and also dismissed a few common misconceptions about the catastrophically unglamourous profession we naively thought was the golden ticket to a lifestyle rapper's are accustomed to. The joke's on us. I'm still aggressively collecting Tesco clubcard points and making full use of every coupon I can get my mitts on.
If my droning is going to highlight anything today, it's how real and painful those pitfalls and misconceptions are, specifically how being a landlord is NOT a get rich scheme, and is NOT a comparatively good way of generating passive income, and how it involves unexpectedly having to spend a buttload of cash. The latter is always the most painful, the unexpected costs (which can often go way beyond the typical costs of being a landlord)- they sting like genital warts being drowned in balsamic vinegar!
Typically, prospective/new landlords and outsiders always assume that being a landlord is a sure-fire way of making easy money. The magic formula is usually simplified down to buying a house and finding some brain-dead sucker to pay the rent. Sounds orgasmic, doesn't it? That's because that picture is nothing more than a buffoon's wet-dream, where the houses we invest in are made from steel and the tenant's we harbour are made of cotton. Back in the the real world, where I'm still scratching around dark alleys for a living and dealing with real idiots people, my properties take a beating and are like blackholes, sucking in money for fun.
Buyer beware…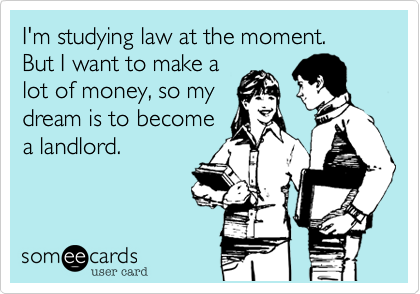 This week I've been hit with some hefty unforeseen expenses. I'm not talking about replacing a door hinge that got dislodged by some snot-faced kid recklessly running riot, nor am I talking about the services of Dyno-Rod (which I'm told are extortionate) to unclog an almighty shit-log my tenant gave birth to after a piss-up and a rotten curry. I'm talking about replacing an entire kitchen, installing a new boiler, and replacing an oven- all in the space of a week- all unbudgeted for and unexpected. Someone may as well have walked into me with an erection while I was preoccupied with tying my shoelaces.
I'm not even convinced I should be writing this horrific blog post from home, because I'm not sure I can even afford the juice required to power up my computer anymore. I've pretty much blown most of my annual profit and hemorrhaged through my personal money-jar that is notoriously reserved for Vegas and low-grade strippers that cost pennies.
Someone lend me a fiver!
The broken Boiler
First to pack up, die and sink its teeth into my 'stripper fund' and generally ruin my seedy life was the boiler.
My tenant reported the boiler to be working intermittently; sometimes it powered up on cue, other times it took hours before it became responsive. The problem sounded expensive from the outset- I knew straight away my profit margin was about to get a beat down because I've had problems with this particular tin-can before. Last time it cost me £300 to repair. If my memory serves me correctly, I had to replace a circuit board or something as equally uninteresting.
I eventually got three different plumbers on the case because the first one that took a gander, recommended a replacement boiler to cure the problem. Before I succumbed to his abrupt recommendation and took his soul-destroying £2.8k quote seriously, I wanted more opinions. Firstly, I wanted to ensure the boiler did legitimately need replacing. Secondly, I wanted to ensure his quote wasn't a cowboy figure he extracted from a dark hole that housed his haemorrhoids.
I'll be the first to admit I don't know the first thing about boilers, but I know they aren't cheap to repair or replace. I also know I'm legally obligated to ensure it's working. What a terrible combination- expensive and required. A bit like breast-implants, am I right ladies? Right.
The whole diagnose process was slightly comical because it mirrored a cheesy scene from an American sitcom. It was a classic case of being bombarded with technical jargon that would have been better wasted on a mentally impaired donkey. "Oh dear, this doesn't look good, sir. The left shizteingburg has taken a turn for the worst, and the left hatchet that supports the dingle-berry seems to be covered in unicorn dust. I recommend replacing the entire unit"
Yeah, right, mate! That's what I suspected.
Fortunately, despite my total ignorance, the general consensus between all three plumbers was that the boiler needed replacing, because it was a 15+ year old heat-only "Potterton Suprima" boiler, basically an obsolete piece of shit that wasn't worth more than a stick of gum. Consequently, fixing the rusty pile of junk would have been like trying to polish a prehistoric fossilized turd. But that's really when the real confusion began, because I was then given different advice on which replacement boiler to opt for. That was fun!
They all suggested changing to a combination (combi) system, because they generally save on time and costs in the long-run as there's no requirement for a tank anymore, meaning a smaller margin for error and less pipe work. However, two of the plumbers suggested getting a Potterton 24w Combi boiler. The other plumber recommended going with a "top grade" boiler, a 28w Worcester Bosch, because it was more reliable and came with a 7 year warranty (and apparently very good customer service). Of course, neither of those brands meant anything to me, much like the watt capacity. Don't Bosch manufacture power drills and leaf-blowers?
I played Devil's advocate and informed all three plumbers about the varying advice I had received. The two plumbers' that recommended installing the Potterton both said the Worcester Bosch is probably too high grade for a BTL property, and I'd only be paying over the odds to resolve my problem, therefore the Potterton was still a reliable choice.
After umm'ing and arghh'ing, annoying other people for advice and Googling around for enlightenment, I opted to go balls-deep by getting the Worcester combi. My primary reason was simple: I want an easy landlord life and a good way of achieving that goal is by using good quality products that won't just shut up shop after a year or two. I want products that are most likely to give me the least amount of hassle.
After a bit of haggling and whittling down a few quotes, I ended up with a £2,450 bill, all in. That was for parts and labour, which included the removal of the old redundant water tank (which combi boilers don't require) and a power flush. I don't even know what a power flush is, sounds like the machine equivalent of a colonoscopy. Am I right? Well, whatever. Something definitely got flushed and I paid for it.
I'm sure every Tom, Dick and Harry will have an opinion on the choice I made. I'm sure many of you in "the know" will say I made the wrong choice with the Worcester Bosch. But I'm guessing that would have happened any which way. Life.
In any case, I'd be interested to hear your thoughts as long as you don't get too technical and bore the living shit out of me.
Update (almost 2 years after writing this flipping blog post): if anyone is looking for a boiler for their rental property, I highly recommend checking out this new breed of Boiler Supply & Installation websites – they provide an incredibly easy and cost-effective way to buy and install boilers.
The ugly Kitchen
This is the part of the story-telling moment where my cold heart may cease up and bury me into the ground. This is the culprit that really sunk me, and it's the reason I may end up in 'Butlins Bognor Regis' this summer for my holiday, queuing up by the bar in fancy dress during happy hour with some 50yr old skank.
The boiler was actually the catalyst of my spending spree. God damn that rusty piece-of-shit!! When the tenant first reported the broken boiler, I scoped out the clapped out monstrosity for myself to ensure their greasy fingers didn't trigger a bogus setting that caused the intermittent behaviour. The boiler and control panel are both situated in the kitchen, so while I was sniffing around the broken appliance, I was reminded of how terribly depressing the surrounding four walls and its confinement were. Mind you, the rest of the house is fabulous, so it stuck out like a sore thumb.
I had redecorated the property in-between tenants a few years ago, before the current tenants moved in, and I remember noting to myself that it was probably the last time I could get away with "touching up" this decaying cesspit before it needs burning down to the ground. The units weren't in great shape, the doors were barely hanging on, and everything generally looked outdated. Of course, that was two years ago, so it looked even more of a shambles now. What a hell hole.
In all honesty, I could have shown a blind eye to the situation and left the kitchen stewing away until it withered into a death trap and didn't have an ounce of life left. At this point in time it wasn't a deal-breaker for my tenants and it was still safe to use. However, I knew it wasn't an issue I could avoid for too much longer. On that basis, and knowing it would be much cheaper and easier to replace the kitchen while the property is occupied with good tenants, I felt compelled to think long-term profit, so I bit the bullet.
I received 4 quotes, the most competitive and appealing being approximately 4k. Ouch!
Ordering the kitchen alone was another 'shoot-my-brains out moment' because the prices varied so drastically, from 3.5k – 11k, and every slick sales representative (all disguised as a kitchen fitter) I spoke to implied that all kitchens are different and the parts they personally use are the best (well of course!) so I should be cautious with my decision. It was kind of cute, because they really made an effort to brainwash me into believing they actually gave a flying-crap about the value I was receiving.
I could literally write an entire post on the gloomy and unfunny process I went through to pick a kitchen, but even I'm not sick and twisted enough to do that to you. I'd rather remain low-key and partially civil by using genital wart related metaphors.
In any case, there went Vegas and sweet Mercedes (my favourite stripper that can unfasten a bottle cap in between her silicone breasts. Until we meet again, my friend).
The pathetic Oven
They say bad news comes in 3. Whoever "they" are got it annoyingly right. From this day on I hate them with a passion, because this feels like some voodoo self-fulfilling prophecy garbage.
3 days after the boiler was reported to be broken the tenant hesitantly contacted me saying the oven had gone into melt-down mode.
Fuck my life.
The symptoms consisted of an extremely loud and uncomfortable clunking noise when the fan started spinning. The oven was about 5 years old and it would have cost about £80 to repair. It didn't make economical sense to repair the legless heap that had failed me (for the last time!), because I could upgrade the whole thing for £250. Once again, no point polishing a turd.
I ordered a new one from Curry's the same day, which arrived 2 days later. The installation fee would have cost me £40, but fortunately I was able to wangle my plumber into fitting it for free while he fitted the boiler.
That pretty much sums up my horrifically expensive week. I'm approximately 7k down, which is a pretty disheartening sum for a relatively small time landlord that tries his best to live a lavish lifestyle with peanuts.
Seriously, someone lend me a fiver.
The Takeaways
1) Have a contingency
The primary point: unexpected sky-high costs are always going to occur in this business, and they'll probably make you want to blow your maggot brains out. What makes the situation particularly dangerous is that they're extremely difficult to budget for- one year you might get away with replacing a disgustingly stained toilet seat, the next year you could be dealing with a roof that's caving in. The only certainty is that items will break and need repairing or replacing. Continuously.
Always have a means of accessing enough capital to deal with the small and the gut-wrenching.
Don't make the fatal mistake of just cashing out every month and blowing away your profits. I've been down that bumpy cobbled road before. Granted, it was fun while it lasted, and I've probably fathered several bastard children along the way, but ultimately it didn't really do my business or health any good.
Treat this business like any other business by relying on a sensible cash flow, which includes emergency funds. Cashflow is key.
2) Quotes, opinions and advice
Perhaps I'm stating the obvious, but it needs to be said to make this list dummy proof.
Get quotes and opinions, as many as you can, especially when it involves a significant amount of money. I have a "go-to" plumber I've been using for years and I'd trust him with my left nut, but I still got additional quotes because so much money was on the line. It's business.
At this point, I'd like to give a massive homo-erotic shout out to Jools (a regular reader and contributor to the blog). During my mist of confusion about which boiler to opt for, I reached out on Twitter for thoughts/advice. I don't know what I was thinking, but my haste paid off. Jools, my Knight in shining armour, was quick off the mark to provide a helping hand.
Jools went above and beyond to help me, although I'm sure he had an ulterior motive which involved a tub of vaseline, whipped cream and a leather whip. In any case, after exchanging a couple of tweets, it was apparent he had knowledge and experience with boilers. He eventually dangled his technical support phone number in my face, like a cheap busty hooker flashing her business card. Needless to say, I was quick to take advantage.
Soon after, I surprisingly found myself on the receiving end of an angelic voice that had nothing to offer but seductive and extremely practical advice. After our conversation, he then did his own research on costs and sent them over to me. Amazing.
That seriously is above and beyond, but like I said, he clearly had a smutty ulterior motive. Either way, I'm truly appreciative of his help (thank you, Sir). I imagine his touch to be just as gentle as his calming voice. One day I hope to make love to him in a room which is warmed by the very same boiler, as my way of saying thank you in the poetically right way.
Reach out to people for advice, especially when you feel out of your depth, it can prove to be invaluable, and you might be surprised by how far people are willing to go to help their fellow man. And if you're luckier than I am, you may even receive aid from a kind soul that won't expect you to parade around like an oiled up piece of meat in exchange.
3) Negotiate
Don't be scared to negotiate.
I always feel uncomfortable negotiating; my eyeballs usually start dripping with sweat whenever I start talking numbers. But if you don't ask, you don't get. In reality, most tradesmen expect a little negotiation. Rarely do they get the initial asking price or even expect it. so don't be a pussy.
After an uncomfortable back and forth that lasted for approximately 30 seconds- which felt like a lifetime- I managed to save £200 on the boiler.
4) Gas Safe Registered
By law, all gas work in a residential property located in England & Wales must be facilitated by a gas safe registered.
Before I allowed the plumber to undergo any work, I checked his Gas Safe Register ID card.
5) Letting agents
I'm convinced about this one point, although I appreciate I may have a battle on my hands to convince everyone. Bring it.
If all this had gone wrong while the property was managed by a letting agent, I'm convinced the situation would have been intolerable. Someone would have died. Painfully.
I'm pretty sure the entire process would have taken me twice as long to resolve, and possibly a lot more expensive (if I blindly used an agent's recommended traders). There's no way a letting agent would have been able to manage my dilemmas without getting me involved, so I probably would have died of frustration with having to deal with a middle-man and then potentially getting caught in a game of Chinese Whispers. Dealing directly with these issues is just so much easier.
It's a point all landlords should bear in mind when they opt for using letting agents to manage their properties.
6) Don't ignore warranties
I've scattered this valuable piece of advice around my blog in various places, although I can't remember where for the life of me. But I'm sure I have.
Most people naturally ignore warranties and laugh at the option to extend them. However, they shouldn't. YOU shouldn't. I regularly pay for extended warranties when it makes sense.
Put a value on warranties, because they can save you a buttload, especially when it comes to expensive items like boilers and cookers, which typically get good use and are particularly prone to malfunction through usage.
The Worcester Bosch boiler came with a 7 year warranty (I didn't pay any extra for that), while the Potterton came with a 5 year warranty. That extra 2 year warranty was one of the reasons that swung it for me, because it actually has real value.
7) Landlord maintenance insurance
"Home emergency" insurance plans are becoming increasingly popular with landlords, particularly for the boiler coverage (because a broken boiler can be a right pain in the ass). They ooze convenience.
You may have seen British Gas heavily market their landlord packages on TV, where you pay a monthly amount for 24/7 cover on gas and electrical repairs. The general idea is that they'll send an engineer out within 24 hours.
If you're a proud owner of a modern property with top of the range reliable products, this may not make sense. But if you're forever shelling out on maintenance fees, or want the reassurance of knowing you won't have to go through the agonising pain of having to track down a local plumber/electrician to quickly resolve a problem… this could be the solution for you.
More information available on my Landlord Maintenance & Home Emergency Cover blog post.
8) Think long-term
While I've pretty much flushed away the majority of my profit down the shitter for the year, I realise I'll recoup my money going forward. This stands true from two perspectives. Firstly, I replaced the boiler with a workhorse which should cost me less in repairs and maintenance. Secondly, I've invested in my current and future tenants' comfort, that's a sure way of retaining and attracting good tenants.
Think long-term!
9) Fix what needs to be fixed
Being cheap and neglecting repairs is a false economy. It may keep money in your pocket today and provide for fun-filled weekend frolics, but it will cost you more in the long-run.
If something needs fixing, just do it, especially if you have good tenants, because you don't want them to be vacating because of your neglectfulness.
10) Repair Vs Replace
While repairing a broken appliance may be the cheapest option in the short-term, it's not always the cheapest option in the long-run. Consider whether something is actually worth repairing before splurging.
In my case, I made the decision to replace the 5yr old oven, because as said, it didn't make economic sense to repair an item for £80 when I could replace it for £250. The new oven is most likely going to last me longer than the older-repaired predecessor and cost me less to maintain.
11) Go for reliability when necessary
When we're talking about BTL properties it's easy to go for cheap and cheerful, and there's nothing wrong with that. Trust me, I've fitted nasty tack in my properties before; appliances I wouldn't even allow within 200 yards of my own home. However, there's a time and a place to invest in the cheapest and shittest imported products on ebay, and it's definitely not a rule you should live and die by as a Landlord.
I paid more than I needed to on the boiler because I opted for reliability. I did so because it's my legal responsibility to ensure the boiler is safe and in working order, so it's one of those items which makes sense to invest in. I probably wouldn't have been so vigorous with a kitchen sink, for example.
12) It's cheaper to maintain tenanted properties
I didn't need to replace the kitchen, it wasn't my legal obligation- it was still safe and functional, but it was decaying and it did look like a total shit-pitt from the 80's. I knew there wasn't much life left in the old girl. I'm sure it was already in negotiations with the devil. It was a ticking time-bomb.
It's almost always cheaper to do renovation work while the property is occupied, as opposed to waiting until the property is vacant. By waiting, you could potentially slowdown the entire tenant finding process and unnecessarily have a vacant property. This especially applies true to kitchens, because they're often a selling point.
Usually, tenants are more than happy to accommodate maintenance work because they'll benefit from a nicer living environment. The added bonus is that the tenant can monitor the progress and allow entry for the tradesman, so we don't have to dick around driving back and forth to the property. Also, it's easier to justify rent increases if you actually do a good job maintaining the property. Now, there's a handsome thought, which I know will give every landlord a reason to ejaculate if their hideous partner isn't up to the job.
13) Non VAT registered labour
The plumber I used wasn't VAT registered, so that's why his overall cost was significantly cheaper than the other quotes I received. Essentially, that means his company doesn't turnover more than £79,000 (or something around that mark), at which point he would need to mandatorily register for VAT and pass on the additional 20% fee to his customers.
A lot of people assume that non VAT registered companies are a cause for concern because they're not reputable or large. I think that's a common misconception. Many small companies purposely avoid registering for VAT so they can keep their prices low, and that isn't always a reflection on their ability or level of service. It's also worth noting any company can register for VAT, so it doesn't mean they're a large and reputable outfit.
Of course, none of this is applicable if your properties are managed by a VAT registered company, in which case you can claim back the VAT.
Perhaps something to think about.
14) Get a receipt
Remember to keep a receipt for every last penny, that way you can offset it against your tax bill. I should get a decent tax break after offsetting the mother-bitching receipts I've accumulated this week.
15) Value your tenants
If you've got good tenants, treat them like good tenants. A terribly simple concept that evidently confuses many landlords.
This is another sentiment I have plastered all over my blog in several articles, so I don't want to sound like a broken record- but I will, because it's important. Investing money in the comfort of good tenants and providing them with reasons not to vacate is A LOT cheaper than being a neglectful and cheap landlord. Firstly, you'll have a higher tenant-turnover, which is notoriously expensive because it opens up vacant periods, advertising and decorating costs, but also, as previously said, good landlords stand a better chance to attract good tenants. A bad tenant is bad business.
Well, there you have it. What a bloody expensive week. I'm amazed I live to tell the tale, because despite popular belief, I'm as mortal as every other tightfisted landlord that can't think of anything worse than blowing a load of money to increase the level of comfort for tenants. Landlords frequently drop dead from heart attacks from participating in such bullshit.
All being said and done, I am alive, I'm healthy, and in all honesty, I'm happier knowing I spent the money where it needed to be spent. Landlord life.
What's the most you've unexpectedly been hit with, and tell me how much it hurt so I can feel better about myself? I love you all! xo
Disclaimer: I'm just a landlord blogger; I'm 100% not qualified to give legal or financial advice. I'm a doofus. Any information I share is my unqualified opinion, and should never be construed as professional legal or financial advice. You should definitely get advice from a qualified professional for any legal or financial matters. For more information, please read my full disclaimer.