While driving home the other night, I happened to catch the 'legal hour' segment on LBC radio station, which featured Daniel Barnett, LBC's resident Barrister, insight on the matter of mould in rental properties; specifically who is responsible, the landlord or tenant.
He offered some great feedback and advice to anyone in that situation, so here it is…
Before I get into it, I should address the elephant in the room. I know you're all thinking it.
Yes, I have a mortifying habit of listening to that absurd talk-show radio station LBC, which attracts a bunch of busy-bodies, with the average age of fossilised dinosaur turd (no offence if you're an avid listener). Judge me if you will, I deserve it.
Tenant complains about mould
A disgruntled tenant stepped up and made the call into LBC's headquarters, seeking Daniel's pearls of wisdom. She complained that her, I quote, "completely useless landlord" was responsible for a nasty little mould outbreak, but she was unfairly being held responsible for the chaos.
The general gist of the story is that the tenant was given notice by her landlord. Then, from what I understood, the tenant notified the letting agent managing the property, of a mould infestation that's sucking the life out of the living room. The agent informed the tenant that she needs to "make good of the decor" before she vacates because the growth is her fault, because she failed to heat the property adequately (how the agent knew that remains a mystery). The tenant stepped forward with her defence by insisting she purchased extra heaters for the property.
So the million dollar question, who's the asshole responsible for the mess, the landlord or the tenant?
Under these extremely common circumstances, both parties usually wag their crusty erections at one another, pointing blame, calling one another every name under the sun. So if you're in that unfortunate situation, perhaps I can offer some clarity by relaying the advice given.
Listen to the Barrister explain who is responsible…
If you're currently at work, notify your dead-beat boss that you're taking a well-deserved 5 minute time-out so you can listen to the following sound-byte. If you're fortunate enough to be in the hot seat, perhaps you should huddle your employees together and make a communal fuss over it (yes, even if they couldn't give a shit and if your company has nothing to do with letting).
Once again, Daniel unloaded some good insight…
(This was aired on the 11th of February 2015)
The key takeaways
For those of you who couldn't listen (or choose no to), here's the breakdown of what was said…
Tricky to blame the landlord
The issue of mould is generally a tricky situation because normally landlords are legally responsible for everything to do with the basic build of the house, including the walls, but the responsibility for damp and mould is slightly different.
When landlords are responsible for mould
Landlords are generally responsible for damp if it's caused by leaky pipes, structural defects or a damp proof course going wrong.
When tenants are responsible for mould
The tenant is responsible if it's caused by condensation because of lack of ventilation, like not opening windows or inadequate heating.
Difficult to prove
This is the key point.

It's always going to be very, very difficult to prove whether the mould was caused by inadequate heating or something else without getting an official assessment from a damp expert.

On a side note, what an odd profession, a "damp expert" – I wonder who you have to sleep with to be a qualified one of those. I'll do it. My C.V is so lifeless.

The deposit
If it's not obvious that the mould was caused by a leak or structural damage, then it's most likely that the reason is due to the temperature not being adequately controlled by the tenant, consequently the cost of redecorating can be deducted from the tenant's deposit.
Up to the tenant to prove innocence
Rightly or wrongly so, it's up to the tenant to prove the cause of the mould, because on the face of it, if there isn't an obvious leak or any other obvious cause, the most likely explanation is lack of ventilation. That's the most common cause of mould.

If the tenant obtains a written report from a damp expert, stating that the problem isn't caused by heating or ventilation and it's actually because of a structural defect, then the landlord will most likely be held responsible.

Disputes and the tenancy deposit scheme
If the tenant disputes the claim and wants to refuse the landlord from using the deposit to resolve the mould issue, the tenant can notify the tenancy deposit scheme in which the deposit is being held. The case will then be assessed by an internal arbitration scheme. But the problem with that is, the absence of evidence will suggest that the most likely cause is ventilation or heating.
Makes perfect sense to me, and it's the way I've always believed the situation to be.
I'm no stranger to mould!
I suppose I should indulge a little and make this post partially about myself, otherwise what's the point?
The reason this particular subject piqued my interest is because hearing the call reminded me of a memorable experience I went through in 2013, which entailed filthy tenants and a severe mould breakout, which some of you may remember. It's an issue that I often recall and *shudder*
Unfortunately, in my case, I didn't experience an average mould related event, but rather, my dippy asshole tenants, husband and wife duo, took stupidity and incompetence to the next level.
They thought it would be an ingenious idea to paint over a series of black mould infestations in an attempt to mask and presumably cure the problem before they vacated. Clearly not the brightest idea, not to mention extremely dangerous.
Apparently notifying me of the issue was not an option. Or rather, it didn't enter their minds, despite the fact that I've always been a responsive and maintenance conscious landlord.
To cut a long and painful story short'ish (I'll inevitably ramble on), my tenants fell into considerable rent arrears so I served them with an Section 8 eviction notice (never nice, but it happens and is often unavoidable, especially when you're dealing with unreasonable people – which I was).
Like most bitter and delusional tenants that are incapable of accepting responsibility for their own actions, they instinctively took warmly to playing the role of the victims and acted like I was the bad guy.
"The mean landlord is kicking us out for falling into arrears. I mean, how dare he?"
Uh huh.
There were a few unpleasant exchanges, but they eventually vacated the property. Extremely reluctantly.
I still recall the moment of relief. I know many landlords will be able to empathise with that feeling, when a rogue tenant is finally off the property.
So the next natural step was to inspect the property– something I wasn't looking forward to given the circumstances. From experience, the blank and clean canvas that are given to "rogue tenants" at the start of the tenancy is rarely ever returned in the same condition (making allowances for fair wear and tear, of course).
It's not uncommon for revenge traps to be left behind, whether that be a garden that resembles a landfill or a bathtub that's been substituted for the toilet. I've seen and smelt it all.
The garden was certainly unkept, but it wasn't too bad, and with great relief, the only items left behind in the bathtub were hair strands. Like lots of them. Thick and curly, too. I'll say no more.
However, what was left behind was copious amounts of mould, which was smeared all over the bedroom and bathroom walls, unconvincingly hidden under a fresh coat of paint they had applied. Infuriating!
It was so obvious. Complete amateur hour. Because the knuckle-heads only painted over the patches that were infected – not the entire wall – so the difference in shade between the new paint against the old stood out like night and day. I have no idea what they were thinking (and that's probably a good thing, to be honest).
After stripping away the top layer of fresh paint, this is what I was left with…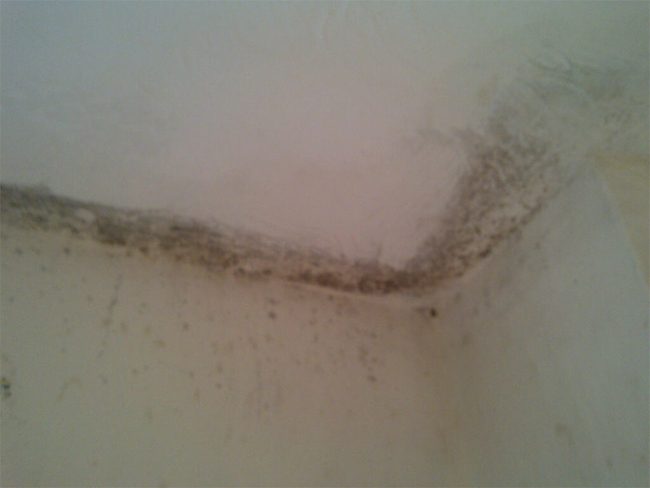 Hideous, right? They blissfully stewed away in that confinement like a couple of diseased sewer rats.
I have a couple of cute chickens roaming around in my garden, but their downfall is how unbelievably filthy they are. They literally crap their pants all day long, in every possible variation; liquefied, solid, and often somewhere in the middle. They'll also crap anywhere, they don't care, literally everywhere, even on themselves, and they'll happily stroll around with crusty, one-week-old faeces strapped onto their feet/legs. It's repulsive.
What's my point? Well, I don't really have a good one, but they remind me of my tenants.
After I discovered the extent of the problem, in my haste and in utter disgust, I immediately contacted my tenant (even though our relationship was dire at this point, but I needed answers)…
There's mould all over the walls, what happened? Why didn't you tell me?
I tried contacting you about the mould problem many times. I have been sick because of the mould and so has my family. My solicitor will be in touch with you.
A blatant lie. The tenants didn't try contacting me about the mould issue, not once. I would have addressed the issue immediately because I realise how dangerous mould can be, and also how expensive infestations can quickly become if they aren't dealt with quickly. It would have been in my best interest to squash the issue ASAP.
Secondly, the tenants had debts coming out of their eyeballs; they didn't even have the funds to hire a Solicitor, let alone appoint one to fight a frivolous lawsuit with fictitious evidence to support his fictitious claim(s).
Sadly, my tenants were adamant it was my fault. But either way, despite who's at fault, wouldn't any normal being try to remove the mould as soon as it was visible, as opposed to allowing it to spread so aggressively and then paint over it?
My gut tells me that they painted over the mould in an attempt to protect their security deposit. In fact, that seemed the obvious explanation (why else would tenants paint over mould just before vacating?).
Yeah, that wasn't going to happen.
I've had the property for 7'ish years; I've had two tenants in the property before them and one since, and there have been NO signs or complaints of mould. It doesn't take a rocket scientist to unravel what was going on there.
From my limited experience, a lot of mould related issues (not all) in rental properties are caused by living habits/lifestyle, and not through structural defects, just like the Barrister said.
Of course, I'm not saying landlords are never to blame, they are. I fully understand that some landlords provide properties in terrible conditions that are conducive to mould growth, and they should absolutely be held accountable.
However, in my particular case, the evidence suggests this was self-inflicted. I'm pretty certain my tenants dried their wet clothes on the radiators and didn't bother opening any windows or running the extractor fan to allow for ventilation. Needless to say, that's a dangerous cocktail to ensure buckets of healthy and active mould-sex.
I never did hear from their solicitor. Unsolved mystery. Right.
Anyways, I don't want to further distract from the useful information Daniel provided with my woes.
If you're experiencing mould growth it might be worth going back in time and reading over my mould nightmare if you want more information on how to prevent/remove mould. I think it's important to note how critical it is for landlords to take precautions to prevent mould (e.g. install extractors, use anti-mould paint etc) and not simply rely on tenants to utilise common sense (that's a recipe for disaster). I learnt that the hard way.
Anyone got any hideous mouldy stories to share with me? If so, grab the mic and let's do this like it's 1999…
Disclaimer: I'm just a landlord blogger; I'm 100% not qualified to give legal or financial advice. I'm a doofus. Any information I share is my unqualified opinion, and should never be construed as professional legal or financial advice. You should definitely get advice from a qualified professional for any legal or financial matters. For more information, please read my full disclaimer.