I could throw a stone in the middle of a landlord conference (who actually goes to those things?) and I'd probably hit a landlord on the head that's either been through it, going through it, or will eventually go through it: threatened with legal action for failing to comply with the tenancy deposit legislation!
Either way, you messed up – you failed to comply with your legal obligations! That's reality of the situation.
So, what to do if you're being threatened? Let's talk about it…
Rightly or wrongly so, landlords are being hunted down like rabid dogs for failing to comply with the tenancy deposit legislation. We've become such easy and profitable targets that specialised 'tenancy deposit claim management' divisions are popping up all over the place, to assist in the management of dragging and encouraging dormant tenants to claim their unclaimed fortunes. How fucking generous of them.
Business is BOOOOOOOOOOOOOMING!
Every landlord should unequivocally comply with their legal obligations, even the policies that are more ghastly than the boils on your mum's sloppy face. And while so many try to use 'ignorance of the law' as a defence (from my experience, that's the most common excuse), legitimately or otherwise, it's still (and always will be) pointless to even mutter the words. Save your warm, unsavoury and moist breath for your spouse.
But on the other hand, I'm finding it impossible to empathise with those dick-face tenants that are taking advantage of innocent ignorance purely out of greed.
Don't get me wrong, unscrupulous landlords deserve for their profits to be drained like a large infected cyst, and compensation should be allocated fairly to those that suffered as a consequence. But sadly, there are too many cases surfacing whereby "good landlords" (i.e. genuine people that are only trying to do good), have been threatened and prosecuted by asshole tenants that are sniffing around a quick paycheck purely out of greed, and no other reason.
To clarify, I have no problem with tenants seeking compensation for the right reasons.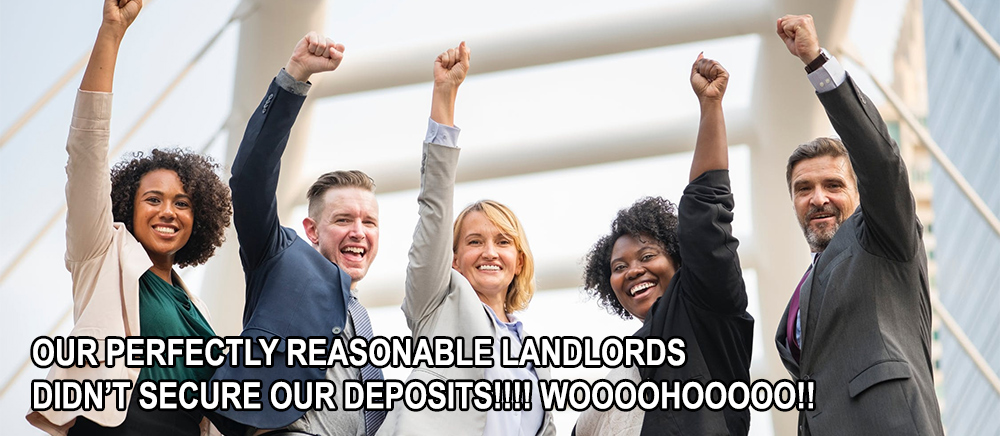 Introducing the tenancy deposit legislation was a good move to protect both tenants and landlords, but as it currently stands, as with many legislations that are hashed together by servants whom are completely inexperienced and have no practical knowledge of how the relevant realm works, the finished product seems like it's lined with clunky congealed skid-marks. Who approved this shit?
It's clearly ridiculously too damn easy for undeserving prosecution, which has resulted in a long queue of tenants rubbing their grubby little mitts together and practically begging for landlords to fall-short of their deposit obligations, because it's like a winning scratch card. That can't be right, not on any level.
So this blog post is aimed at helping those "good" landlords caught up in the struggle. Stay strong, my brothers! Stay strong!
The Tenancy Deposit Legislation
Ok, so let's go over this really, really, really, really, really, really quickly, because I've already covered the what, where and how's in-depth, over at the Landlord Tenancy Deposit Guide blog post.
Obviously, complying with the tenancy deposit legislation from the offset, which is covered in Section 213 of the Housing Act 2004, should be Plan A:
This legislation applies to every landlord in England and Wales that has taken a deposit from a tenant under an Assured Shorthold Tenancy Agreement.
Securing the deposit: the deposit must be protected with in 30 days of receiving it.
Serving the Prescribed Information: after the deposit is secured, Prescribed Information must be served to the tenant, also within 30 days.
Late compliance: unfortunately, you're still a target if you've secured the deposit and/or served the Prescribed Information after the 30 day window!
Landlord's responsibility: it's ALWAYS the landlord's responsibility to ensure the deposit legislation has been complied with correctly. Don't rely on your agent for anything, they won't be held accountable.
The penalty for failing to comply… Section 214 of The Housing Act 2004 states that IF a Judge is satisfied there has been a breach they MUST sanction the landlord to cough up between 1 and 3x the deposit for each tenancy and also return the deposit itself. Ouchieeeee! Not to mention, you'll also be unable to serve a valid Section 21 notice, which is arguably a shit-ton worse on every level!
If you're sitting there hearing screeching noises as your stomach is avalanching out of your anal-cavity, and with your hands over your eyes and gob wide open, because YOU KNOW you've failed to comply, you may want to read the stone-cold reality of your situation over at the 'I haven't protected my tenant's deposit' blog post to help plan your next move. I'm sorry to say, you're in a pretty unforgiving situation, so the options ain't pretty.
In short, if lady luck is on your side, your tenant's kind nature or ignorance will allow you to tip-toe away unscathed. But ya' know, if they eventually cotton on… don't be surprised if your 'perfectly reasonable tenants' quickly turn against you and suck-the-living-shit out of you after uncovering the treasures that await them. There's something very zombie'ish about tenants turning once they become enlightened.
My tenant is threatening to take legal action against me, what can I do?
Important disclaimer: before continuing, I must clarify, the following is NOT legal advice. Say it out loud, "NOT LEGAL ADVICE"… SAY IT!!! If you're after professional legal advice, please speak to an extortionate Solicitor that specialises in landlord law. The following is purely based on personal experiences and hearsay…
If you're currently caught in the cross-fire, the odds are it's because your tenant(s) has discovered you're ripe for prosecution due to your failure to comply with the tenancy deposit legislation. With their beady little eyes firmly on the prize, they've probably contacted you demanding compensation, typically somewhere between 1-3x the deposit value. Of course, it's almost always x3 because they're ambitious, they want the jackpot, and after a chat with their mate down the pub and/or doing their 'online research' they probably believe that's what they deserve can get away with. And hell, why not reach for the stars? But what's most worrying and disappointing is that many tenant's chase after the easy money despite the fact they've benefited from a perfectly reasonable landlord throughout the tenancy, so that's why many landlords are often caught blind-sided by what is quite frankly, daylight robbery. They may as well have posted this through your letterbox:

I can only urge all tenant's in that position to side-step and forgive by asking for the deposit back in full, and then by then making a strong vocal point. Hopefully, lesson learned.
With that said, the following advice is suitable for those good landlords that are genuinely being taken advantage of by the money-grabbing parasites that don't have the moral fibre to put their foot on the brakes…
Ultimately, your objective at this point should be to avoid Section 214 Housing Act Deposit Protection Penalty Sanctions.
Bu…bu… BUT my asshole tenant has also breached their tenancy obligations!
Ok, I hear this all the time! What a classic.
At this point, many landlords will frantically splash around, trying to kill the situation by pointing out their opponent's shortcomings (i.e. "my tenant has fallen into rent arrears", "my tenant shat on the carpet" etc), hoping for a 'get out of jail card'. Unfortunately, focusing on someone else's wrongs to mask your own is as embarrassing and futile as it sounds.
You need to understand that you've been a rat-weasel, you've done wrong. You are liable for prosecution, so right now it's only a question of how little you pay.
Minimising costs & Settling
Ok, so… credit where credit due, the following is largely taken from Comment #226 over at the "I Haven't Protected My Tenant's Deposit, What Should I Do?" blog post, by an extremely generous, experienced and knowledgeable contributor, David. So a big thank you very much! The following will be a hybrid of David's sound advice and my own toxic interference…
The reality is, the tenant just wants paying off; they usually have no intentions of escalating the situation to court (because that can be expensive, not to mention a whole heap of hassle). What they want is some free money, and the legal threat is an attempt to reduce you into a whimpering little girl and lure you into submission.
You have three options:
Pay what they demand
Fight in Court
Negotiate
If they're asking for just 1x the deposit, it might be wise to begrudgingly pay up and move on with life, with the experience of knowing better for next time. No doubt, that might still hurt like a sledgehammer to the nuts, but it really is an easy escape from what can potentially be a very firm and prickly grip. However, if the amount they demand seems totally unreasonable (you may want to assess your performance as a landlord at this point, and be honest with yourself), negotiating is usually the way to go…
After receiving the threat, you should respond swiftly. You should write your response knowing that a Judge or Mediator may look at it; that means you will want the Judge to see that you are the fair and reasonable person, while the tenant is nothing but a bumbling buffoon, using the Court to decapitate your wallet for some easy cash.
You should start with a letter expressing your complete astonishment and surprise. I would send something like this:
Negotiation Response 1
Dear [Tenant name(s)],

I was most perturbed to receive your letter before action considering I felt that we had a good Landlord and Tenant relationship, with no major problems on either side.

To be honest I was in complete astonishment and surprise because your letter before action was not preceded by any claim, nor a Part 36 offer of settlement, nor any suggestion of mediation.

I do regard this threat of legal action as vexatious and without merit, but I would like to keep things amicable and avoid wasting the Courts time. I am reliably informed that a Judge would view this for what it is; a frivolous attempt to extort money from me, using their Court in an inappropriate way.

At this stage I would like to ask you to reconsider your proposed Court action and agree a settlement with me; that being a positive letter of reference and the sum of £[insert low-ball offer, less than half of 1x deposit] as a gesture of good will with no liability accepted as full and final settlement of this matter.

I hope that you give this kind offer your serious consideration.

Yours sincerely,
[Landlord]
The low ball offer is to bring the leech tumbling back into reality (assuming their initial settlement fee was OTT). They will most likely reject your offer, which should definitely come as no surprise, because you're dealing with a donkey that's an utter chancer. In any case, now you're dancing/negotiating. In response, they may ask for 1x the rent, which you may want to settle with, but they may play hard ball and ask for 2x the deposit. If they do the latter, I would reply with the following:
Negotiation Response 2
Dear [Tenant name(s)],

I am in receipt of your recent offer to settle this matter for 2x the deposit. I am sorry but I cannot accept this as the facts of this matter do not reflect the gravity of such a sanction.

There was no animosity between us, any repairs were carried out promptly and overall I was an excellent Landlord. I am reliably informed that a Judge will take into mitigation the fact that I am a novice Landlord, [and that I quickly protected the deposit in an approved scheme as soon as I became aware of my unattended oversight].

I have refunded the deposit to you in full despite the fact there were a number of issues with the way you left the property that were beyond wear and tear. I did this because I thought we had a good landlord/tenant relationship.

As I explained recently, I feel it is grossly unfair that you try to extort money from me, and whilst I am keen to keep things amicable, I will only agree to a settlement that is fair and reasonable. To this end I am prepared to provide the positive reference offered previously and increase my offer to £[no more than 1x deposit] as a gesture of goodwill in full and final settlement with no admission of liability.

I hope you will give this serious consideration so we can end this unnecessary hostility.

Yours sincerely,
[Landlord]
They may accept or they may try again. In any negotiation you have to give small amounts slowly and usually in response to something given by the other side. They will no doubt give reasons for why you should pay more, but if they don't, then they are really showing they are weak. SO WEAK. WEAK LIKE… I don't know… weak like your stomach after digesting an out of date pork-chop.
So be ready to offer incremental amounts, and then a final offer of no more than 1x – 1.5x deposit (or whatever you're comfortable with), because at some point you have to draw a line in the sand and be prepared to call their bluff. It is your money and your risk appetite that matters here.
A Judge can decide anything they like within the legislation, but a lot of them get pissed off when it's obviously just about the money (which is often the case). They have a huge case load; some may even kick the case out and force you to go to mediation. They may even say the tenants have to pay for that because you have tried 3-4 times to settle (that's why it's important to try and fairly negotiate).
This is ultimately a game of poker, your tenants know you have a potential liability, but you know you have mitigation; depending on their case, they may not get costs unless this goes to appeal, and that is going to be expensive for them upfront with no guarantee of success. That can be a powerful deterrent for the donkey to proceed.
If a settlement is agreed
Hopefully a fair settlement can be agreed. If that's the case, it should be documented and laid out with a heading of "Settlement Agreement", and it should clearly state that the settlement is the 'full and final settlement'. The document should then be signed by all tenants. I'm currently working on getting an example Settlement Agreement as an early Christmas present from me to you, so sit tight for that! It's all about love around here.
Correspondence
It's important to send all correspondence through assured means. That could include all of the following…
Sending letters with recorded delivery
Delivering a copy by hand through the letterbox, while video yourself doing it
Sending it via email with a PDF version attached for good measure. The subject of the email should be "Formal Response to Letter before Action"
Every case is different
The problem with these cases is that they can come from 20 different angles; and the law has been amended so many times by statute and case law that it is a dog's dinner. So while the advice above may not be entirely relevant or fitting to your particular case, I think the key takeaways are:
If you've been a good landlord, negotiate… do everything you can to settle!
If you feel your tenant wants a reasonable amount of compensation from the offset, you're probably better off paying and considering yourself a little lucky sausage.
Ensure you are being fair and reasonable at all times; suppress your anger and frustration if you need to.
Always respond quickly, and send all correspondence through assured means.
Before deciding to take legal action!
A word of caution to any Landlord or Tenant thinking of taking legal action; it can cost you £8k to £10k if you get a belligerent opponent who takes this to appeal, employs a barrister and wins. So to emphasise…. the purpose of this blog post is to encourage all parties to settle, settle, settle!
So, anyone going through this dilemma, or been through it? What's your story? Can you provide further advice? TELL MEEEEEEEE! TELL MEEEEEEE! xoxo
Disclaimer: I'm just a landlord blogger; I'm 100% not qualified to give legal or financial advice. I'm a doofus. Any information I share is my unqualified opinion, and should never be construed as professional legal or financial advice. You should definitely get advice from a qualified professional for any legal or financial matters. For more information, please read my full disclaimer.