*deep, gigantic breaths*
Lord, give me strength, patience, and understanding, because I'm dying a slow and painful death out here. Failing that, show me mercy and dart me with a tsunami of horse tranquilisers.
I know it's remarkably easy to hate on landlords, but at what point will society allow us to be victims? I'm hoping there's a good argument for dealing with a gormless twit of a tenant that's on a clumsy streak of breaking shit.
My tenant, she's as sweet as rhubarb pie, bless her, but slap me silly and call me Susan, she's one goofy-arse numpty!!
Naturally, my inner demons are itching to make this blog post into one big blasphemous and unreasonable tirade, but unfortunately for your sake, I'm going to do my best to demonstrate great restraint by tapping into my inner peace. Sorry!
*deep breaths* Woosah.

What my tenant has broken in the space of a month (so far)
Technically speaking, this calamity has been going on for six weeks. Tomayto, tomahto.
For context, I should clarify that my tenant is a wonderful long-term occupant and a gentle soul. I think it would be fair to categorise her as "demanding", but this recent flurry is out of the ordinary even for her, and quite frankly, beyond fucking ridiculous.
Note, I'm just the messenger, so I'm only going to tell you what has been broken and how I was told it happened.
Glass shower screen – while taking a shower, my uncoordinated tenant misplaced her feet and took a tumble.

Don't worry, she's fine.

I'm not, though.

Unfortunately, she was holding onto a long handled wooden back scrubber at the time, and as she tried to grab for support, the end of the scrubber managed to smash its way through the glass screen.

No, I'm not joking.

It looked like a shotgun wound.

Loft hatch door – in the middle of the night my tenant was startled by an extremely loud noise. I quote, "I was scared for my life"

She went out into the hallway only to discover that the loft hatch door had fallen off its hinges and crashed onto the floor.

"My Gosh, you poor dear, are you okay? That could have fallen straight onto your fragile little head" *grin*

She uses the loft to store furniture and boxes filled with her possessions, and her son is frequently ordered to pop in and out of there to curate her junk. Don't ask, I don't.

Thermostatic radiator valve – during the process of rearranging the furniture in the living room – just 'cause she fancied a change – a runaway sofa managed to knock a radiator valve clean off the pipe.

Apparently her sofa walked away completely unscathed.

Right, phewwww!

Boiler control panel flap/cover – another item that managed to magically snap off its hinge.

No real reason for failure was given, other than "normal usage"

Now, on a side note, I was actually caught off guard when I found the details of this particular case on my desk.

I personally would have taped it back together, even with chewing gum if that's all I had available.

What kind of tenant goes out of their way to report such minor silliness? Not once, but twice. She *really* wanted this fixed.

Evidently my type of tenant. Okay? Mine! She's all mine, every square inch of her. Get your own.

Ironically, her relentless pursuit for perfection was a blessing in disguise, because it allowed me to finally make use of an extended boiler warranty I splashed out on many moons ago.

When liaising with the manufacturer on the phone to order the replacement part, I was notified that I could get the cover replaced and fitted under warranty. A very pleasant surprise.

*shakes fist* Finally, I GOT YOU! 10 more claims like this and you'll wish you never sold me that warranty. Suckers!

The engineer that was assigned to replace the cover (yes, they actually dispatched an engineer for this absurdity), provided me with a diagnosis after he was done, which suggested it was highly unlikely that "normal usage" would have caused their premium product to break like that.

Obviously I thanked him for his service, and then abruptly told him to shut his filthy little gob and get out of my premium sight, because I know for a fact my sweet rhubarb pie wouldn't lie to me.

Back door lock – "Something is wrong with the back door lock, it doesn't work. I'm having to climb over the fence to get into the garden"

Déjà vu hit me like a steam train!

I've heard this song before, not too long ago either.

Before getting back to my damsel in distress, I rummaged through my box of receipts only to discover what I expected to.

Ah ha, I KNEW IT!

The back door lock was changed 18 months ago, after she reported similar issues.

Nope, I didn't skimp either, I got her a sweet high grade Yale 5 lever thingamajig (although, the £2 Taiwan import on eBay did make me ponder momentarily). I know how to take care of my ladies.

I know what you're thinking, and you're totally wrong. She assured me it's not her, it's the locks. So you can stick it!
Now, we wait to see if the storm has passed.
But if this nonsense continues, I'll likely end up in a straitjacket.
What a bloody wally I've been lumbered with.

On the flipside, I 'spose I'm grateful my tenant is the type of tenant that doesn't shy away from reporting every damn issue, as opposed to the type that wouldn't even bother to send me a text message if the bath fell through the ceiling.
My glass = half full.
Who is responsible for breakages (Landlord Vs Tenant)?
Sure, I may as well make this blog post somewhat useful and informative. I'm not a total Neanderthal after all.
While there is a binary and obvious answer to the question [who is responsible for breakages?], I think most warm-blooded landlords quickly realise – on-the-job – that there are both lawful and humane/practical considerations when it concerns breakages.
The obvious answer: tenants are responsible for repairing anything they or their family or guests damage, and that includes repairs that the landlord would normally be responsible for.
If you didn't know that, well now you do.
However, there are often cases when landlords may decide to take a more practical approach by covering the costs they're not legally obligated to, and yes, even when the damage is orchestrated by a bumbling buffoon. I've done this on a few occasions for three different reasons:
Gesture of goodwill – sometimes it's my way of saying thank you for not being a total scumbag tenant. I appreciate that quality in my tenants.
"It could do with replacing anyways" – if my tenant breaks an item that I would ordinarily be responsible for, which is not quite on its last legs, but isn't in particularly great condition.
"I'll get it done at the same time" – for example, if I've m already scheduled a handyman over to do some work at the premises, I'll often get them to take a look at whatever it is my tenant broke while they're there.
Essentially, I think it boils down to showing some gratitude. I've found it goes a long way in this dog-eat-dog business.
I only provide the bare minimum in my rental properties in order reduce my breakage liability. It makes life so much easier. Too many landlords make the grave mistake of adding unnecessary bells and whistles (e.g. iron, lawnmower, kettle, hair straighteners etc.) when all that does is increase liability, and rarely does it move the needle when it comes to rent.
What if there's a dispute about who is responsible for the damage?
Man, it's sickening when this happens, because it usually results in tension, bad blood and a fist fight on the driveway. It's just about bearable when the tenant is on their way out at the end of a tenancy, but when it happens during mid-tenancy… *vomit*
Miraculously, from what I can recall, I've only been involved in one dispute over damages, which was several years ago. I'm not bragging, I'm just sayin'. I know I've had a good run.
I blogged about it at the time, although I have no idea where I've buried it – it's around here somewhere. The incident may have occurred before tenancy deposit schemes were a thing. Truly the golden era of landlording, when we could retain entire deposits for a single blemish on a skirting board without resistance.
And now? Now I can't even make a friendly unannounced visit to my tenant's home, in my skimpy little denim shorts, without risking harassment charges. Fuck, we've really been stripped of everything good, and now we're just pathetic mere mortals. I don't even recognise the man I see in the mirror anymore. Anyways, I digress.
Basically, the front door had cracked in half and it looked like it had been brute forced open with a battering ram, and my brazen tenant tried shrugging it off as fair wear and tear.
Son, you crazy?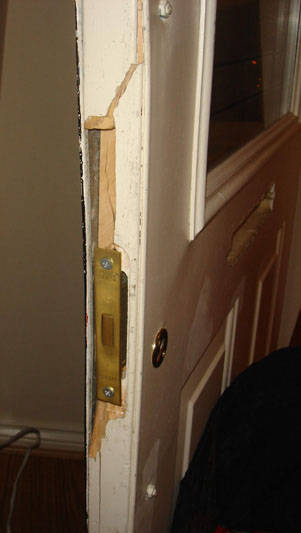 Eventually, after some uncomfortable and snotty exchanges, she conceded and coughed up the doe to replace the door, or at least the majority of it (I may have contributed). She was in the process of moving out, which was fortunate, because the negotiations got pretty heated and I'm not sure our relationship was strong enough to recover.
Still to this day I can't believe she thought she was the one being hard done by. In hindsight, it seems clear that she was off her meds.
I'm going to point back to the legal and practical considerations, because I think it's especially relevant during disputes:
I've always believed that reaching a compromise is usually the way to go, even if it feels unjust (which it often does). I would personally always thrive for this outcome, especially during mid tenancy. However;
if it's a clear-cut case and the dispute erupts during an end of tenancy inspection, I'd be more inclined to go for glory with a capital I'M COMING FOR YOU, YOUR FAMILY, YOUR BOSS, YOUR HAIRDRESSER AND YOUR DIGNITY, SO I'LL SEE YOU IN HELL!! But first, I would internally ask myself a couple of questions before making any chaotic decisions:

Has my tenant generally been decent?
Have I got my money's worth over the duration of the tenancy?
Are we squabbling over anything significant here? Is it actually going to financially kill me?

All disputes can be raised with your tenancy deposit's resolution service for free. However, from my experience, the burden of proof usually falls onto the landlord's lap, which means it's our responsibility to provide an airtight case. This is usually best accomplished with a solid inventory.

If I objectively thought I didn't have enough evidence to support my case, I would question whether mediation is the best route to take. The concern is, if the adjudicators end up siding with the tenant it will likely result in a bigger financial hit than if I had compromised with the tenant from the start.

If you haven't secured your tenant's deposit (for whatever reason), then I'd:

try desperately to compromise (hoping they don't realise I totally screwed up and don't have a leg to stand on). Failing that;
forfeit the dispute, and pray to God they don't get ambitious, pushing for more compensation.

Finally, consider whether the pursuit is actually worth it. Value your time and mental health.
Boom! I think we we did it.
We have reached our destination, so it's time for you to show me some sweet loving… grab the mic and drop a comment xoxo
Disclaimer: I'm just a landlord blogger; I'm 100% not qualified to give legal or financial advice. I'm a doofus. Any information I share is my unqualified opinion, and should never be construed as professional legal or financial advice. You should definitely get advice from a qualified professional for any legal or financial matters. For more information, please read my full disclaimer.