Ask 100 landlords and you may get bamboozled with 100 varying answers. Useful.
But you'll likely find that the general consensus lies around the 5% mark. In other words, it is commonly believed that a worthy BTL investment should generate a minimum rental yield of 5%. Anything below and you're kind of looking at one ugly-ass investment. Anything above is fab, especially if it pierces 8% – then you've entered the Promised land!
don't shoot the messenger.
But I personally wouldn't die on that hill [to defend those targets]. Not financial advice, of course.
The reality is, you'll find that there isn't a right or wrong answer, because your financial situation and your financial goals won't be the same as everyone else's, but above all, the yield changes over time as house prices and rent rates fluctuate. Even a 4% yield isn't the end of the world in my opinion, and that 4% could easily become 10% in the near future.
I feel that too many landlords (especially novices) often focus too much on yield and consequently miss out on good opportunities. don't get me wrong, yield is important to assess an investment (and in this case, bigger is certainly better!), but yield alone isn't the only make or break component that can determine the success of an investment in BTL, because the beauty of property is that it benefits from capital growth and it's proven to be a good hedge against inflation! That means, even investing in a property that yields 4% is likely going to serve you better than keeping that same money in a savings account (I talk more about that in my Is It A Good Time To Invest In Property blog post).
What is Rental Yield?
In short, it's a percentage return on investment that an investor (i.e. landlord) can expect to receive from a rental property.
Rental yield is calculated by dividing the annual rental income generated by the property by its total cost or current market value, and then multiplying the result by 100.
To make life easier, here's a rental yield calculator that will crunch the numbers for you (and go more in-depth on the subject of yield).
This yield helps investors assess the profitability and potential financial performance of a property, as well as compare different investment options available in the current market.
What is Capital Growth?
Capital growth, in the context of property, refers to the increase in the value of a property over time. It represents the appreciation or gain in the property's market value.
Here is a graph that shows how the average UK house price has increased since 1952: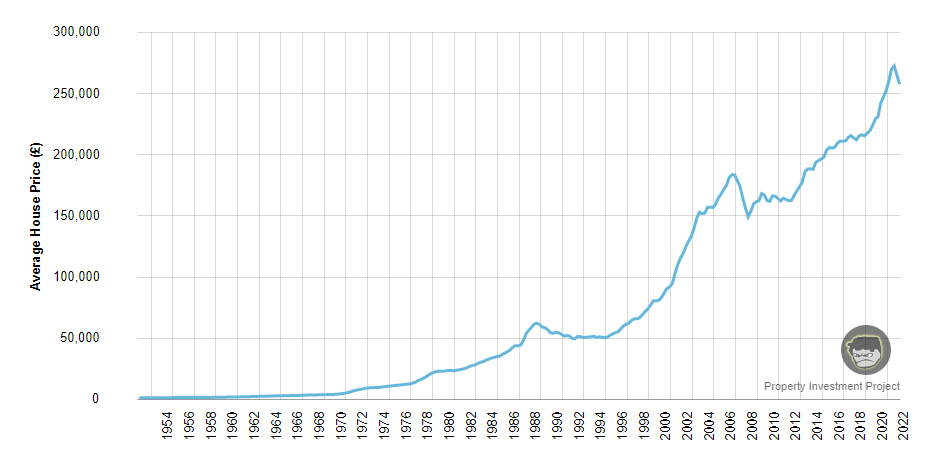 The graph, hopefully, clearly demonstrates why yield alone isn't accountable for ROI, although – and as I've already alluded to – it often seems to be the metric that is often relied upon the most when assessing available options.
But let me give you one example of how focusing on yield alone can work against an investor (it's an old example, but it's the one that immediately popped into my dome).
A few years before the 2012 London Olympics, properties in Stratford were dirt cheap. For all intents and purposes, it was an impoverished area, lacking infrastructure.
But when it was announced that Stratford was going to undergo major redevelopment and regeneration to cater for the London Olympics, property prices spiked, which indirectly inflated rental yield to obscene levels. Those landlords that got in early enough suddenly found themselves with yields they only dreamed about.
Moral of the story? Identifying properties in potential hotspots can lead to a goldmine.
Final thoughts
Using rental yield is a good way of determining whether a property is a potentially good investment for BTL.
High rental yields – anything above 5% – is considered good.
But anticipating and identifying areas of capital growth is where it's at, because it's really what moves the needle.
Disclaimer: I'm just a landlord blogger; I'm 100% not qualified to give legal or financial advice. I'm a doofus. Any information I share is my unqualified opinion, and should never be construed as professional legal or financial advice. You should definitely get advice from a qualified professional for any legal or financial matters. For more information, please read my full disclaimer.