Yesterday, I facetiously mentioned on Twitter about how one of my tenants' wants me to pay a ludicrous £300 for ONE poxy curtain.
Since I have a spare 20mins right now, I thought I may as well set the scene and over dramatise the situation by writing this pissy little blog post. Horrray!
So, I went to perform a routine quarterly inspection in a property last month. The property was fine, all was good in the hood! While I was talking to my tenant about general shit, she mentioned that the curtain in the kitchen, which hangs in front of the sliding patio doors is filthy, and always has been, so she wondered if she could replace it. The property isn't furnished, but it did come with that one particular curtain. She didn't insist or even ask for me to pay for the replacement (probably because I'm not obliged to), but as a gesture of goodwill and to show appreciation, I offered to cover the costs. I told her to get a quote and let me know what the damage is.
A few days ago I received a phone call from my tenant, and she informed me she got a quote for £286. At first I thought it was a sick joke, but it soon became clear the situation was very real when she started to enthusiastically discuss the finer details of the fabric (not that I cared). In the meantime, my mind was busy conjuring up ways to buy some time so my mind could process what was happening. I said,
Can I have a look at the curtains somewhere online or in a magazine? I will get back to you and let you know what I think"
She provided me with the relevant details, but to be honest, I didn't give a flying fuck what the curtain looks or feels like, I was just a bit concerned that she wanted me to pay £300 for one curtain. That's a bit much to ask for, innit? Bearing in mind that the current curtain couldn't have cost more than £80, and I assumed a replacement would cost about £100, maybe a bit more. The property isn't a luxury penthouse in Knightsbridge; it's a 2-bedroom mid-terrace situated in a small town that's fitted with economy household products. The patio doors aren't big enough to allow the Titanic to sail through, it's literally about 2.8 meters wide.
(This isn't an actual picture of the property in question, but the size looks similar)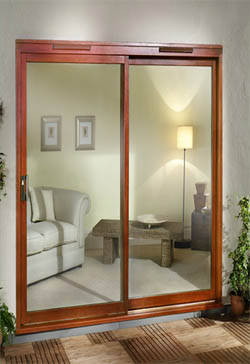 I know for a fact she wouldn't pay £300 herself for the curtains, but she clearly had no qualms with asking me to cough up the doe, which I thought was rather ballsy of her.
Don't get me wrong, she's a great tenant. She pays the bills and takes care of the property. I would happily invest in the property where appropriate. For example, if the cooker needed replacing, I would pay £300+ to replace it. The issue here isn't money. My problem is related to "proportionality", or lack there of in this case. Installing a £300 curtain in this property would be like putting a diamond on a brass ring. It wouldn't be proportionate. You get me?
Anyways, next time I go there for an inspection, I'll keep my eye out for evidence of drug abuse, because homegurl must be tripping for trying to install a lavish Harrods' curtain on my expense.
Lesson Learned
In hindsight, I can't completely blame my tenant. I was pretty careless. When I told her to get a quote, I should have discussed the budget with her. I'll know for next time. But having said that, I still believe a little bit of common sense on her part, and possibly less drug abuse, would have enabled her to understand that £300 in this situation was a tad too much! But only by 60%.
Possible Solutions
I haven't got back to my tenant yet, but I will do in the next couple of days. I'm just going to be honest and say that the quote she received wasn't in-line with the budget I had in mind. I'm willing to pay £100, which I think is fair and enough to find something decent. I've been thinking of various ways to resolve the situation, and I figure I have a few options…
Put my sexy foot down and clarify that I'm only willing to pay £100, as I think that's a reasonable amount to purchase a decent curtain
Contribute £100 towards the curtain, and allow her to cover any differences, with the condition that the curtain remains in the property after she vacates
Contribute £100 towards the curtains, and allow her to cover any differences and also keep the curtains when she vacates
Which is the best option? Not sure, but I'd probably go with the last option, purely because I think my tenant is worth the £100 investment, and replacing them when she vacates with a regular "normal-people" curtain won't cost more than £60.
Has anyone else ever had cheeky/ridiculous requests from tenants? Say your piece…
Disclaimer: I'm just a landlord blogger; I'm 100% not qualified to give legal or financial advice. I'm a doofus. Any information I share is my unqualified opinion, and should never be construed as professional legal or financial advice. You should definitely get advice from a qualified professional for any legal or financial matters. For more information, please read my full disclaimer.