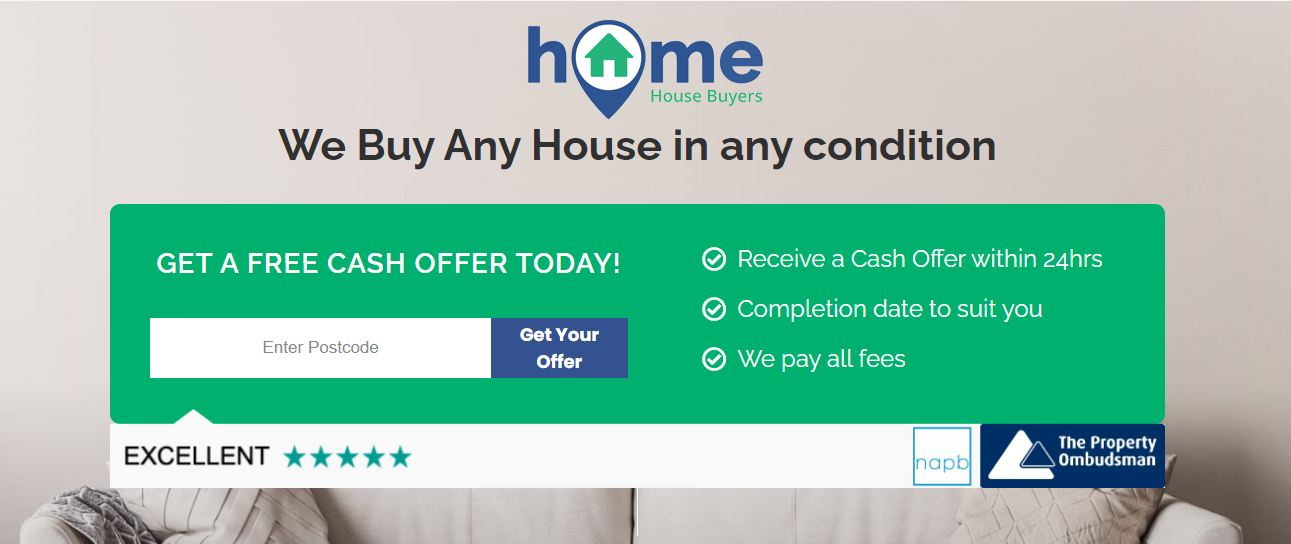 If you're looking into "cash house buyer" companies (also known as "We buy any house" companies) because you've been seduced by the idea of selling your home in lightening speed for cash, then you may have come across HomeHomeBuyers.co.uk.
Yup, join the queue! The demand for these companies have surged over the recent years, which is why they're popping up all over the shop, and why I've been covering the topic more frequently (from guides to reviews).
But you may have also heard that these "cash buyer" companies are notoriously sketchy as fuck (pardon my French), so you want to know whether Home Home Buyers are one of the good guys, or whether they're one of the one's you should run in the opposite direction from as quickly as humanly possible while you still have the shirt on your back.
For those that can't be arsed for my meandering reflections (I don't blame you), in short, they're legit. I'd personally feel comfortable dealing with Home Home Buyers if I needed the kind of service they provide (I'm presuming you know how cash buyer companies work and you know what kind of service to expect. If not, you might want to jump over to my complete guide on cash house buyer companies, which includes an FAQ and scams you should be wary of).
If you want the long version (including what my interest is and what qualifies me to make this judgement), follow me…
Overview of Home House Buyers service
First, let's take a look at Home House Buyers offering, so we're all on the same page…
Service
Rating
Features
Offers (up to)

Home House Buyers




Rating



Reviews.co.uk

Features

Members of The National Association of Property Buyers, members of The Property Ombudsman and Trading Standards

14 days average sale time

Service is 100% FREE (e.g. legal fees included, no agent costs)

Cash offer guaranteed for 7 days

Direct buyer (no middlemen)

Offers (up to)


80-85%

of Market Value

Get cash offer
Please note, I try my best to keep the information of each service up-to-date, but you should read the T&C's from their website for the most up-to-date and accurate information.
Why should we listen to you?
Great question. And I'll leave it in your capable hands to determine whether I have a credible response.
Being a "landlord blogger" (and an actual landlord, I don't just talk-the-talk, ya know?) with a large following (don't ask me why), I'm always looking for useful services that provide real solutions.
A cash house buyer service fits into that category, because it's not unusual for landlords – especially portfolio landlords – to want to quickly and efficiently sell their property(ies).
Over the years I've worked with a handful of cash buyer companies that I've felt comfortable recommending to any landlord (or a regular home owner for that matter). When I say "work with", I mean I have formed an affiliate partnership with.
I'm selective. Like, super tight with it. But I have to be.
The truth is, I have stopped working with a handful of these companies because I didn't like the way they operated, and I have refused to work with even more of them from the offset for similar reasons.
it's in my best interest to work with the best services and suppliers in the industry, otherwise, if I start recommending total bullshit willy-nilly my blog and reputation will inevitably plummet into the abyss. And believe you me, when folk have bad experiences with any company I mention I'm quick to hear about it.
At the time of writing this blog post, I am, by choice, only affiliated with two house cash buyer companies, MyHomeBuyers.com (another great option) and… Home House Buyers.
Make of that what you will.
Are there other good companies out there? Most likely.
Am I saying you'll get a flawless service from any of recommendations? Hell no.
I'm just saying, Home House Buyers seem like one of the decent options out of the bunch.
Why I recommend Home House Buyers
Communication – This has to be at the top of my list, because I've experienced some outrageous experiences from other companies when it comes to communication! I'm often in touch with one of Home House Buyers' directors – he's always very responsive and helpful, which honestly, is a big deal to me. You'd be surprised at how many companies I've stopped working with because basic and timely communication was too much to expect. It's pretty unbelievable! Then they inevitably wonder why I stopped talking about their services. The likelihood is, if their communication sucks with me, it's likely going to be as equally as soul-destroying for you, and that's literally cancerous for anyone trying to sell a house.
Genuine cash buyer – they buy the property directly from the seller, and therefore don't need to source a buyer (and essentially act as a middleman) or secure finance before being able to purchase your property (be careful, some of the other "cash buyer" companies act as a middleman and don't finance the purchase with their own capital). Using a company that buys directly is by far the most efficient option, least of all because it severely reduces the chance of deals falling through.
Highly rated across impartial review/rating platforms. Their current rating on Reviews.co.uk is 4.9/5!
Members of redress schemes – The National Association of Property Buyers (NAPB), members of The Property Ombudsman and Trading Standards.
Competitive and realistic cash offers – between 80% – 85% market value, which is exactly the most you can expect from cash buyer companies. Be wary of any company that offers more (or less) – you're likely being scammed if that's the case.
Transparent contact details, including physical premises, which you're more than welcome to pop into for a chat.
Registered company on Companies House
Reputation – as in, they didn't open their doors last week and start trading. According to Companies House, they were Incorporated in 2015.
BTW, if my opinion ever changes about their service I will update this blog post with a scathing review pronto. I've done it before and I'll do it again (e.g. I turned real quick on Doorsteps – the online estate agent – after they increased their fees by a gut-wrenching 300% overnight!). I have no allegiance to any one company or service provider.
Home House Buyers is a NAPB member
There are approximately 50 house buyer companies registered with the NAPB, and Home House Buyers is one of them.
I cannot overstate how important it is that you only use cash buyer companies registered with NAPB. Even if you decide not to use Home House Buyers, or if you want to explore multiple options before committing to working with a specific company (which is always sensible), please, just ensure they're a NAPB member.
The cash house buyer industry is unregulated – don't believe anyone that tells you otherwise – which essentially explains why some of these companies are able to get away with unethical practices, resulting in a black cloud hanging over this sector of the housing industry. Basically, it's a shitshow, filled with sharks salivating at the chance to take a chunk out of your leg.
However, any house cash buyer company that voluntarily registers with the NAPB is expected to abide by a strict code of conduct. For example, in order to become a member, a company must demonstrate that they run a professional business (with the appropriate insurance cover in place to protect consumers) and a genuine commitment to upholding high standards in their business dealings so consumers are always treated fairly throughout the process of their house sale. Moreover, all registered members must register with The Property Ombudsman (TPOS), which means homeowners will have to access their independent redress in the event of a dispute.
You can check the NAPB website for the latest list of registered members.
Right, I'm done! Hope my feedback has been useful.
Needless to say, I implore you to continue with your due diligence, because I understand what a gigantic undertaking selling a house can be, not just emotionally, but also strategically. And let's be frank, there's an added element of anxiety when using a cash buyer company, so due diligence is critical.
If it helps, I can tell you that cash buyer services are extremely popular at the moment – they're definitely not all scammers – and many sellers have had fantastic experiences.
Landlord out xoxo
Disclaimer: I'm just a landlord blogger; I'm 100% not qualified to give legal or financial advice. I'm a doofus. Any information I share is my unqualified opinion, and should never be construed as professional legal or financial advice. You should definitely get advice from a qualified professional for any legal or financial matters. For more information, please read my full disclaimer.