Here's the thing, Habito is an affiliate partner of mine, but unbeknown to them, I'm also a customer of theirs – I've used their online mortgage brokering service twice so far.
Sadly, I'm one of their smaller affiliate partners. Literally puny. I barely give them any referrals (in my defence, I'm absolutely terrible at promoting). So no one at Habito HQ actually knows I exist, other than maybe the one poor schmuck that works in the marketing team and manages their affiliate partners, so me using their service means absolutely nothing to them. The beauty in that is, of course, is that if I think their service sucks balls it would be relatively easy for me to decapitate our partnership.
However, despite my insignificance, I am still technically a "mystery shopper", 'cause they have no idea that I have taken their service for a joyride. Twice.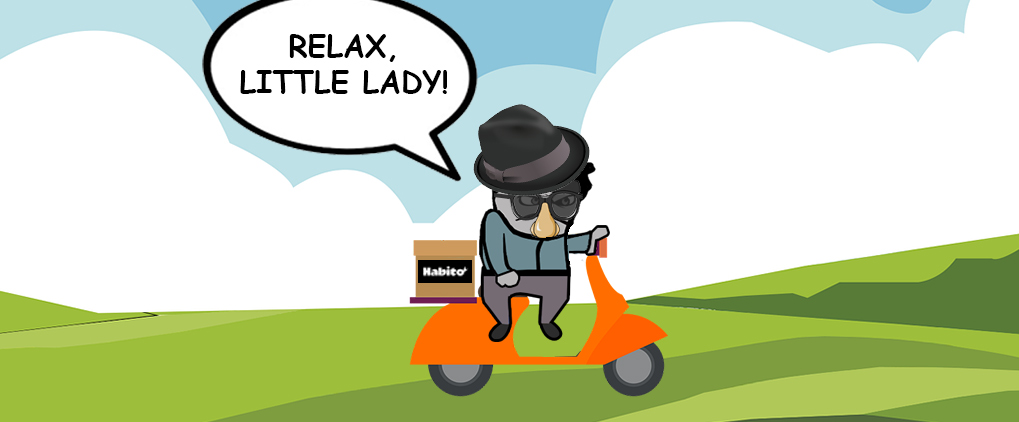 The first time round they found me a pretty sweet mortgage deal, but sadly the chain crashed and burned so I never ended up needing a loan. The second attempt was more successful and the mortgage they arranged for me came in handy.
If you're looking for the short story, here it is: Habito are legit. I've had two positive experiences so recommending their online mortgage service isn't a problem. If that's all you wanted to know, here's a link to their website so you can get started on finding your very own sweet mortgage.
If the short version simply isn't good enough and you want to know more of the details, then wonderful, here's my Habito review in full…
Some of the key features of using Habito
100% free mortgage brokerage service.
Whole of market. They search the whole market – that's more than 20,000 mortgages from 90 lenders.
Your own expert broker. You'll get your own personal broker to support you through the process. They'll be there every step of the way.
It's all online. No need for meetings, appointments, long phone calls or paperwork. Welcome to the new digital world of mortgages!
Available 7 days a week. Their mortgage experts are online and ready to chat 7 days a week, 9am – 9pm every day (apart from Fridays when they finish at 5pm, and Sundays at 8pm).
What you should know: Habito is a free Online Mortgage Broker!
Habito is NOT a comparison website like CompareTheMarket.com or MoneySuperMarket.com, both of which compare mortgages and then link you off to the lender.

Habito is an actual mortgage broker, which means they will facilitate in finding you a suitable mortgage with a lender and assist you with all the paperwork – and everything else – until the bitter end.

Habito is an Online Mortgage Broker – the entire process is managed efficiently by user-friendly online forms, email exchanges with an assigned "mortgage expert" and regular status updates. If you require further human assistance, you will always have access to support by live chat or telephone.

Once you're provided with a suitable mortgage product(s) for you, it's up to you to decide whether you want to apply for it or not.

Habito's mortgage service is completely free for you to use. They won't charge you brokerage fees because they earn their commission from the lenders they work with.
What I personally liked about Habito
While they have plenty of neat features that tickled my pickle, I'm just going to highlight the ones that meant the most to me (some of which were flagged in the key features):
1) Get a quick, easy & free Mortgage in Principle
To be fair, most brokers and lenders will provide a free mortgage in principle. But not all. So it's still good to know that Habito don't charge a dime for one, and all it takes is answering a few questions about your income and deposit. There's no credit check!
Top tip: getting a mortgage agreement in principle can help you understand how much you can borrow and what deals are available for you.
After receiving an agreement in principle (which isn't guaranteed and can still be refused by the lender), it's then possible to apply for an official mortgage offer.
What many people don't realise is that if you get a mortgage offer today, the lender must honour the offer until the offer expires (which is usually after 6 months), even if interest rates climb during that time. They will likely have grounds to cancel the offer if there are any material changes in your circumstances (e.g. change in income).
An agreement in principle is not binding and neither is an offer unless it's accepted and signed for, so you can get them without any obligations and at no expense. This can be super helpful for various and obvious reasons.
Get your mortgage in principle from Habito here, only takes a few minutes!
2) Online service
I'm the kind of person that likes achieving as many tasks as possible online with minimal human interaction, which is precisely why Habito is a perfect solution for me. it's the same reason why I switched from using traditional high-street estate agents to online estate agents, and buy toilet roll and dental floss from Amazon.
Some might say I'm everything that's wrong with the world today, and why local high-streets around the nation are plummeting to their demise. Be that as it may, Habito is a slick online service that's made mortgages so damn easy, least of all because they don't require me to abandon the comfort of my own home. I'm a simple guy.
Goodbye inconvenient appointments with traditional mortgage brokers, hello form-filling (and occasional virtual chats) in my underpants.
If you're happy getting shit done online, then using Habito to see if they can find you a mortgage is a no-brainer.
3) User-friendly / easy to use
I know a lot of people freak out about doing too much online, and prefer good old fashioned "face-to-face" customer service. Naturally, mortgages seem like one of those daunting and important tasks that should be done behind closed doors, with a person in a suit, looking at multiple monitors.
I hear you.
Times have changed.
All I can say is that Habito really has done a slick job with their website, in particular their interface. They have made buying mortgages online as easy as it can be.
Bear in mind, people used to think "online banking" was a batshit crazy idea. Fast forward today, high-street branches are becoming extinct.
4) A whole bunch of lenders & mortgage products to choose from
If I haven't made it obvious by now, I'm a bit of a "tech guy", or at least, I like to think of myself as one, which is why I've given precedence to drooling over technical and usability features, which are objectively much less important than this one.
Habito searches the entire Mortgage market – that's more than 20,000 mortgages from 90 lenders.
That's a whole bunch of mortgages, and it means you're likely to find the most competitive products available on their platform.
This feature is probably the show stealer and why I believe everyone should see what they have to offer.
5) Oh yes, they did find me the best mortgage product
This should have been my opening point, shouldn't it? Oh well.
Fortunately, I'm not as lazy and stupid as I look, so I didn't just go to Habito and call it a day – I went window-shopping in the all the usual places, to ensure I was getting a competitive deal:
CompareTheMarket.com
MoneySuperMarket.com
Spoke to a local broker (who I've used before)
Looked on a few bank websites (e.g. Natwest, Virgin)
Now, I'm not saying Habito are *always* going to find everyone the best deal, but what I am saying is that out of all the places I searched, they managed to find me the best deal. But that wasn't particularly surprising, since a big part of their sales pitch is based on "searching the entire market" for mortgage products. That said, I'm still always going to explore my options and do my due diligence – there's too much at stake (literally thousands of pounds) to be inattentive.
6) Communication/service is delightfully prompt
I think most people have concerns with the level of communication and support they receive, or lack thereof, when relying on important financial services. There's a lot on the line, after all.
I would be lying if I said I didn't have the same concerns.
Everyone that shows interest in using Habito's service is assigned with a "mortgage expert" to help find a suitable mortgage and process applications.
After filling in my initial application (which took me approx 20 mins) it wasn't long before I received an email from my assigned expert introducing himself.
When I first tried Habito, it took 10 days for a "mortgage recommendation" to arrive after I completed my application. However, my case was a little more complicated than the average (I'll spare you from the drama), so there was a bit of back-and-forth via email in order to clarify a few of my details.
The second time round I had a different set of circumstances which made for a much simpler process, and this time I required a "mortgage in principle" – which I received within 24 hours.
Habito's flow charts works like this (which is pretty much the standard template):
Get your mortgage in principle
Use this to show estate agents you're a serious buyer (skip to step 3 if you're remortgaging).
Find a property you like and make an offer
When it's time to buy, you'll have to make an offer and negotiate on the price.
Find a mortgage
They'll find you the best deal out of 20,000 mortgages from 90 lenders.
Apply for the mortgage
Long story short, I was never left disappointed with the level of service I received during either of my experiences – they both felt swifty.
Err, perhaps that's all I needed to say.
What sucks about Habito

This question sucks hard, because I honestly can't think of anything, but I'm saying that based on the fact that services like Habito are perfect for people like me (i.e. someone that prefers doing as much as possible online, with as little human interaction as possible).
However, I want to spit some fire, otherwise this review can be deemed as lop-sided tosh.
If I have to think of one objective reason for why Habito may not be suitable for everyone, I'd say that if you're anything like my dear, sweet Nan – who experiences nose-bleeds when trying to operate Facebook – then an online mortgage brokerage service is probably going to give you more grief than anything else. If you're not comfortable with surfing the web and using online services, you'll either need someone to help, or you're probably better off using a traditional brick and mortar mortgage broker.
Is Habito safe to use?
They are proper mortgage brokers. don't let their exclusively online presence fool you into thinking they're running a nefarious sweatshop in a destitute pit on the other side of the world.
Their head of operations is based in Reading, Berkshire, and they're authorised and regulated by the Financial Conduct Authority and is on the Financial Services Register.
Online Mortgage Brokers (Habito) Vs Traditional Brick and Mortar Mortgage Broker
To date, I've used four types of mortgage brokers (I actually think that's all there is):
Traditional: Independent mortgage broker
Traditional: Estate agent's in-house mortgage broker
Traditional: Bank/Building society in-house mortgage adviser (e.g. Natwest)
Online: Habito
The obvious difference between Habito and traditional brokers in terms of process, is that Habito provides an online service which relies on emails, form filling, and document uploading. There is no face-to-face human interaction. This makes the process faster and more convenient.
Traditional brokers are a brick and mortar business, which entails face-to-face interaction and appointments.
If you're not comfortable with using an online service like Habito (for whatever reason), I'm of the belief that the next best option is to use an independent mortgage broker or an estate agent's in-house broker.
Using a bank/building society will be extremely limiting, as they'll only offer you their own products, which is why they're a hard sell.
In terms of actual service, generally speaking traditional brokers are more limiting:
They won't have access to as many products/lenders as Habito (bear in mind, Habito has access to the entire market)
Many of them will charge a brokerage fee (because they have more overheads to cover than online services).
Habito Vs Better (formerly Trussle) – which is, errr… better?
Better.co.uk (formerly Trussle) is another extremely popular and reputable online mortgage brokerage service. Habito and Better are two of the best-known online mortgage brokers that have incredibly impressive TrustPilot ratings (at the time of writing this review):
So which is better? I literally have no bloody idea.
I've only used Habito so can't comment on Better. But I did want to point out that Habito isn't the only good option in the world of online mortgages. it's not lonely at the top, evidently.
I did come across this informative blog post on frugalitymagazine.com, which compared the two online services, and I quote:
Habito seem to deal with a massive range of lenders, some of whom you might not stumble across with other mortgage brokers. This, in turn, might land you a better deal than with competitors.

Trussle (now Better.co.uk), in comparison, seem to focus on more well-known high street lenders – companies you've heard of like Virgin Money or Barclays. This could mean a smaller range of mortgage options overall, and the potential to miss out on a better deal from a more niche lender.

Equally, for me there's something to be said for having a mortgage from the bigger names – an extra degree of trust and security.
What of that what you will.
The wrap up!
Right, I'm done.
Unless you fell asleep midway through my review (which would be perfectly understandable, to be honest), I think it's obvious I think Habito is a winning option.
Will I use Habito again in the future? Absolutely.
Will I actually apply for a mortgage via their brokerage service again? Remains to be seen. But if they find me the most competitive product again, then sure.
Hope it's been useful, if only marginally. I'll take what I can get.
If you're thinking about using an online mortgage broker, have any questions, or if you want to share your experience(s), please feel free to pick up the mic (leave a comment below)…
Landlord out xoxo
Disclaimer: I'm just a landlord blogger; I'm 100% not qualified to give legal or financial advice. I'm a doofus. Any information I share is my unqualified opinion, and should never be construed as professional legal or financial advice. You should definitely get advice from a qualified professional for any legal or financial matters. For more information, please read my full disclaimer.