"It's not worth the paper PDF it's written on", the words I was fearing to hear after paying £90 for a digital will from Farewill. A price that seems worryingly too light for any form of legitimate legal document, let alone one that's responsible for managing my life's work after my [tragic] demise.
Instead, I heard dad bellowing, "An online will service? NON-SENSE! You should call my solicitor, he'll take good care of you", as he was dipping his calligraphy feather pen into his inkwell. He'll be blissfully stuck in the Stone age for a while yet, so explaining how times have changed was a story for another day. And quite possibly a task for a more patient sibling.
But I was still curious, is this online will writing service by Farewill the new cost-effective way to craft legally binding wills… or did I just get swindled by a cheap Taiwan knock-off?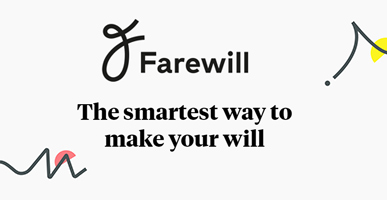 To provide some context for those that aren't familiar with my work: I'm a landlord (with a tiny portfolio), and while I'd love to believe that there's plenty of mileage left in my withering middle-aged vessel, God forbid, I appreciate shit happens, so planning for the bleak future is a necessary evil.
99.9999% of the content on this blog is directly related to property/landlording, but since, by definition, all property owners have valuable assets, this [a blog post about wills] felt worthy and indirectly relevant enough.
I can only encourage everyone to plan for the future.
Page contents
Quick analysis – are Farewill's wills legitimate?
Here's an overview of what you get for their £90 online will writing service:
Online Will Service
Rating
Notes / Includes
Price from

Farewill




Rating



Reviews.co.uk

Live Support (7 days a week, 9am-9pm)

Every Will double-checked by expert

1 year free unlimited updates

Pay an optional £10 per year for unlimited updates (after first year has expired)

Price


£90

Inc VAT

Visit Website
If you're looking for the short answer, yes, they're legit.
If you are here looking for reassurance from a real-life guinea-pig that's used Farewill's service, then here it is: yes, you can legitimately use an online service, like Farewell, to create a legally binding will relatively quickly and cheaply! And I thought the experience was rather impressive.
But for full transparency, it should also be noted that creating a will isn't that difficult in reality. Technically, anyone 'of sound mind' can do it. A fact my research unexpectedly unearthed, and ironically, it confirmed that low-cost online will writing services were very capable of being legit.
So really, we don't actually need any assistance to craft a valid will, least of all from someone with fancy qualifications, or a shiny online tool like Farewill.
According to the GOV UK website, you can write your will yourself [without any 3rd party assistance], and as long it's formally witnessed and signed (but not by the beneficiaries).
Who knew?
However, while in principle creating a will is relatively simple, the same can't be said about formatting the will so it's easy to interpret, and also ensuring the sensible bases are covered (i.e. making provisions in case one of your beneficiaries dies before you do).
If your will isn't clear and concise, it may not be honoured, at which point it may fall upon the state to decide how and where your assets are distrusted. You probably don't want that. I'd turn in my grave if creepy uncle Albert ended up with even a penny.
That's how and why services like Farewill are extremely useful – they ensure your bases are covered. That's what sold me, anyways.
Farewill is the perfect solution for anyone that wants to create a professional and legitimate will quickly and cost-effectively with in the comfort of their own home, and without the need to faff around with an expensive solicitor.
Happy? You can start creating your will from Farewill here.
Introduction to Farewill and online wills
Up until recently – before my friend pointed me in the direction of Farewill – the idea of creating a will online was completely new to me, even though I'm told it's been 'a thing' for many years.
I always had a preconceived conception that I required the service of a qualified mind to meddle around with the nuances in order to create a legitimate will.
I was wrong. But I'm probably not the only one.
Either way, I was quickly lured into the idea of using an online service because it means, according to the packaging, I can quickly arrange a will in the comfort of my own home, without the need to faff around with a snotty solicitor. I'm in.
Thanks to advances in technology: much like everything else these days, you can do wills online, very quickly.
Farewill.com Review – the website that allows you to make a will online
If you're after more than just a confirmation of Farewill's legitimacy, below is my in-depth analysis of Farewill's platform (in case anyone is interested in what's under the bonnet):
Pros of using Farewill
Quick – honestly, it's so incredibly snappy. Farewill have done an impressive job making the process piss-easy. It was pretty effortless. Actually, it felt almost too effortless.

Assuming you have all the details of your assets at hand,and the names and contact details of your beneficiaries and executors, it shouldn't take more than 15mins (as Farewill's sales pitch implies).

Cheap – according to Beyond's marketing faff, a typical lawyer charges £200 – £500 per will to do the same job.

Farewill charge £90 for a single will and £135 for a couple, and an optional subscription of £10 per year if you want the ability to make unlimited updates as and when you please (more on their pricing model explained below).

Incredibly easy to use – this is where I feel Farewill steals the show, especially when compared to their online ugly ducking rivals (or at least, the one's I've seen).

Yes, there are other online will writing services, but the conclusion of my limited investigation has lead me to believe that no one makes it quite as easy as Farewill thanks to their fantastic user interface.

They've cobbled together one very slick website. It's incredibly peaceful to create a will with their online dashboard, from adding the beneficiaries and executors, to adding all your assets and clarifying who gets what. The flow is truly cool.

Pay on completion – they don't make you pay until you have added all the necessary details of your will. That means you have the freedom to abandon ship without spending a single penny if you wish.

You can also "save, exit and continue later" if you don't have all the necessary details in one sitting. That's particularly useful if you don't have all the information at hand in one sitting (e.g. beneficiary contact details).

Double-checked by in-house legal experts – each will is double-checked by one of their experts with in 5 working days (after payment is made). Once it's passed inspection, you'll receive a confirmation email, at which point you can print your will and have it signed by your witnesses.
Support – they have a live support and contactable telephone number if any assistance is required.

Disclaimer: I didn't need to use their customer support, so I can't comment on how good or terrible it is. However, the fact that it's available is sweet.

Updateable – You have the ability to update your will and reprint it for signing. In many cases, wills need updating so it's a useful feature; circumstances frequently change, which may include amending beneficiaries due a bitter family feud, or additional accumulated assets which need to be accounted for.
Format/layout – The presentation of the will is actually quite beautiful (I link to a example below). Needless to say, that won't impact the effectiveness of the will's overall function because it's purely superficial, but it's still a nice touch, which didn't go unnoticed.

I've seen a few of their competitors' examples: not so pretty.

TrustPilot – at the time of writing this blog post, Farewill have a TrustPilot rating of 4.9/5, which isn't bad at all.
Cons of using Farewill
Not suitable for complex estates – I'd honestly say this point applies to ALL 'quick & easy' online will writing services, and not just Farewill. I personally wouldn't recommend using Farewill or the alike if you have a particularly complex estate, which may include leaving behind a business or co-owned property with a feuding co-owner, or complex situations with spouses.

Most people won't have complex estates, so an online solution will be suitable. However, in complex cases I'd recommend going to a specialist will solicitor for professional guidance.

Inheritance tax advice – similarly to my above point, if you're concerned about burdening some poor schmuck with copious amounts of inheritance tax, I'd recommended seeking professional advice from a tax expert before writing your will.
Spam box – perhaps I'm knit-picking, but this was a genuine issue for me, so in order to be completely objective I feel I need to document even the most trivial of gripes.

My confirmation email (which stated whether my will had passed their internal inspection) found it's way in my spam/junk box, so when I didn't receive it with in 5 days, I started getting a little antsy. It turns out the confirmation email was sent with in 48 hours of creating my will and paying for it.

So yeah, check your spam/junk folder for the confirmation email if you decide to use their service!
Farewill's pricing explained
"Your professional will for £90. Updateable anytime for £10/year."
Their pricing structure momentarily left me scratching my head. I didn't get it!
But then I did.
After creating and paying for your will, you are automatically signed into an annual subscription of £10 per year, which permits you to make unlimited updates as and when necessary.
You can cancel the subscription at any time (easily via your personal control panel), but then you'll have to pay the full amount again if you wish to make changes in the future. Your first year of updates is free, so diarise if you want to cancel before the subscription fee kicks in.
I'm personally going to remain subscribed to their update service, because I frequently transfer money into different savings accounts to benefit from the best interest rates, and in my will I've specified which accounts my money is held in.
Farewill's example will
Here's a downloadable example Will by FareWill. Just so you know what to expect.
Online alternatives to Farewill
As said, there are several main Online Will service providers, which includes Beyond.life and Kwil.co.uk (all at roughly the same price point).
Conclusion: do I recommend Farewill?
Assuming you have a relatively simple estate: 100% yes. I can't emphasise how easy they have made the process. To find out more and use their service.
Leave your feedback…
If you've used Farewill, or any other online will service, I'd love to hear your experience.
I hope this review has been somewhat useful!
Disclaimer: I'm just a landlord blogger; I'm 100% not qualified to give legal or financial advice. I'm a doofus. Any information I share is my unqualified opinion, and should never be construed as professional legal or financial advice. You should definitely get advice from a qualified professional for any legal or financial matters. For more information, please read my full disclaimer.