Howdy!
No messing around today I'm afraid, I'm going to get straight to it…
To summarise what we're here for:
Find out how to sell your house for the most amount of money
Find out how to get a faster than average sale
Discover a non-lethal or snake oil means of a selling house that's simply more balanced and efficient than other traditional routes. No gimmicks!
Note: this is NOT one of those generic articles that will destroy your will to live by reeling off cliché property improvement "pro tips", like decluttering and creating the illusion of space. Oh, and of course, making magnolia paint the miracle cure!
Right. I think this is it. I found it!
I'm confident I've stumbled upon the best way to market and sell your house for the most amount of money (in the current climate, whatever that may be) – without selling your soul to the devil or negotiating unlicensed, back-alley deals – and if it's not, then you're going to have to tell me what is!
I recently shared my thoughts on the quickest ways to sell a house, and while there are legit options that will guarantee a rapid sale – in as little as a few measly days – the obvious trade-off is selling at a hefty discount. The kind of discount that forces people to lie down and breathe into a brown paper bag. Not for everyone, especially those with a weak ticker.
But there is a middle ground somewhere here, one which can squeeze the most amount of juice out of your most prized lemon in a faster than average sale time!
Let's do this!
Let me introduce you to the multi-agency sales service by flyp!
Here's a quick visual to give you taster before I get into the meat and potatoes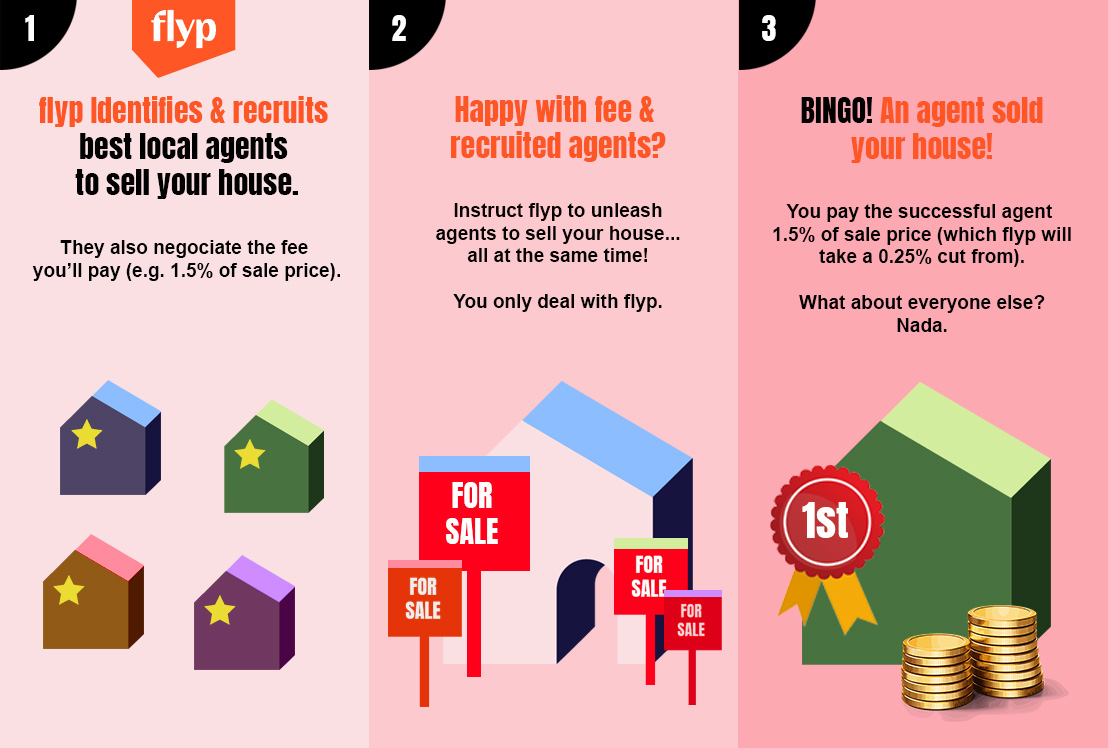 flyp has already been featured in some pretty notable publications – ones that dwarf my little virtual sanctuary down to a pebble – like The Times, Forbes, Bloomberg etc, so you may have already caught a whiff of their service.
If not, here's the gist of their appeal:
flyp get their clients' (i.e. homeowners looking to sell their property) the best performing local estate agents to market and sell their house simultaneously for the same price as you'd normally pay for a sole agency agreement.
flyp's multi-agency strategy gets an offer 80% of the time within 3 weeks, and a 85% sales rate
Their strategy targets more active buyers, resulting in faster sales and higher sale prices
Of course, no sale, no fee applies!
I've seen flyp's service explained in various forms, however, more often than not, I'm left gasping for a clearer and simpler explanation (to be honest, even their own fancy-pants website leaves me yearning, which is why I had to get in touch with them so I could fully grasp how their service really works). So I'm going to do my utmost to spare you from the same trauma.
flyp isn't the only company offering a multi-agency service, but I am going to use their specific work-flow for demonstration purposes 'cause it's kinda' unique and neato.
Disclaimer: before getting into the details, I do want to clarify that in order for any multi-agency strategy to work, the property must be in an area with sufficient agency density. For example, if you live in the ass-end of nowhere and there's only two agents in town, then this approach is going to be useless for the obvious reasons.
How flyp's multi-agency process works, step-by-step
Enter your postcode (try it out below) so flyp can analyse your local market and find the best local agents to sell your house.
Book a virtual inspection for an in-depth assessment on the current and potential value of your property (i.e. determine if there's scope for transformation, including repairs, maintenance, and renovation, in order to maximise the sale value and efficiency).
If you agree to launch a sales campaign (a.k.a marketplace), then flyp will require a few key details on the home, including pictures, floorplans.
Flyp will engage all the best and relevant agents (around 10-30), and each provide a valuation.
Flyp will contact you to determine the asking price, along with fees and strategy with the agents.
If you're happy, sign the instruction, with the fees now confirmed.
Flyp will now instruct all the best local agents in your area to market and sell your property, at no extra cost. That means you won't have one agent trying to sell your home, but you'll have a network of agents tripping over themselves, all trying to get you the best price possible. May the best man/woman win.
The agents book the viewings (all controlled on central calendars) and flyp manage the agents, and the vendor directly.

In other words, flyp manages the entire sale for you – they're responsible for the back-and-forth – you don't have to interact or manage individual agents, you only deal directly with your flyp account manager, who will handle the entire management of your property sale until completion.

As you'd expect from a regular traditional high-street agent experience, no sale, no fee applies!
Visit flyp to discover how many agents can work for you
Movewise is was another company (update: they've since gone into administration) that offers a multi-agent sales process that was quite popular, but they had no interest in unlocking your property's full potential before going to market. They preferred going in straight for the kill and instructing multiple local agents from the offset. Yes, that does mean you're not as likely to get as much money from the sale, but on the flyp-side (I have no regrets and will not apologise, I literally could not resist!), bypassing the refurb could result in a quicker sale.
But what I like about flyp's service is that they will put forward a renovation plan if it makes sense, so we have the choice.
How flyp's pricing structure works (i.e. how much you pay for their multi-agency service)
"This multi-agency stuff sounds expensive?"
It does, doesn't it?
That's the beauty of it, it's not.
Most of flyp's customers pay between 1 – 1.5% of the sale price on fees, which is the standard rate for most sole agency agreements. But obviously you get so much more bang for your buck with a multi-agency approach, because you're not just getting one agent working for you, but an entire network!
Essentially, what you get is the broadest distribution of motivated and engaged agents, fighting it out over sole agency fees, for homes that are relevant for their buyer network – winner takes all.
flyp's fee is fixed at 0.25% for all sales, which is paid directly by the agent out of the agreed upon 1 – 1.5% fee, so you don't pay a bean extra for their service.
Get a no obligation assessment!
Find out how many agents flyp can get working to sell your house at the same time.
Get valuations from multiple agents
Find out if there's potential to increase the sales price with a snazzy and fully-managed transformation (that won't cost you a dime)
Either visit their website directly, or enter your postcode below…
Disclaimer: I'm just a landlord blogger; I'm 100% not qualified to give legal or financial advice. I'm a doofus. Any information I share is my unqualified opinion, and should never be construed as professional legal or financial advice. You should definitely get advice from a qualified professional for any legal or financial matters. For more information, please read my full disclaimer.