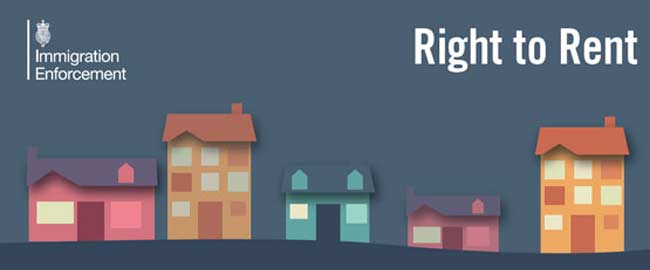 Another day, another incoming landlord legal requirement to ruin our lives and add to the forever growing list. Sigh.
Page contents
What is the "Immigration Act and Right to Rent"?
Income the Immigration Act 2014 and tenant's "right to rent".
Here's a quick video explaining from the Home Office:
From the 1st December 2014, UK landlords could face civil penalties if they rent homes to illegal immigrants without carrying out the appropriate checks, "right to rent" checks.
Merry Christmas!
I quote, from the Gov issued Landlord's guide to right to rent checks:
The Immigration Act 2016 (the 2016 Act) introduced a criminal offence of knowingly letting to someone disqualified from renting a property.
All landlords in England have a responsibility to prevent those without lawful immigration status from accessing the private rented sector. You do this by conducting right to rent checks on all prospective adult tenants before the start date of a tenancy agreement, to make sure the person is not disqualified from renting a property by reason of their immigration status.
In normal human talk, you'll just need to check your tenant's ID and proof of citizenship and ensure they have a right to rent in this country. Why didn't they just say so, right?
The issue has caused controversy within the industry over whether it is the landlord's responsibility to check the immigration status of potential tenants. I personally don't think it's a tall order to simply ask for proof of ID/Citizenship (that's basically what the legislation asks of landlords), but it definitely shouldn't be a landlord's responsibility to help police immigration (which is what is effectively being asked of us).
Having said that, I don't think it's a hugely terrible legislation simply because it will help landlords perform better referencing (for those foolish landlords that don't already ask for ID).
To be fair, personally, I've always checked my tenant's ID and taken a copy as a safety measure anyways, to help combat fraudulent activity. I assume most with a little sense do the same. So this legislation really shouldn't pile on any additional workload to sensible landlords.
Who is responsible for conducting the Right to rent check?
Initially, the legislation applied to landlords letting property in Birmingham, Walsall, Sandwell, Dudley and Wolverhampton (why these areas? No idea), but since February 1, 2016, it applies to private landlords and letting agents in England, including sub-letting and lodger landlords.
What are the landlord's penalty for not complying with the right to rent check?
The Immigration Act 2014 stated that if found to be in breach, landlords could have faced fines up to £3,000. Ouch!
But the penalty isn't just limited to landlords; agents may also take on liability. Letting agents will be liable for the penalty in the event of a contravention if, acting in the course of business, they have accepted responsibility in writing for compliance with these provisions. My advice is, if you're using a letting agent, make sure you get written confirmation that they are responsible for ensuring your tenant has a legal immigration status to rent in England!
It is also possible to commit this offence where a tenant's "right to rent" has expired during the tenancy. So for example, landlords and agents should keep track of dates if their tenants have temporary permits.
In light of the heightened seriousness of the situation, the penalty has now been knocked up to a possible five years imprisonment. Holy smokes! I'm assuming the penalty is very reliant on the individual circumstances, and the imprisonment sentences is most likely reserved for repeat offenders. However, being thrown behind bars for 5 years seems a tad excessive, unless the landlord is caught cramming illegal immigrants into his carboot and crossing them through the border.
How do landlords comply with right to rent checks?
Landlords will need to check the identity and citizenship of ALL tenant's over 18, for example a passport. These provisions also extend to adult occupiers that are NOT named in the tenancy agreement, so it's important to check ALL tenants.
A full detailed list of what is accepted as proof is provided below.
Making copies of the documents
Copies of the items used as evidence will need to be taken to prove that the checks have been carried out.
When you copy the documents:
make a copy that cannot be changed, such as a photocopy or a good quality photograph
for passports, copy every page with the expiry date or applicant's details (such as nationality, date of birth and photograph), including endorsements, for example a work visa or Certificate of Entitlement to the right of abode in the UK
make a complete copy of all other documents
record the date you made the copy
Keep copies of the tenant's documents for the time they're your tenants and for one year after.
What documentation will (and will not) be accepted as proof of right to rent?
It can vary depending on the nationality of the prospective tenant, so use this free online service on the Gov website to find out:
which types of documents give someone the right to rent in the UK
how to check someone's documents
Government right to rent document checker service
For further details
I have only covered what I feel to be the most essential/applicable information to the average landlord/tenant scenario. There's a tonne more snooze-worthy and up-to-date details available from the Gov website:
It's all worth rummaging through if you give a flying crap. Enjoy!
Bottom line, don't give tenancy to any illegal immigrants, otherwise you could be royally screwed!
So, what are your thoughts on the legislation? Like, dislike, indifferent? Speak to me!
Disclaimer: I'm just a landlord blogger; I'm 100% not qualified to give legal or financial advice. I'm a doofus. Any information I share is my unqualified opinion, and should never be construed as professional legal or financial advice. You should definitely get advice from a qualified professional for any legal or financial matters. For more information, please read my full disclaimer.