Last week I went for a consultation with my local Building Society's Mortgage Advisor/Broker (whatever you want to call them) to review one of my Buy-To-Let Mortgages, which is currently with Northern Rock at a rate of 5.7%. It's been out of the fixed rate period for a few years now, so I'm not tied in like a biiiyotch.
I'm a big fan of remortgaging on a regular basis because it opens up doors to save thousands (I'm still surprised when people tell me that they don't bother remortgaging, but remain on their current lender's SVR. Suicide!).
Ordinarily I'm not a huge fan of Mortgage Advisors that work directly for Banks/Building Societies because they're limited to their own products, so more often than not, they don't have access to the best products on the market. However, curiosity got the better of me when they said they could find me a product better than my current one…
I've looked at remortgaging this particular mortgage a few times in the past, but since 2007 (when the recession hit), the products available for BTL Mortgages have been a pile of steaming shit.
On the back of my previous experiences, I went into the meeting with no positive expectations whatsoever. I had no doubt in mind that my broker would be able to offer me a better product (as he said they would), because my current 5.7% rate, which isn't exactly difficult to beat. But I had a feeling that he wouldn't be able to offer me anything compelling enough for me to sign on the dotted line.
After my Mortgage Broker looked at the facts and figures, and did some number crunching, he enthusiastically offered me the following product:
Mortgage Offered
| Initial Rate | Fixed Rate Term | Monthly Repayment for first 2 yrs | Product Fee | Loan Amount |
| --- | --- | --- | --- | --- |
| 5.1% | 2 years | £776 (approx) | £950 | £130,000 |
On the surface, a 0.6% reduction on a rate seems average at best. The rate is also fixed, so for the next 2 years I wouldn't be affected by any changes to UK interest rates. My broker was really trying to push the product (obviously).
After carefully absorbing the offer on the table, by taking into consideration the heart-breaking product fee (£950) and the current state of the economy, the offer quickly became riddled with flaws. I'm pretty sure my broker knew he wasn't offering me anything great (unless he was a total dumbass, which is a possibility i'm not ruling out), because let's face it, it's his job to know, yet he was still trying to earn his commission by trying to make me apply for it. He kept muttering, "It's a 0.6% reduction", and acting completely oblivious to the hefty product fee. I felt like screaming, "Shut the fuck up, and shove your 0.6% reduction up your urethra!!!" He literally said it like 6 times like I hadn't heard the first time.
My Current Mortgage product
| Current Rate | Fixed Rate Term | Monthly Repayment | Product Fee | Current Balance |
| --- | --- | --- | --- | --- |
| 5.7% | Expired | £823 (approx) | N/A | £130,000 |
Why is the deal he offered a load of poppycock?
I didn't have to do any fancy mathematics or deal with any equations beyond my means to workout why the product I was being offered was pointless.
Firstly, I calculated how much I would be paying over the next 2 years for each mortgage.
Current mortgage: £823 x 24 (months) = £19,752
Mortgage on offer: £776 x 24 (months) + (£950 product fee) = £19,574
Assuming interest rates don't change in the next few years, I'll be saving a pathetic £178 over the period of 2 years (even if rates climb a little, I still won't save much at all). What's the fucking point? The product fee killed the appeal, and chewed up the benefits of the 0.6% rate reduction. I think my broker thought he was David Copperfield of the Mortgage world- poor chap was working awfully hard to distract me with smokescreens and misdirection, so I wouldn't take into considering the glaring £950 product fee which had kicked me in the nuts. At least, that's the impression I got. He never included the product fee into any of his calculations, like it was a completely separate entity to the overall deal. Schmuck.
For now, I'd rather stick with my current mortgage and take my chances on interest rates holding for a while. In the meantime, I can easily look for a product that's actually worth remortgaging for.
When are Interest Rates going to change?
Interest Rates are decided by 9 key players that form the Monetary Policy Committee (MPC). Each person votes on whether they want to increase/decrease the rate. It's a standard voting system, the decision with the overall majority is victorious.
The MPC voted 9-0 in favour of holding rates in August. The vote had been locked at 7-2 for two months and was 6-3 before that. But now, ALL 9 MPC members are wanting to hold rates. At the start of August 2011, futures markets were pencilling in early 2013 for the first increase. However, following the massive stock market turbulence and government debt fears, markets suggest the first rise will be in the summer of 2014.
Of course, this isn't set in stone. but the fact that ALL MPC members are voting to hold rates is a pretty good indication that nothing will be shifting any time soon, as far as I'm concerned. On that basis, there's no point in me getting a new mortgage product that will ONLY benefit me if Interest Rates rise soon. Unless the economy dramatically improves overnight, we're in this shizzle for the long haul.
In conclusion, I'd like to end this blog post with the following final thoughts…
Mortgage Product fees are a fucking joke. Don't neglect them and fixate only on the interest rate (so many people do that!!).
2) The mortgage broker I went to see is a joker. If he tries to offer me shit like that again, I'm going to… well, I don't know, and he probably won't be sorry, but I'll be really frustrated. Yeaaaah!
3) Always shop around for a good deal. Don't just talk to one institute or advisor.
4) Take into consideration the economic climate when choosing your product.
Incidentally, I looked on my Building Society's website, and found a picture of my Mortgage Broker…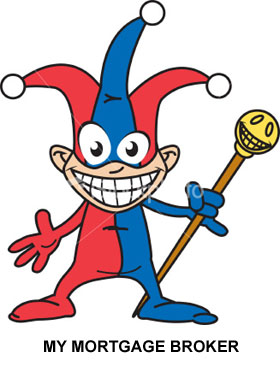 Does anyone else have any mortgage related experiences to share? You know what to do, grab the mic and say your piece by filling in the comment box below :)
Disclaimer: I'm just a landlord blogger; I'm 100% not qualified to give legal or financial advice. I'm a doofus. Any information I share is my unqualified opinion, and should never be construed as professional legal or financial advice. You should definitely get advice from a qualified professional for any legal or financial matters. For more information, please read my full disclaimer.