Foxtons, the London based Estate agent, who are allegedly famous for being relentless and "aggressive" assholes, have been flagged for charging an innocent and unsuspecting landlord £616 to change a light fitting in his BTL. Yes, a flippin' poxy light.
It's also worth noting that these are the same douchebags in trouble for "double charging" landlords and tenants £420 EACH for "drawing up a tenancy agreement."
Seriously, what in the God damn fuck?
Of course, that's just one small example of a widespread problem of landlords being royally ripped off on maintenance fees. It needs to stop. Today!
Quick Quiz: what kind of domestic light fitting in a BTL costs £616?
I have no idea, but it sounds like someone laughed all the way to the bank and then took the rest of the day off and walked into a strip bar with a raging hard-on.
If I was at the receiving end of that invoice I probably would not have been a happy camper.
But the thing is, that price-tag alone for such a run-of-the-mill task shouldn't generate any real significant shock-waves, because most of us are pre-programmed to believe "letting agent" is synonymous with "thieving bastards", am I right?
Many of us already expect agents to be eye-wateringly expensive and total chancers, even though we know they're not all like that. We just expect it either way, much like we do with mechanics, electricians, builders and every other shyster that freely alters their prices based on what they think they can get away with.
It should be highlighted nonetheless, the price-tag in this particular case appears to be complete madness. However, the real issue of concern only becomes truly apparent when the total cost is dismantled and thrown under the microscope.
After a bit of investigating, the landlord, Dr Chris Townley, discovered that the work, which was carried out by a subcontractor, charged Foxtons £412.50 (+ VAT). OUCH!! Granted, that alone is a reason to curl into a ball and hope to never regain consciousness. But why £616? Well, that's the bloody ingenious part.
Foxtons, who are reported to be worth an insane 800 million pounds, deemed it appropriate to hammer on a 33 per cent commission fee on top of the subcontractor's cost, which is what accounts for the additional £137.50!
Yes, that's 33 fucking-per-cent commission, for what most likely consisted of logging a repair in a computer. In-bloody-genius.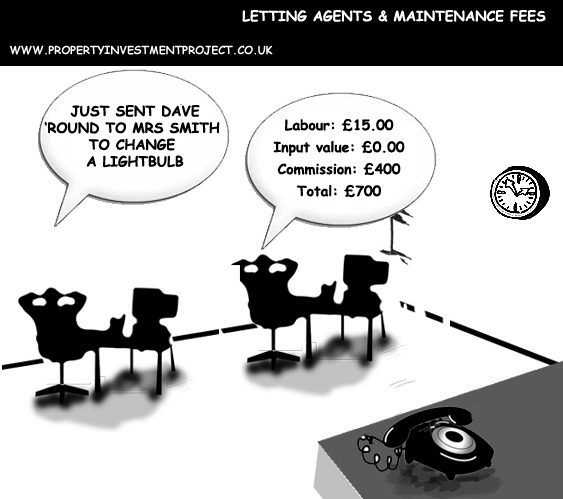 I'm not even sure if having the audacity to apply such heavy-handed levies for a task so fundamentally basic is so insane that it's admirable or gut-wrenching.
In light of all this silliness, there's now a legal battle in the works, which could allegedly cost Foxtons £42 million- that's by the time they compensate everyone that's also been screwed over by their exploitative cash cow. Sadly, £42m is probably a drop in the ocean to them.
You can read the full report over at the Telegraph. But my advice is to stick around 'ere. This is home. I'll take care of you.
Most of my regulars' will already know my blog is riddled with my gripes with letting agents, mostly regarding their bullshit fees and general slime-ball antics. It's not exactly an uncommon trend.

But I don't want to tar every grease-ball agent with the same brush, primarily because many read this blog and they always manage to restore my faith with their sound advice, good humour (i.e. they look beyond my crassness) and respectable code of conduct. That aside, I don't actually dislike agents by nature, I know there's those that genuinely work their asses off to provide a genuinely good service and do their utmost to shake off the stereotypes they've been lumbered with. I adore those agents. I just dislike bad ones, much like I dislike bad landlords, bad tenants, and women that don't 'give it up' on the first date after I've shelled out on a delicious hot meal. I'll respect everyone until they cross a certain line.
However, in the grand scheme of things, good letting agents are far and few between.
When an agent calls you with a repair/maintenance issue…
As much as I refuse to use letting agents to manage my properties for reasons already mentioned, and try my best to encourage other reluctant landlords to manage their own properties when it makes practical sense, there's still always going to be a need for a managed service, because often they make more sense.
So here are my top tips for landlords when managing maintenance and repairs issues when using a managed service (which mostly consists of common sense)…
Understand what you're paying for!
From my experience, using an agent's sub-contractors doesn't return the best value, only convenience. But let's face it, that's exactly what the managed service is all about. But that convenience specific to "managed maintenance" usually comes at an unjustifiable premium rate, which will probably give you an irregular heartbeat and an alarming shortness of breath.

You usually end up paying over the odds and the quality of work is quite often questionable. An agent's interest doesn't lie in finding you the best valued tradesman, their interest usually stretches as far as getting someone through the door to fix the problem and making commission.

Before giving the firm nod for any maintenance work, be a dithering cesspit of confusion; find out who they plan on sending to complete the work and how much it will cost, and then do your own research with due diligence. Don't just blindly agree to repairs, otherwise you're destined to be screwed over. Don't accept "rough estimates" either. Rough estimates don't mean shit, they have a tendency of spiralling out of control in the wrong direction.

Most respectable tradesmen will provide free quotations. Get a confirmed price on paper, along with what you should expect in return. If applicable, enquire about the quality of materials they'll be using, because more often than not they'll just fill holes with absolute junk. That's the problem with using just 'anyone' to do a job.

You're not legally obligated to address all maintenance issues
A landlord has legal responsibilities to ensure certain aspects of the property is repaired and maintained, so that means there are some things that can be ignored, like a public elevator fart.

Section 11 of the Landlord and Tenant Act 1985 stipulates that the landlord must;

keep the structure and exterior of the property in good repair, including drains, gutters and external pipes
keep installations for the supply of water, gas, electricity and sanitation in good repair and proper working order
keep installations for space heating and water heating in good repair and proper working order

Anything that falls out of the above brackets generally doesn't need to be addressed, or at least there's no legal obligation. So for example, if your agent requests for you to repaint the skirting boards because they're looking murky and killing your tenants vibe, understand you don't actually have to do it.

However, it's important to recognise that I'm not telling you to ignore the request, because piffling little jobs like that are often worth doing just to maintain a good relationship with your tenants (who may actually be charming people). I'm merely saying you don't need to comply with the request because there isn't a legal choke-hold.

Don't be a "YES MAN"
This can be really tricky to avoid, I'm even guilty of it sometimes.

When my mechanic tells me my spark-plugs needs changing and it's going to set me back £300, I don't have a clue 1) what purpose spark plugs actually have 2) if they actually do need changing 3) if I'm being given a good price.

On that basis, I'm compelled to say "yes, do it" simply because I'm out of my depth, all I know is that there's something wrong with my car and it needs fixing.

Many confused landlords fall into the same trap, they just take their agent's word because they're the "industry professionals"

I always find taking a step back without making any rash decisions is the best policy. Talk to other people, whether it be other industry specialists, friends, family.. etc. Whoever. Just someone.

Try Googling something. Anything! Throw some related keywords into Google for your specific problem.

Any Seinfeld fans up in 'ere? If so, you're cool as hell in my book. But also, this situation reminds me of a scene where Jerry Seinfeld has a disagreement with his regular and trusted mechanic (his name is Putty), so he goes to an 'unknown' mechanic for a quote. George's response hits the nail on the head…

God damn, I love Seinfeld.

Don't accept any quotes if they sound ridiculous
If the figures being thrown at you seem insanely expensive, then they most likely are.

Don't be scared to reject or question your agent's if their price doesn't seem right. If you need to, take a hit of Vodka and grow a pair. Failing that, get someone deep-voiced and terrifying sounding to be your voice.

Remember, you don't have to use your agent's maintenance contractors just because you're paying for a managed service. I always recommend getting independent quotes for comparison. You'll often be able to find much better deals. Of course, that's not always the case, because I know many agents work closely with local tradesmen, and offer them regular work on the basis that they offer competitive and appealing rates for their landlords.

But fair warning, you may start questioning what use the 'managed service' is while you're having to get your own quotes (which you should ALWAYS do). And if you don't start asking the question, you're probably an idiot.

Agents usually add a commission- find out how much!
Sadly, most (not all) agents add commission on top of all the sub-contracted maintenance work, but it's usually not as steep as 33 per cent. That's a complete joke. Utter madness.

I say "sadly" because adding a commission makes virtually zero sense to me, because arranging repairs should be part of the 'managed service'- surely that's what I'm paying through the nose for already.

If agents believe it's acceptable to charge 10-15% of the rental income, plus the other ludicrous fees, for setting up a direct debit and taking one or two property inspections per year (which largely doesn't even happen), then they're beyond the help of conventional medicine. They most likely have a brain abscess the size of a tennis ball and need immediate specialist treatment.

On that note, it's always a good idea to enquire about maintenance policies before opting for a managed service. Letting agents are notorious for finding shameless ways of making money for doing absolutely nothing- don't fall victim to that scam. *Ahem* Tenancy Renewal Fees. £200 to photocopy a contract, that's got to be the biggest scam on the planet of all time. Oddly, apparently photocopying costs more in London than other regions. Go figure.

If you're given a maintenance quote, ask for a break down, and specifically ask if they're charging a commission. I suspect many landlords don't ask the question, but they should, because the commission fee is very real and dangerous.
That about covers it. For now.
So, landlords, have you ever been charged or quoted a figure by an agent that made you want to top yourself or laugh yourself into a comma? If so, share your story. I'd also be curious if you're an agent, and if you add a commission to maintenance work, and if so, how much cheese we talking 'ere? I won't judge.
Once again, I invite you into the circle of trust…
I love you all! xo
Disclaimer: I'm just a landlord blogger; I'm 100% not qualified to give legal or financial advice. I'm a doofus. Any information I share is my unqualified opinion, and should never be construed as professional legal or financial advice. You should definitely get advice from a qualified professional for any legal or financial matters. For more information, please read my full disclaimer.