I regularly get asked the question: Yo dude, what landlord software do you recommend (to manage accounting features i.e. track rental income and expenses)?
I hate to be the dithering buffoon in the room, but I have to concede to the fact that there isn't one straightforward answer, because it will depend on personal circumstances. However, I can tell you I use Landlord Vision and why (and to be honest, I think my needs will align with most small to medium sized landlords).
Table of contents
There is a massive oversupply of Landlord software
The landlord software market is actually quite hilarious, because the market is grossly oversupplied with solutions, and every founder believes they're offering something new and they're going to "disrupt the market".
They're not!
Every time I get wind of a new landlord software launch – which feels like a weekly occurrence – my gigantic heart sinks and drops out of my tiny butthole, because I'm thinking to myself, "there's more landlord accounting/management software than actual landlords, what are you thinking?!"
Moreover, the problem with start-up companies in general is that no one knows how successful they will be. They don't even know. that's especially a BIG concern for landlord software. Why? Imagine data-feeding an application with accounting information for several months (even worse, a couple of years) and then for the service to get given the death sentence because it's as popular as a fart in a lift on a steaming hot summer day.
The market for all these products isn't big enough, which is why many of them eventually end up in the cemetery, so choosing wisely is recommended. A lesson I learned the hard way.
A perfect solution doesn't exist. And probably never will!
Over the years I've tried and tested several different products, all claiming to be the silver-bullet – the solution all landlords have been clamouring for, whether they realise it or not.
None of them are.
A perfect solution doesn't exist. And probably never will.
Yup, some are better than others, and some are more suitable for individual requirements than others. But ultimately, they all fall-short in some way or another, mostly due to subjective reasons. There will always be a missing feature, or an existing feature that doesn't quite work as expected. A reality I've had to come to peace with.
For years I made do with a simple spreadsheet, and I still believe that will work fine for most landlords with one or two properties. You can do some pretty cool stuff with them if you're an Excel nerd. However, spreadsheets obviously have their limitations, which quickly become apparent as you try and make them more useful.
Why choose Landlord Vision?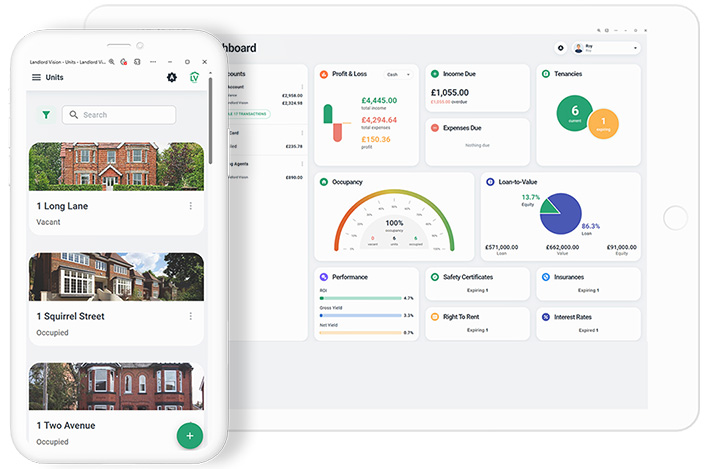 I've been using Landlord Vision for years now. They launched in 2013, and I don't see them going anywhere (as explained, that's important).
they're one of the more popular pieces of kit out of the gazillion to choose from, and they're the only one I currently have an affiliate partnership with. I have hard-passed on 99% of offers from other companies, expressing willingness to cut me off a slice of their marketing budget (and I'm a lot poorer for it, believe you me). Make of that what you will.
I'm not saying there aren't better options out in the wild, there quite possibly are – but who has time or will to test them all? I'm just saying that out of all the ones I've taken for a joyride, it's proven to be the best solution for me. I find their product really easy to use and it fulfils my requirements. Also, I don't really have any meaningful grounds to vouch for other products.
This isn't going to be one big puff-piece on how amazing their software is, but I will say that it comes loaded with features and it doesn't break the bank (at least, not my bank). Here are a few of the features I appreciate (beyond tracking basic incoming and outgoing transactions):
Some of the key features
Accountant access (access for your accountant)
Online storage (e.g. contracts, certificates etc)
*Will be compatible with Making Tax Digital (MT)

Submit quarterly income and expense updates to HMRC
Finalise tax year
Eliminates the need to file Self Assessment tax returns

Bank feeds via open banking & bank reconciliation
Import bank or credit card statements
Statement lines automatically matched with invoices and payments
Data extraction from scanned receipts
… etc
Service plans
They offer 3 service plans (as you'd expect, more features come included with higher tiers):
Starter – Ideal for smaller property investors with simple requirements – £19.97 /month (ex VAT)
Standard – Best for medium sized portfolios and new property investors – £29.97 /month (ex VAT)
Premium – Perfect for larger portfolios, investors and limited companies – £39.97 /month (ex VAT)
Plans currently start from £19.97 per month, but they often run promos with huge discounts (so look out for those – I'll keep this post updated if I come across any or if I'm given any exclusive deals to share). Moreover, they offer a free 14 day trial, no obligations.
Landlord Vision Free 14 day trial
I don't have any exclusive discount codes for them at the moment. However, if they're not running any promos, and you're after a discount code, drop a comment and I'll see if I can blackmail them into handing some over.
(I absolutely hate directly approaching companies before I mention them in an email or blog post – even to grab exclusive discount codes/promos – because they'll attempt to hijack it, by encouraging me to artificially hype up their service in exchange for exclusive discounts.)
*Making Tax Digital (incoming change to the UK tax system)
I actually wasn't going to discuss this in this post, but I was reminded of it when highlighting the key features of Landlord Vision.
So here's a quick reminder, folks:
From 6th April 2026, the Making Tax Digital system will be launched.
As per this blog post on uklandlordtax.co.uk (big shout out to them – no idea who/what they are):
Making Tax Digital (MTD) applies to all landlords, self-employed and partnerships.

There are 2 key requirements for MTD and these are to keep all transaction records digitally and to use a specific software to submit returns to HMRC.

Previously, taxpayers will have had to submit annual tax returns by sending a paper version by post to HMRC directly or electronically via their Government Gateway account. However, with the new MTD system, all transactions will be recorded digitally and quarterly returns must be submitted using specific MTD software which will electronically link bookkeeping records into HMRC's MTD computers.
As per the Gov guidelines:
You need to follow the requirements for Making Tax Digital for Income Tax if you are self-employed or a landlord from:

6 April 2026 if you have an annual business or property income of more than £50,000
April 2027 if you have an annual business or property income of more than £30,000
Making Tax Digital won't apply to most average landlords due to the £30k threshold, but for everyone else it's crucial to file taxes in compliance with the tax system change.
One of the reasons I actually switched from using bog-standard and primitive spreadsheets to Landlord Vision is because of Making Tax Digital (MTD), as they plan on rolling out features to help comply.
If you use an accountant, they should be on top of this (but you should check just to be sure, the Lord knows there's a lot of donkeys and cowboys out there that don't know their arse from their elbow).
For more information, here's the Gov's official overview of Making Tax Digital. Enjoy!
If you've used Landlord Vision or any other landlord software, please feel free to drop a comment and share your thoughts…
Landlord out xoxo
Disclaimer: I'm just a landlord blogger; I'm 100% not qualified to give legal or financial advice. I'm a doofus. Any information I share is my unqualified opinion, and should never be construed as professional legal or financial advice. You should definitely get advice from a qualified professional for any legal or financial matters. For more information, please read my full disclaimer.