The average cost to a home buyer of a property purchase falling through is over £2,500 – source: rhinohomeprotect.com
1 in 3 property purchases fall through! – source: hoa.org.uk
Home Buyers' Insurance Protection just makes complete and beautiful sense, doesn't it?
It's just a crying shame I've only discovered its existence this week! WTF? It's 2023!! Apparently Home Buyers' Insurance Protection has been around for donkeys, so it's not even like I'm only marginally late to the party. I've arrived after everyone has drained the cooking wine cartons and passed out.
What is my life, but a continuous run of missed opportunities? Sigh.
Table of contents
Dear Lord, why have I only just found out about Home Buyers' Insurance Protection?
I've clearly been sleeping under a rock.
I feel both enlightened and foolish. I dare not even tally up how much money the damn thing would have saved me over the years, because then I'd probably feel suicidal, too.
It was only by stroke of luck that I caught a Tweet on X (formerly Twitter) by Henry Pryer (a property expert, often loitering around on TV giving commentary), shilling Home Buyers Protection Insurance.
I had no idea what he was banging on about – probably some sponsored crap, I presumed – but he got me curious. So I looked into it [Home Buyers' Insurance Protection].
I'm sold.
My X feed is so fast-paced that I miss 99% of What's being said. So like I said, stroke of luck!
I'm buying the crap out of Home Buyers' Protection Insurance the next time I'm pursuing the acquisition of a home/property, and if you've also been living under the same stupid rock as me, I can only encourage you to investigate whether picking some up for yourself (when you're in the market next) will be a shrewd decision.
What is Home Buyers' Protection Insurance?
To be fair, Home Buyers Protection Insurance is exactly what it sounds like it is.
It enables home buyers (including landlords) to claim back some of their expenses in the event of a property purchase falling apart through no fault of their own. The expenses include legal fees, survey fees, and mortgage fees etc.
So, for example, suppose you put an offer on a house, and then proceed to instruct a conveyancing solicitor and commission a structural survey. Let's say, you shelled out £2,000 on service fees.
Weeks go by, and then it happens. You get that dreaded phone call from the seller's slease-ball agent, informing you the chain has collapsed, and the property is no longer for sale. It's over!
Life temporarily sucks, but that's when Home Buyers' Protection Insurance kicks in and provides a glimmer of sunshine, because now you're able to make a claim for the expenses.
The key benefits of Home Buyers' Protection Insurance
Here's what a typical Home Buyers' Protection Insurance policy provides:
Conveyancing fees protection up to £1,000
Survey and mortgage valuation fees protection up to £750
Mortgage Broker Fees £500
Gazumping protection if the offer accepted is at least £1000 higher than yours
No excess
365 days Claims Helpline
Policy valid for 180 days
It's important to note that each policy will vary on what it covers and the extent of when and how much you can claim. For example, if your mortgage lender values the property 5% lower than your accepted offer, then you may not be eligible to make a claim for your costs if you pull out from the purchase if the terms of your policy specifies that the property valuation has to be less than 90% of the accepted offer in order to be reimbursed for any expenses.
So needless to say, do your own due diligence and get as much or as little cover as you feel necessary. As you'd expect, the more you pay for your policy the wider coverage and protection you should expect to receive.
Common reasons for purchases falling through (when Home Buyers' Protection Insurance might be used)
If the seller changes their mind and withdraws the property from sale
If you are a victim of Gazumping (this is when someone else makes a higher offer on a house you are already in the process of buying after your offer has already been accepted)
If your mortgage lender's valuation is lower than the accepted offer
If your mortgage lender insists on rectification work
If the property is damaged during the period of cover and it costs more than 10% of the property value to repair
If local authority search finds that the property is subject to a compulsory purchase order
Again, I can't stress enough, as with any insurance, the amount of protection provided will vary by provider and policy.
Is Home Buyers Protection Insurance worth it?
Like I said, I'm sold! I'm buying the crap out of it when the time comes, whether I'm buying a residential property for myself or a BTL investment property.
I've lost money in the past due to sales falling apart through NO fault of my own, and the most frustrating aspect of it (other than losing out on a property itself) is undoubtedly the money I essentially pissed away on conveyancing fees and surveys.
So bearing in mind that the likelihood of a purchase falling through is relatively high and the cost of Home Buyers' Insurance is approx. £80 – £100 (which seems very reasonable), it seems like a no-brainer purchase to me.
During my research I did come across plenty of "thank God I got it" type of comments, which was reassuring. A lot of the experiences pretty much verified what's written on the tin. Here's one I came across on mumsnet.com: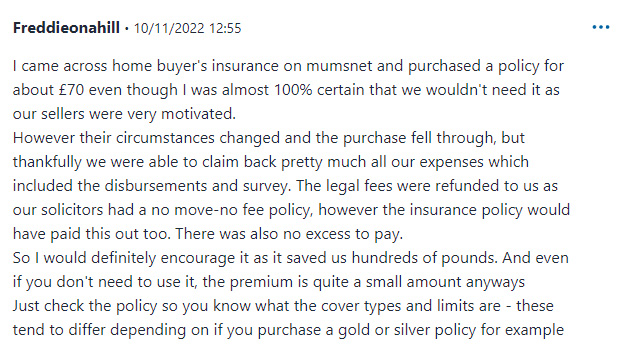 Do you need Home Buyers Protection Insurance?
Absolutely not, which is precisely why I've been stung in the past after deals have fallen through and regret not knowing about this type of insurance sooner. It's entirely optional.
How long does Home Buyers' Insurance cover last for?
It varies by policy, but I've noticed that most policies provider coverage that lasts for 120 – 180 days, and they can start either:
from the day the policy is purchased.
when an offer has been accepted.
In both cases, you will need to renew your policy if you want to continue with the cover after it's expired.
When can I buy Home Buyers' Protection Insurance?
I looked into this detail with great interest, because it stands to reason it needs to be purchased within a certain timeframe.
If you're in the middle of a purchase and it's potentially on the verge of falling through, and now you're thinking it might be smart to get some ol' insurance to cover your back, the odds are it will be too late.
Most policies will only be available between 7 – 14 days after an offer has been accepted on a property (and some insurers may backdate the policy to start from the date your offer was accepted), so that's how quickly you need to move if you want some of this stuff. Almost all providers will deem you ineligible for cover once surveys have been carried out.
Does Home Buyers' Protection Protection Insurance cover BTLs/Rental Properties?
Yup, which adds to my excitement, this being a landlord blog 'n all (well, as much as someone can be excited about insurance).
Home Buyers' Protection Protection Insurance is available for any normal property purchase, which includes BTL properties. But I would double-check that's the case before taking out a specific policy.
So I'll definitely be doing my part to ensure fellow landlords are aware of this little gem.
Have you also been sleeping on Home Buyers' Protection Protection Insurance? Have you purchased it before? Is it a must-have for you? Have you made a claim? Feel free to drop a comment below…
Landlord out xo
Disclaimer: I'm just a landlord blogger; I'm 100% not qualified to give legal or financial advice. I'm a doofus. Any information I share is my unqualified opinion, and should never be construed as professional legal or financial advice. You should definitely get advice from a qualified professional for any legal or financial matters. For more information, please read my full disclaimer.