What is a crossover lease?
A crossover lease is when two people live in the same building, but have their own flat. Essentially, a building with two separate flats. Each homeowner has a lease to the flat they own AND the freehold to the other flat in the building. They are commonly used with maisonettes. Here's a visual: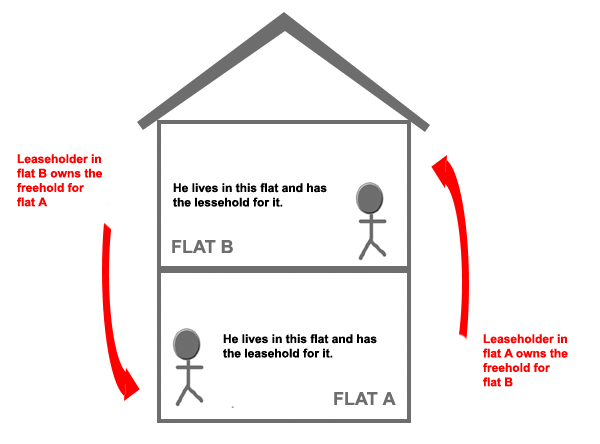 Things to remember about crossover leases
There will always only be two people involved with a crossover lease (unless one person owns both flats), and they are the two owners of each flat in the building. There is no external landlord.
The lease of the one flat and the freehold of the other always stay together and should always both be mortgaged to the lender.
Not all mortgage lenders will give you a loan on a property involved with a crossover lease. If you plan on purchasing, you should arrange a mortgage offer before making any offers.
Crossover leases are common in certain areas of the country but considered a defective title in other areas.
Crossover leases aren't clear-cut to deal with. You should consult with your solicitor to find out all the implications involved with the property.
If the property has a roof, it's important to carefully scrutinise the leases to see if development is allowed in that space and who has right over the space.
If you're a leaseholder, you should check the freeholder's (your neighbour's) lease to see if you need permission to make alterations to your flat and vice versa.
Unfortunately I don't know too much about crossover leases. If anyone else knows more about the subject, please let me know and i'll fill in the gaps.
Disclaimer: I'm just a landlord blogger; I'm 100% not qualified to give legal or financial advice. I'm a doofus. Any information I share is my unqualified opinion, and should never be construed as professional legal or financial advice. You should definitely get advice from a qualified professional for any legal or financial matters. For more information, please read my full disclaimer.