It's becoming increasingly difficult to pick-up a bargain in the property market these days; consequently making it difficult for first-time buyers to get onto the property ladder. Currently, demand exceeds availability, so vendors can afford to overprice their property with the reality of getting a quick sale. However, you can still pick-up a good deal by purchasing an off-plan property, with the advantage of being able to make payments in stages.
What is Off-plan property?
Buying off-plan means agreeing to buy a home while it is still under construction. Buyers hope for a bargain, while the builders reduce risks by selling early – sometimes before a brick has been laid, but usually after building has started and about a year before completion. Buying off-plan is often an appealing option for buyers who want a new, hassle-free home. It also allows the purchaser to put down a 10 percent (usually) deposit initially, whilst the next instalments are staggered. In that period of construction, the value of the investment can grow substantially. Delayed payment responsibilities make off-plan purchases ideal for first time home buyers, giving them time to save and arrange mortgages.
How will I know what the property looks like?
Off-plan properties have already been fully designed; you should get a good idea of what the property will look like by virtual tours of both the interior and exterior, which the sales representative should show you. Along with the virtual tours, most developers have a showroom with accurately built models of the building.
How does buying off-plan property work?
What usually happens is that you put down a deposit, say for example, 10%, and that deposit will secure you the purchase of the property- you will own the contracts to the property that is currently under construction. The best part is, you can usually sell (what is also known as flip) the contracts before completion. The contracts usually gain value closer to the time of completion, so if you buy the contracts early enough, you could make a nice profit before completion.
How does the pricing scheme work?
Just to clarify, off-plan property doesn't escape the stamp-duty fee, however, a lot of developers include it within their fees, and take care of all the tax implications.
Off-plan property is usually priced lower than what the actual property would be worth once built, that's because developers usually want to secure a few sales to try and get their money back, it's kind of like a safety-net. By the time the property is built, due to inflation the property should be worth more than what its market value was when you signed the contracts. Another reason why off-plan properties are cheaper is so property developers can use the off-plan property sale prices as an angle to advertise their property once it's been fully built. For example, take a look at this advert: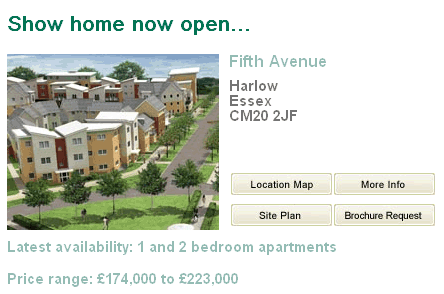 I took this from Barratts website; you've probably seen similar ads pasted all over billboards. If you notice, the ad says the apartments are from £174,000-££2223,000. However, the developers don't sell many at £174,00, they usually sell one or two, so they can "legally" say the price starts at £174,000, creating a much more appealing advertisement. So in conclusion, if you get there quickly, you can usually get a good deal.
However, don't think for one second that you can't buy an overpriced off-plan property. A lot of developers have been milking the industry during the recent boom- they've overvalued their properties because they know people will buy. Consequently, by the time the consumer legally owns the property, because the developer charged so much, the value hasn't increased that much at all. And that could be after a long year of waiting.
The positives and negatives of off-plan property
Positives
1) If you buy off-plan when at the drawing board stage or initial stage of build then you have the potential to make considerable input into the internal layout and finish of your chosen property.
2) When buying a off plan today you are securing the price of that property at today's prices. By the time the property is completed it may very well have risen in value, consequently making you a significant return on your investment immediately.
3) Developers usually require stage payments from their buyers throughout the build process. This means that you don't have to make a large one off payment, you can save to afford each payment.
4) Some investors take full advantage of the stage payments method of funding the build and never make the final payment which is usually the largest; rather they put the property back onto the market just as it is about to be completed and take out all the profit from the natural increase in value the property has achieved throughout the period it took to build it. Obviously, there are risks involved as the market may not sway the right way.
Negatives
1) When buying a property from a developer off plan you are always uncertain what the quality of the final product will be.
2) How secure will your investment be? You need to ensure you have a watertight contract drawn up and employ independent legal representation to protect your rights and money throughout the build process.
3) If you're buying into an area where there is a massive amount of development going on, it will be very difficult to know what the area is going to look like when finished. Your particular developer may finish their properties, roads and shared areas off well, but what if nearby developers fail to do? Don't assume everyone will look perfect after development.
4) If you plan on moving into the off-plan property, you may have to wait a long time before you can move in. You will be paying out for something for a long time before you actually benefit from it. Delays are common with off plan.
5) You will have no idea who your neighbours will be. In already populated areas, you can at least see if your neighbours keep their property looking presentable. That alone can give you a good idea of what your neighbours will be like.
Disclaimer: I'm just a landlord blogger; I'm 100% not qualified to give legal or financial advice. I'm a doofus. Any information I share is my unqualified opinion, and should never be construed as professional legal or financial advice. You should definitely get advice from a qualified professional for any legal or financial matters. For more information, please read my full disclaimer.