Smart locks are the latest craze in the world of Airbnb – it's a handy piece of tech landlords are calling a "must have"!
It's not often I get things wonderfully right the first (and second) time round – in fact, that's the understatement of the century – but I think I may have made a breakthrough with the Airbnb Smart Locks I've researched and trialled, because I've yet to be disappointed with my choices:
Schlage Encode Plus Smart WiFi Deadbolt (BE489WB) – my current smart lock of choice (and the one I'm going to discuss in depth).
Yale Assure Smart Lock – the first smart lock I tried and recommended, but it's now been discontinued, so I won't be recommending it anymore. Plus, I personally think it's inferior to the Schlage smart lock. But nonetheless, it's still a fine choice for a lower budget option and if you can find it.
Sure, there are quite possibly better devices out in the wild, offering all the advantages that smart locks provide when managing Airbnb/Short-term rentals, but I certainly couldn't find any better when I was window shopping, and I'm absolutely fine with the choices I have made.
Ultimately, I believe I've found the best Airbnb smart lock out of a surprisingly imperfect bunch (and I'll explain why).
Before I started putting ink to paper, I couldn't stop myself from having a quick snoop around Google to see what other reviewers/publishers were recommending as their preferred Airbnb Smart Lock.
While I did find both my top picks in a few articles, I also saw many other options. In fact, it was an uninspiring minefield of options, because it felt like I wasn't being provided with genuine recommendations from real users, but more so a generic list of smart locks which were all ranking highly in Amazon under the Smart Lock category. Sloppy journalism, at best.
Nope, I haven't tried several Smart Locks, I've only tried two, and one of them is now discontinued. So that's why I'm only going to recommend one. No more, no less.
My ideal Airbnb front door smart lock
After having crashed down the rabbit hole and emerged myself in the smart lock world, I quickly realised there isn't a perfect solution. At least, I couldn't find one that ticked all my boxes. That was both surprising and frustrating, because I didn't feel like I was asking for much. Consequently, I found myself humming and hawing between smart locks, unsure of which feature I was willing to sacrifice for the greater good, because apparently I couldn't have it all.
I couldn't find a smart lock which fulfilled all of the following:
Good security
Manufactured by a reputable brand
Heavy duty / Durable product
Waterproof (not just water resistant)
Physical key override
Pushable buttons (not touchscreen)
Mobile app access so it's possible to remotely open/lock the door and change the pin
Doesn't require a third party smart home hub/system (e.g. Alexa) in order to access remotely.
Reasonably priced
Positive reviews
I know that may seem like a lengthy list, but aren't they obvious features – am I really asking for too much from a smart lock? No, apparently not all that obvious, and yes, I am asking for too much.
Why the "Schlage Encode Plus Smart WiFi Deadbolt" is my #1 choice for an Airbnb smart lock
After much deliberation and tireless research, I ended up here. The Schlage Encode Plus Smart WiFi Deadbolt…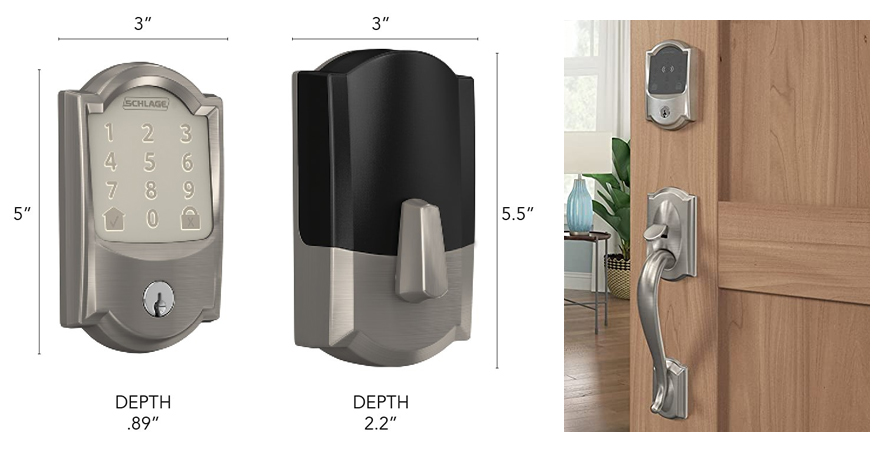 (available in two different colour options and two different trims)
This smart lock has plenty of features – more than I'll ever make use of or even care for – so I'm just going to highlight the ones that matter to me, and the ones that I think are objectively most useful for Airbnbs/holiday rentals (many of which I already listed in my feature wish list).
Reputable brand – GUILTY! Before I fell down the rabbit hole, I didn't realise that Schlage is a well-known premium brand that is trusted internationally because of its high-grade durable door locks, until I fell down this rabbit hole.

Want to make an uppity locksmith scoff in disgust? Ask them if Schlage is a good brand.

Heavy duty / Durable – once you start examining the vast amount of smart locks available on the market, you might come to the same conclusion as I did, especially when browsing through the lower tier options: most of them look like cheap flimsy toys, designed to crumble after reasonable use. Needless to say, not exactly an ideal product for a product designed to harden security.

Schlage locks in general look solid, and as mentioned, they have a reputation for producing high-grade locks. The Schlage Encode Plus Smart WiFi Deadbolt is made from a durable nickel.

Door handle not included – I know what you're thinking, how is this a positive?

For four reasons:

A handle is not required for the smart lock to function (even though I prefer to have one).
Since the handle is completely separate from the smart lock, it makes it cost-effective if it ever needs replacing – door handles stick out and rotate, so they're naturally prone to damage.
It allows the flexibility of getting a door handle with an extra lock/bolt, enabling hardened security during long vacant periods.
Circling back to the issue of durability, or the lack thereof to be more precise; most handles on smart locks are brittle, so this provides the opportunity to install a high-grade option.

Built-in WiFi – I noticed that very few smart locks have built-in WiFi capabilities, which means they require third party smart hubs (e.g. Alexa, Google Home etc.) to get WiFi connectivity.

The Schlage Encode Plus Smart WiFi Deadbolt has WiFi built-in, so no additional accessories are required.

Keyless access – no keys or fobs required, just a code to enter into the keypad! Presumably, this feature is why so many Airbnb landlords are switching to smart locks, so they don't have to deal with the excruciatingly painful dilemma of guests losing keys.
Positive reviews – there are plenty of positive reviews on Amazon.com (American version of Amazon, the UK version doesn't have as many reviews), over 11,000!
Physical key override – I found it astounding how few smart locks provide a physical key override, because to me, that seems incredibly important. Actually, I'd say critical.

If an electrical malfunction/failure occurs, I want peace of mind knowing that my guests will still be able to access the property without too much hassle. I can't even imagine why anyone would go without that fail safe!

The Schlage smart lock is one of the very few smart locks that I came across which features a physical key override and it was one of the primary reasons I snapped it up.

Accessible remotely via app – remote access is another feature I rated as critical, because it allows me to create and delete access codes for new guests from any location.

The Schlage smart lock can be paired with the Schlage Home app to fully manage the smart lock.

Note that not all "smart locks" are accessible remotely, particularly the ones that only connect via Bluetooth.
For more details about the product and its rich feature list, here's a link to the smart lock on Amazon and the manufacturer's website.
The trade-offs (for picking the Schlage Encode Plus Smart WiFi Deadbolt lock)…
As said, as far as I'm aware, there's a gap in the market that is itching to be filled by a perfect smart lock. In the meantime, sacrifices were begrudgingly made…
Price – nope, this wasn't the cheapest option. In fact, it was one of the most expensive options I came across. I purchased it for £380'ish from Amazon (possibly available for less during sales, or more if demand outstrips supply).

Yes, I know, I know. Ouch!

As alluded to already, you really do have to pay for quality in this smart world, otherwise you'll likely end up with a flimsy toy that isn't fit for purpose. The barrage of cheaper ones I came across were also short on key features.

I purchased the Yale Assure Smart Lock for around £200 (also off of Amazon), and there was a notable difference in quality when I jumped to the higher tier.

So I kept reminding myself of the old age saying, before paying through the nose for this contraption: "buy cheap, buy twice"

Also worth remembering, that the Schlage smart locks come with a built-in WiFi, meaning there's no need to splash out on a smart hub to get connectivity. That lessens the pain, slightly.

Pushable buttons – I really wanted raised mechanical push buttons, as opposed to touchscreen, because I felt they would be more reliable and resilient.

I only found a few smart locks that came with push button keypads, but none of them were truly "smart", because they didn't allow for remote access. Odd.

Waterproof – 99% of smart locks I came across are not fully waterproof, but rather "water-resistant", and recommended for doors that have some shelter. I guess that somewhat makes sense due to the electrical aspects of smart locks. However, not really, because we're in 2022, and smartphones are fully waterproof these days. Anyways…

Schlage's website says the following on the matter:

When it comes to holding up to the weather, Schlage Connect Smart Deadbolt and Schlage Sense Smart Deadbolt, as well as Schlage Touch Keyless Touchscreen Deadbolt and Schlage Keypad Deadbolt, are designed to exceed, and have been validated to function, beyond industry certification requirements.

We do not recommend our smart locks be used on outdoor gates or on doors in which the lock's interior housing is completely exposed to the elements. However, we consistently work to bring you quality products so that you know you're getting the convenient features and peace of mind, no matter what elements your house faces.

our electronic lock's exterior components, which are often exposed to the harshest elements, are tested against:

Extreme temperatures, including icing or freezing conditions (as low as approximately -22 degrees Fahrenheit depending on the lock) and high heat (up to 150 degrees Fahrenheit)
High humidity and condensing humidity
Rain
Coastal environment conditions

To be fair, that seems far more reassuring than a lot of the other smart locks I came across. My guess is, Schlage are reluctant to say their lock is fully waterproof just to cover their own backs.

Requires 2.4GHz Wi-Fi connectivity – admittedly, this wasn't an issue for me, but it did get up someone else's nose, who ended up leaving a 2 star review on Amazon.

This lock will only work with a 2.4GHz Wi-Fi network, so if you have a 5GHz network, you'll need to change WiFi bands to get the smart lock working. I believe most Wifi networks are 2.4GHz, and if not, there are plenty of tutorials explaining how to make the switch (it seems simple enough).

According to this article, "In general, the difference between 2.4GHz and 5GHz boils down to wireless range vs. speed. If you want better range, use 2.4 GHz. If you need higher performance or speed, use the 5GHz band."

Since this is for an Airbnb setting, my presumption is that using 2.4 GHz WiFi isn't the end of the world. Or maybe it is, in which case, this smart lock is not for you I'm afraid.

Only comes with one physical key – honestly, this didn't irritate me in the slightest, but I'm going to mention it anyways, because you might be more sensitive than I am.

Schlage provides only one physical key, so if you want more, you'll need to use a key-cutting service.
In conclusion, the most important features for me, when considering an Airbnb smart lock, are durability, remote access and a physical key override, and the Schlage Encode Plus Smart WiFi Deadbolt provided those. The other features… I'll live without. Not that I have any other choice.
The Schlage Encode Plus WiFi Deadbolt Smart Lock performance so far…
I've only been using it for a couple of weeks now, so by no means is this a credible review praising the lock's durability. However, I can confirm, so far so good. I've got no complaints. In fact, it's been brilliant.
Easy to fit/setup – granted, my handyman installed the smart lock for me, but he assured me it was relatively easy. I quote, "even a donkey like you could have fitted it"

Okay, great, thank you.

Make of that what you will.

If anyone is interested in a video demonstrating basic installation and setup, here you go:

It works – I've not had any complaints from guests or cleaners so far; everyone has been able to access the property without any issues.
Schlage Home app – it does everything I need it to do, including:

Allows me to lock/unlock the door remotely
Allows me to easily create and destroy pin codes
Allows me to setup multiple different pin codes
Live activity log/notifications
Low battery warning (although, I can't say for certain, because my batteries are still going strong)
Hope my feedback has been useful. Which smart lock did you go for and what were your requirements?
Disclaimer: I'm just a landlord blogger; I'm 100% not qualified to give legal or financial advice. I'm a doofus. Any information I share is my unqualified opinion, and should never be construed as professional legal or financial advice. You should definitely get advice from a qualified professional for any legal or financial matters. For more information, please read my full disclaimer.