Lettingaproperty.com Discount Code
Lettingaproperty.com are currently offering our readers deals on the following packages:
Bronze Package
£10 DISCOUNT for their most popular bronze package. The normal price is £99 (VAT included), but you can get it for £89 (VAT included).
I recently used the website lettingaproperty.com to advertise a vacant BTL property to find tenants. Letting A Property is one of those websites that will take your property details and market it across the UK's biggest property portals like Rightmove, FindAProperty, Primelocation, Property Finder etc. If you want to get massive exposure to your vacant BTL, those are the websites you want your property advertised on- there is no substitute.
The problem with those property portals is that they don't deal directly with private landlords, they only deal with letting agents. An individual landlord won't be able to go onto one of those portals and market their property directly. Fortunately, such things as "online letting agents" (e.g. lettingaproperty.com) exist, and they act as a gateway, allowing landlords to upload their property onto those portals.
What these "gateway" sites allow you to do is upload your property onto their own site, and then they will export your vacant property details, along with hundreds of others they are currently marketing, onto the bigger portals.
Most high street agents use websites like Rightmove and Findaproperty to market their properties, and a lot of the times, that's how they generate their leads. So actually, by using one of these "gateway" websites, you're harnessing one the strongest marketing tools a high street agent uses. It's no secret.
Most of the gateway websites charge an average fee of £50-£60 (fixed rate) to distribute your property onto the bigger sites, which is still extremely cost effective in comparison to using an agent. Agents typically take a percentage of the rent achieved for a "tenant find" service, and they usually end up charging hundreds (top-end of the hundreds).
There are several websites that offer similar services, each with their unique list of features. I've already tried a few of them. Here's a full list of websites that allow Landlords To Advertise Rentals On Rightmove And Other Property Portals. If you're a landlord and don't mind taking the viewings yourself, I would definitely recommend using this alternative, as opposed to a high-street agent.
My thoughts and experience with LettingAProperty.com
I agreed to give lettingaproperty.com a complimentary spin on the basis that I was allowed to give a full review to my readers, even if that entails pulling their website apart and dragging their good name through a sweltering pitt of diarrhea. The Director, Jonathan Daines, was more than happy to agree to those terms because he's always trying to better the service. Based on customer feedback, he's already made several changes this month. I like that.
I previously used Upad's Find A Tenant Service and wrote a similar review of My experiences with Upad's Tenant Find Service. I remember how impressed I was with their setup, so I was intrigued to see how Letting A Property would compare. On a side note, I've heard from the grapevine that Upad are currently in the process of overhauling their entire website, and it's one to watch out for. Interesting.
Cool. Game on, so let's go…
Did I find tenants with their service?
Yes, I certainly did. I found suitable candidates with in 2 weeks of the advert going live. Not bad going.
How many enquiries did I receive?
I received 17 enquiries in exactly 1 month. I think that's pretty good. I certainly received a healthy amount of interest.
Granted, a few of the applicants weren't suited, but that's going to happen regardless. For example, a few of the applicants couldn't move in for another month or so, and that was way too long for me. I didn't want the property vacant for longer than 2 weeks. However, this is all subjective and has no reflection on the service Letting A Property provided.
Pricing Overview
Letting A Property offer 3 different packages.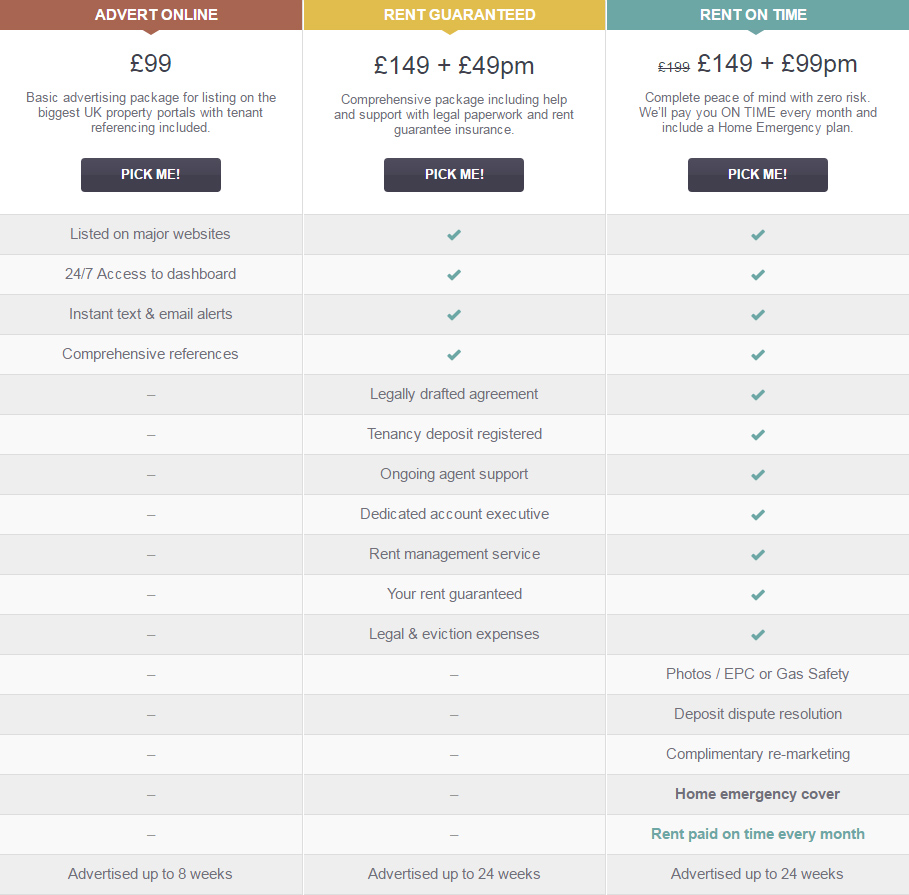 I personally tried the Bronze package, which was more than suitable for the level of service I required. All I really cared about was getting my vacant property on Rightmove, and in my opinion, that should be the biggest priority for all landlords when looking for tenants, and here's a list of reasons why. If anyone else is interested in the Bronze package, Lettingaproperty.com are currently offering our readers a special £10 DISCOUNT CODE which can be used to purchase their most popular bronze package. The normal price is £99 (VAT included), but you can get it for £89 (VAT included).
For you landlords that want a little more, beyond the basic tenant-find services, your eyes maybe prying over the premium Gold and Platinum packages available- and I wouldn't blame you if that's the case. They look like excellent packages (and I'm not just saying that), which take a lot of the heavy-lifting and stress away from landlords that want extra insurances in place. I personally highly recommend Rent Guarantee Insurance – which in a nutshell, is a policy that guarantees rent (e.g. if your tenant falls in arrears, the insurance policy will cover the costs) and any legal expenses which may occur (e.g. the cost of eviction) – very useful stuff.
I guess it boils down to how much of a service you require. Personally, I think most landlords should have a lot the policies in place which come with the premium packages. You can go directly to suppliers (e.g. British Gas for the home emergency cover) and arrange everything yourself. But what I like about LettingAProperty is that they give you the whole lot through one package, and at a very reasonable rate.
What I liked about Letting A Property
It works
Obviously, the service worked. After loading my property onto the Letting A Property website, my advert was exported to hundreds of property portals with in 24 hours. I received plenty of enquiries, and I found suitable tenants.
Free tenant referencing
They offer a FREE tenant referencing service. Basically, you can instruct them to reference your prospective tenant. They will contact their employer, current landlord and carry out a 6 year credit check. There is no charge to the Landlord for this service.
Enquiry notification
Every time an enquiry came through, I got an email and a text message. I liked that.
The information provided in the enquiry emails were quite useful. They included:

Tenants name
Tenants Contact Number
Tenants Email Address
Tenants Employment status
Details of whether they have pets
When the tenant is looking to move
Preferred viewing time for tenant
Best time to call tenant

I thought that was all pretty useful because in some cases there was enough information to tell me whether the applicant was suitable or not, even before contacting them and/or giving them the opportunity to view the property. Avoids a lot of time-wasting.

Customer Service
I had a personal customer service rep that was always informative and contactable (this makes a big difference). Oh, BIG shout out to my rep, Thomas. He was always friendly and useful! He actually contacted me on a regular basis, I didn't have to contact him. That was cool shit.
Enquiry handling
Another feature I liked about Letting A Property is that they handle all the calls from a call centre, and then send the applicants details to the landlord in an email. That way I knew the tenants credentials beforehand, and it allowed me to contact them in my own time. Other services I've used attach a unique 0845 number to the adverts that got redirected to my mobile, which meant I had received and handled all the calls. That also meant I had no information on the prospective tenant calling. Personally, I prefer the email method. Obviously, some landlords may prefer getting the calls direct. So this is more of a personal preference of mine, as opposed to a "positive". Going forward, maybe the landlord should have the choice of how they want to receive their leads. That would be a neat feature.
24 hour Appointment line
This is pretty self-explanatory, but it's a good feature. Prospective tenants can make appointments during any time. This also continues from my previous point, landlords won't receive calls at ungodly or inappropriate times, because they'll always go to the call centre.
What I disliked about Letting A Property
Ahh this is slightly irritating. While I was playing around with their system, I wrote down a list of faults (there were quite a few), or at least aspects which I didn't like. But now, when I log back into their system, I see they have had a revamp and improved the interface and user ability by 10-fold. They actually fixed a lot of the problems I had highlighted in my notes. Good for them, but kind of disappointing because now I have only a few negative things to say. Shame.
List of bugs
I assume I experienced a bug (it may have been resolved with the revamp) when I loaded my property details onto their system. For some bizarre reason their admin control panel was showing that I had loaded the same property twice (when I didn't). I then deleted one of the entries thinking it would resolve the problem, but for some reason, that deleted both of the listings. I was mega confused. I couldn't fathom what was going on. But on the plus side, their system picked up that I was struggling to load the property because during the battle, my customer service rep called me and asked if I needed assistance! He then did something at his end and listed the property for me, so I didn't have to enter the details all over again.
"Unknown number"
Where are my fellow players that HATE answering "Unknown number" calls? Raise your hands up in 'ere!!! I'm genuinely scared when I see "Unknown number" flash up on my mobile screen, consequently I rarely answer them. No one in the history of time has ever called from a withheld number carrying good news.

On several occasions, my customer service rep tried contacting me from a withheld number, so I ended up missing a lot of the calls. I just think it's slightly unprofessional to withhold a number. I like knowing who is calling me. Maybe that's just my personal gripe though. Either way, it was one of the most irritating features about the service.

"Pause" functionality
Like so many other of these websites I've reviewed, they lack a "pause" button (unless I completely missed it- in that case, they should make it more obvious).

A pause button would be useful in an event of a deal collapsing. For example, I may have found a tenant, so I may want to stop the advert to prevent further enquiries coming through. However, for many reasons, deals don't always work out because the tenant/landlord may change their mind. So the landlord may need to try and find a tenant again. Currently, you can't pause an advert, all you can do is completely terminate an advert. If a deal collapses after terminating an advert, I would have to pay another fee to get the same property listed again. Just seems unfair and a waste of money to have to do that. These should be a pause/unpause feature so you can relist the same property. Obviously certain restrictions would need to apply, so landlords don't start taking the piss by trying to scam the system, but that's easy enough to implement.

The price
Actually, saying I dislike the price is a bit harsh and inaccurate. I don't dislike it at all. The service is definitely worth the price, and you can see where the money is spent. However, there are cheaper alternatives which allow landlords to advertise on Rightmove and the alike. Granted, the cheaper alternatives probably don't provide the extra trimmings like a 24/7 appointment booking service or tenant referencing. But I know from experience they DO work.
Would I pay to use Letting A Property?
Yes. For sure.
As stated, I initially struggled to load the property onto their system. However, the fact they picked up the problem and contacted me for assistance was impressive. Secondly, the overall service I received after I loaded the property more than compensated for the initial hickup. Moreover, as stated, that particular bug I experienced may have been squashed during the recent revamp.
Letting A Property's slogan actually states that they're "The UK's No1 Online Letting Agents" – would I agree with that? I honestly can't answer that, but they're pretty damn good.
Thanks to Letting A Property
I'd like to give a big thank you to Letting A Property for giving me the opportunity to try out their service. I'd especially like to thank the Managing Director, Jonathan Daines, and my customer service rep, Thomas Foley, for all his assistance. We had a good thing going on.
The best way to find tenants
I would recommend EVERY landlord to use a combination of the FREE landlord marketing services I've previously mentioned and Websites That Allow Landlords To Advertise Rentals On Rightmove And Other Property Portals (there are cheaper, but not necessarily better alternatives to Letting A Property), to find tenants.
Has anyone used Letting A Property or any other similar service?
If anyone has used any other service like Letting A Property, or even Letting A Property itself, please tell me how it worked for you. Additionally, if you have any suggestions on how to improve Letting A Property's service, or these types of services in general, I encourage you to speak up!
By the way, does anyone plan on using a website like Letting A Property in the future?
Disclaimer
I'd just to clarify, just because Letting A Property worked for me by generating enquiries, it doesn't mean it will work for everyone!!
If anyone has any questions about Letting A Property or any of other websites that offer the service, fire away!