From what I'm aware of, the big players in the property portal game are:
I think most people are familiar with Rightmove as it's advertised heavily on the radio and TV. The average Jo may also be aware of Find A Property as it's well branded. But my question is, which one actually gets the most traffic? According to Alexa, a well-known traffic comparison website, these are the results…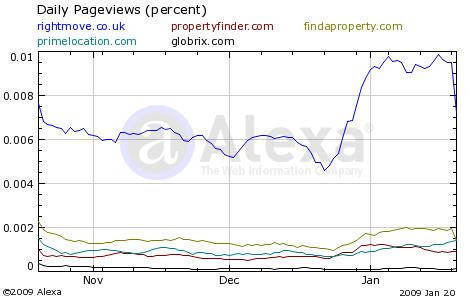 Just to clarify, the graph is showing "page views" and not unique visitors. What's the difference? If I view 10 houses on Rightmove, that would be 10 page views. However, i'd be one unique visitor.
No real surprises that Rightmove is on top, but I had no idea it would be by such a significant margin. Find A Property is second, which is expected. However, I didn't expect it to be so marginally close against the other portals. Perhaps people don't like the functionality on Find A Property, and that's why it's so far down amongst the other portals.
Coming in last is Globrix (that's the thin grey line trickling in at the bottom, which is barely visible), but I don't think that's a surprise, as I'm sure it's the least known.
So, how is this relevant?
If you're trying to shift a house through an estate agent, it might be a good idea to make sure they're advertising with Rightmove or a collective bundle of the less popular portals. From what i'm aware, Rightmove is more expensive than the others, so while a lot of agents are tightening their marketing budgets, they may be opting for the less costly alternatives.
Either way, make sure your agent has online presence, because it's a HUGE advantage!