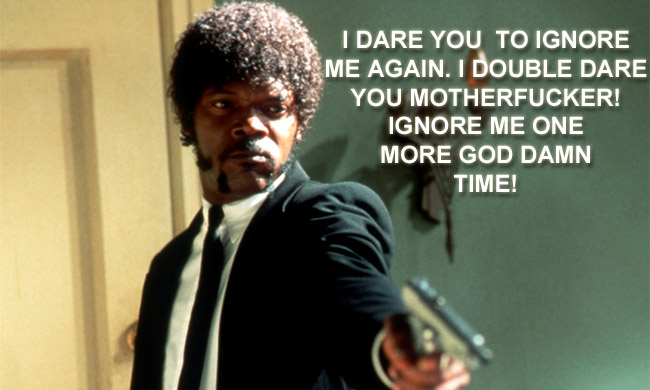 My tenant is slowly starting to grind away at my patience. I'm not entirely sure if he enjoys fucking with me, or whether he has a legitimate phobia with responding to any of my attempts of communication in a reasonable time frame. Either way, his lack of common courtesy is getting right on my tits.
My idea of a reasonable response period is 48 hours. For example, if I send a text message to my tenant, I expect a response with in 48 hours. Anything beyond that is deemed as inappropriate, rude and extremely irritating. 48 hours is actually a generous time frame, even that seems too generous to me.
It shouldn't take more than 48 hours for a regular human with a regular functioning brain and regular functioning fingers to respond to a text message, right? Last I checked, he ticked those boxes, although I didn't initially realise he also ticked the "I can be a frustrating little cu*t" box.
Responding to a text message or phone call takes literally seconds, right? Either of those actions can even be done while taking a dump, so it's not like any precious time has to be lost (if that's a concern).
Even if I'm busy beyond belief, I still manage to respond to people pretty quickly (because it doesn't take long). Granted, some times I may genuinely forget to respond, others may too, and that's perfectly fine. However, this particular tenant ALWAYS ignores my initial attempts of communication, and that's no coincidence. I literally ALWAYS have to send him multiple text messages and phone calls before he responds. It literally takes him a minimum of 7 days to respond. It's beyond boring and irritating.
When the slimy cockroach does eventually surface and respond, I'm greeted with a lame excuse that I could have done without hearing (e.g. I left my phone up my dad's arse over the weekend), because my urge for wanting to hack his penis off with a rusty blade is only heightened.
I swear he just gets a kick out of me chasing him. It's almost as if he wants me to "earn" his attention. Fucking rude moron. JUST REPLY LIKE A NORMAL PERSON! Know what I mean?
I'm not sure if he thinks the game of cat and mouse is cute or what, but he should realise that I'm not his bitch, and this game is far from cute. In fact, it's repulsive, like the first evacuation of excrement after 2 weeks of constipation.
Don't get me wrong, he's generally a good tenant; he pays his rent every month, even though it's consistently late. But that's actually why I have to contact him EVERY month, to remind him to pay. He actually acts like a child in that sense.
The reason I'm ranting about this now is because I text my tenant 2 days ago and he hasn't responded yet. I'm now about to embark on what he has made into a routine journey, which consists of me chasing his dumb arse with more text messages and missed phone calls (he never picks up). I have no doubt that he'll eventually respond with a shitty excuse, followed by his plans to pay the due rent.
I'm grateful he pays rent; I understand the situation could be a lot worse because he could just ignore me altogether. I also appreciate that in the grand scheme of things, the situation isn't all that bad. Nonetheless, it's still fucking irritating. If anything, his attitude is just plain rude and unnecessary.
Time-waster.
Rude prick.
Idiot.
Fucker.
Back in the day, I would have made a comment about his mum, too. However, I'm mature now.
Have you been in a similar situation?
I'm pretty sure this is a pretty common issue for both landlord and tenant, because I hear about it all the time. Obviously it's not just tenants that like to play the delaying game; landlords are also known for that kind of practice, especially when something needs repairing and money needs to be spent.
What's your story? Please share…
What should you do if your tenant doesn't respond to your attempts of communication?
These are my rough guidelines and tips…
Firstly, try to contact your tenant with phone calls and/or text message. Try to be a little patient, and don't go overboard with the texts/phone calls. Apparently there's a fine line between trying to get someone's attention and harassment.
If the above fails, write a letter. Make sure it is sent using recorded delivery so that you can track it's progress and confirm it has been delivered. Always keep copies of the letters for your own records.
If there is no response with in 14 days, try writing another letter. Again, keep copies and send it recorded delivery.
DO NOT attempt to enter the property on your own will unless it is an emergency e.g. health and safety issue (it is best to seek professional advice on what constitutes as an "emergency").
If you're still not getting any response, seek professional advice. The best place to start is Citizens Advice
From what I'm told, the court will look for evidence that demonstrates that the landlord tried his/her best to contact the tenant. So it's important to keep logs of all communication attempts e.g. letters, phone calls, text messages.