Just a quick answer to an ever increasingly asked question: can tenants legally change the door locks? In short, yes.
The tenant does not have to give the landlord a key, but s/he must continue to allow the landlord reasonable access to carry out repairs. In the event that the tenant does unreasonably withhold access, the landlord can apply to the county court for an injunction.
If the tenant does change the locks they should preserve the fixtures and fittings. Any damages caused by the tenant maybe recoverable from the security deposit.
I actually once had a tenant that changed the front door locks. This was the outcome of her handy D.I.Y work: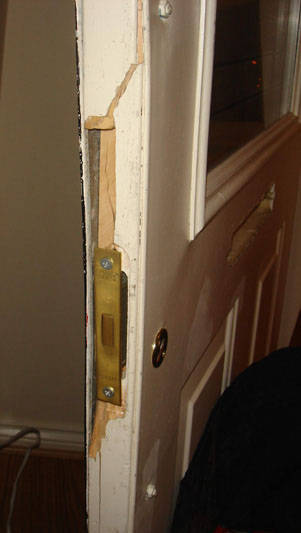 Crazy shit, right? The door was completely trashed. To her displeasure, I ended up using her security deposit to replace the door. You can read more about that dramatic saga here: I've Fallen Out With My Ex-Tenant Over Her Security Deposit.
Also, just a reminder…
It is the tenant's right not to be disturbed or harassed while living in the property. Landlords are not entitled to enter the tenant's living area without written permission as they have the right to use the property as their home. However, as mentioned, the landlord has the right to 'reasonable' access to carry out repairs for which s/he is responsible, but s/he should always ask for the tenant's permission, and should give at least 24 hours' notice (s11(6) Landlord and Tenant Act 1985)
More details here: Landlord's Right Of Entry