I received an email earlier that virtually got my blood boiling. While reading the email I started to grit my teeth and develop mental images of certain snakes in cheap suits being stoned…
I have a property currently let by a local agent over 2 months ago. As far as I am aware the tenant is paying the rent yet the agency has not passed any money on to me.

I have contacted them regularly over the past 10 weeks and constantly get fobbed off by junior members of staff with promises of call back's and despite leaving multiple messages, I have still not herd back from anyone as to why I have not been paid. i am now at the end of my tether and i am wondering what recourse I have against the agency. Is this something you have come across?

Many thanks,
10 weeks and no payment and no callbacks? Excuse me? What? Some people need to be kicked in the throat Jackie Chan style.
I can't imagine how frustrated the landlord must be; I know if I was in that situation I would be livid. I'm actually surprised the landlord has been so cavalier about the situation. I would have been banging on the agent's door with a blunt spoon when payment overdue by 2 weeks. The blunt spoon being my weapon of choice to pierce their hearts. My gut feeling tells me that they're holding back payment because they're in a really bad financial situation. Of course, that's just speculation. But I honestly can't think of any other logical explanation. Either way, not-fucking-acceptable.
If I were in that situation, what would I do?
I'd get in contact with the tenant to confirm he/she has been making regular payments.
I'd forget the phone calls to the agency; I wouldn't waste my time. Estate/letting agents aren't good with communication if they've already got their commission on a deal. The only thing a phone would be useful for in this situation is to beat down the agent's door, and then their heads. I would literally go banging on the door, demanding to talk to the manager. I would ask why my payments have been ridiculously delayed, why no ones called back after leaving several messages, why they are such unprofessional cock-faces, and then I would demand for my money on a silver platter.
I would terminate my contract with them immediately. They haven't stuck to their end of the bargain, so why should I?
I would talk directly to the tenant and explain the situation, and then advise them to pay directly to me from now on, and direct all property managment concerns to me as I would be taking over the show. I would be saving a load of money, and plus they'll be no more shit from the middle-man.
I'd check if the agency was part of the OEA (Ombudmans of Estate Agents). If they are, I would make an official complaint. On a side note, I would never deal with an agent that isn't regulated by the OEA. The sad truth is that there is no real legislation; a consumer has more rights when buying a tin of baked beans than when buying a house. It's extremely difficult to gain compensation unless they are part of a moderated organization like the OEA.

Here's relevant snippets of the "Code of Practice for Letting Agents" from the OEA guidebook:

9. Rent Collection – Clients and Tenants
9a You must use reasonable endeavours to obtain prompt rental payments from tenants in line with their tenancy agreement.
9b You must have procedures in place to notify both client and tenant (and guarantor if relevant) in a timely manner, of rent that has become appreciably overdue – and take suitable steps to notify rental warranty
insurers (if appropriate) as necessary.
9c You should provide a tenant, upon request, with a statement or schedule of rental payments received showing how arrears have arisen.
9d You must draw a client's attention to a build up of serious rental arrears and should seek appropriate instructions from the client or his professional advisers.
9e You must co-operate fully and promptly with legal advisers acting for, or appointed on behalf of, client landlords.
9f You must have in place suitable processes and accounting procedures for fulfilling the obligations placed upon an agent for the deduction, if appropriate, of tax from rent received on behalf of a non-resident or overseas landlord and subsequent payment and reporting to, the Inland Revenue.

13. Clients' Money
Money held or rent collected for and on behalf of client landlords (including ex-clients) is considered as client money – and this will include deposits or money held for and on behalf of an applicant, tenant or ex-tenant,
13a You must comply at all times with your regulatory bodies' rules or byelaws in relation to the handling of clients' money.
13b You must provide a client with an appropriate, regular Statement/Invoice detailing Income and Expenditure. Other than for trivial or minor amounts, adequately detailed invoices or receipts should support payments made on behalf of a client and copies provided to the client upon request.

14. Conflict of Interest
14a Whilst your duty and obligations are to your client landlord, applicants and tenants should be regarded as consumers and customers – and should therefore be treated appropriately. If there is a conflict with your duty to your landlord client, the applicants or tenants should be advised to seek independent advice.
14b You must tell your client in writing as soon as reasonably possible after you find out about circumstances that give rise to a conflict of interest. This would include where any of your partners, directors or officers own, or have a financial interest of 24% or more in, a business or contractor engaged to provide services to a client.

From the sounds of things, this particular agent hasn't complied with any of the above. Most likely, they aren't with the OEA, but it's worth checking out. If they are, i'd get in touch and make a royal complain.

Having failed all of the above, I would go to my solicitor and start chalking up the master plan.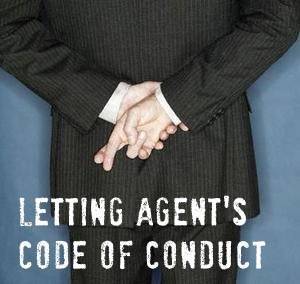 I definitely wouldn't rest easy with this cowboy agency. Well, certainly not until I received full payment. Even after then I would pull the plug on their services, and perhaps throw a few eggs/bricks at their windows (only joking, kinda').
I've had my fare share of problems with dodgy letting agents and that's why I refuse to go full management these days. Plus, I know how frustrating they can be, so I have sympathy for anyone that is suffering because of them. In the most recent years I've just paid agents to find me a tenant. Promptly after they arrange a tenant I run a mile and completely disjoint myself from agencies. I'm not saying that all agents are bad news, but I am saying that the one's I have dealt with have left an extremely bitter taste in my mouth. I've never got value for money, and let's face it; they need to provide a pretty solid service to justify their extortionate costs.
What would you do if you were in that situation? More importantly, has anyone ever been in this situation?