It occurred to me that I haven't really given much support to tenants, but I've written a lot of articles for landlords. I guess that's because I'm a landlord and have never experienced life as a tenant. However, I'm about to broaden my horizons. Here's how to sue your mean little landlord…
Most 'tenant Vs landlord' issues are resolved through small claims courts. Claimants (tenants) can use the procedure to recover unpaid bills, rents or refunds of rental deposits for property for a sum under £5000.
What the court expects
The court expects the parties to have explored all other avenues of settlement.
You must try and settle a claim before taking court action and only use the court if you cannot get the problem solved by negotiation. The court will expect you to make your claim in writing, giving the other person a reasonable time to reply- a month is ample. You should also warn them that you will take court action if they fail to reply within the given time.
As a claimant, you must be able to prove that court action was taken as a last resort and that you've given the defendant every opportunity to resolve the dispute. Make sure you document all your contact with the Landlord.
Having failed the rational route, as so: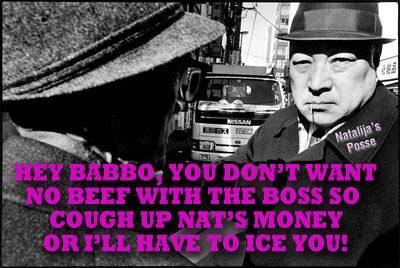 (for those that aren't "street" or "with it", that translate into, "hey babydoll, it's in your best interest for my boss not to have any problems with you. So please, handover the money you owe him or….I will kill you")
You do the following…
Locate your nearest small claims court
Locate your nearest small claims court and get a claims form. You can download it from the HM Courts website or for your super convenience, make a claim online.
Fees
Fees are reasonable, but vary depending on the amount you are claiming. Costs usually vary between £30-£120. You can claim the fees back from the defendant if you win your case. However, if you lose, you may have additional expenses to pay to the defendant, to cover his or her costs.
Preparing the Case
It is important to prepare the case carefully- you need to convince the court you are in the right- the best way to do that is by making your case as strong as possible. Ensure you research how to prepare for it and all documents, evidence and witnesses required are available. Ensure that the defendant has been sent copies of all the evidence, which you want to use in your claim. If you fail to do so, you may be stopped from using this evidence in the hearing.
notes about the case should be set out in date order. It is very useful to note down what your case is, for example, the points to make, the documents which are relevant, and what they prove. A list of all documents, and other evidence is useful to make sure nothing is forgotten
evidence of expenses should be prepared and any receipts you may need to support your case
all letters (and any other relevant documents including photographs) about the case should be ready for the hearing
in most cases the claimant and the defendant may be the only witnesses. If the court has agreed that other witnesses can attend, they must attend. If a witness has difficulty getting time off work, it may be helpful to serve a witness summons. The court can explain how to do this.
What happens if they lose but still won't pay?
As the claimant, if you win the case and the defendant doesn't pay, you will have to go back to the same court to apply for an order to get the money. This is called enforcing the judgment.
However, before enforcing a judgement you should request that the property is sold or goods seized from the Landlord's home or business to pay you the money you are owed or instruct their employer to pay you from their salary.
If you need a judgement to be enforced you should consult an experienced adviser for example, at a Citizens Advice Bureau. To search for details of your nearest CAB, including those that can give advice by email.
Key Points
You do not need a solicitor as it is set up on a simple basis for claimants to represent themselves.
Judges are very patient, knowing that the parties are nervous and new to the process. A friend (lay person) can help you.
If you feel the case is complicated, you should speak to your local Citizens advice bureau for advice
The judge makes an immediate decision and the parties can get a full and final result on the day of the hearing if it is not settled prior to court.
If you win your case, the Judge will order the defendant to pay either immediately, by instalments or in full by a certain date
If you lose your case, the defendant may be able to claim limited expenses from you
Have you had experience with taking a tenant or landlord to a small claims court? I'd love to hear your story. Thankfully I haven't had to go down that route, but it could be only a matter of time…
It would be kind of ironic if one of my tenant's came onto my site, took my advice and tried to sue me :)